All on 4 Dental Implants in Juarez Mexico
Smile Brighter with All on 4 Dental Implants in Juarez, Mexico
Considering low-cost dental care to replace your missing teeth? All on 4 dental implants in Juarez, Mexico can be an affordable solution to your dental problems. You can drive to Ciudad Juarez and get the highest quality all-on-4 procedure while staying within your budget. 
Many American and Canadian citizens choose Ciudad Juarez due to the location, quality care, experienced dentists, and low prices.
Here is what you'll find in this charming US-Mexico border town:
Clinic: Dr. Marco Gamez
Procedure: All on 4 Dental Implants
Cost in Juarez: $10,500
Cost in North America: From $22,500
Savings: Over 50%
Top Tourist Attractions: Mercado Juarez, the PRONAF Zone, Juarez Avenu, The Mision de Nuestra Senora de Guadalupe.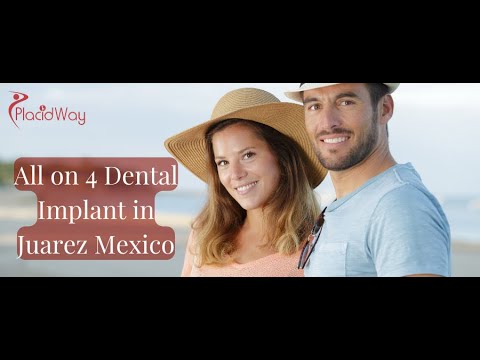 ---
All on 4 Dental Implants Packages in Juarez, Mexico at Low-Cost
We provide a cost-effective solution to get quality dental treatment and enjoy the numerous amenities Juarez clinics offer. Therefore, we will help you create a customized package for All on 4 dental implants in Juarez tailored to your specific needs and budget.
So, if you are interested in this package offer, contact our Customer Care team for further guidance.
---
Cost of All on 4 Dental Implants in Juarez, Mexico
Since all on 4 dental implants in Juarez cost around $10,500, here you'll save anywhere between 50-70% compared to US prices. In North America, all on 4 treatment prices are sky-high, where you'll pay $22,500 per arch.
But the proximity to Juarez drives thousands of US and Canadian citizens to save money on the procedure and the trip at once. In Juarez, you'll fix both arches for the price of one in the United States.
This is why this Mexico-US border city is a more practical choice. Below is the cost comparison table for more price details.
All on 4 Dental Implants Cost Comparison in Mexico

| Country | Procedure | Price |
| --- | --- | --- |
| Mexico | All on 4 Dental Implants, Dentistry | $10500 |
| United States | All on 4 Dental Implants, Dentistry | $25000 |
| Canada | All on 4 Dental Implants, Dentistry | $22500 |
---
Best Dental Clinic in Ciudad Juarez for All-on-4 Implants
Our dental provider is located in Juarez, on the Mexico-US border. It's just 30 min drive from El Paso, Texas which makes it a convenient destination for dental tourists from North America.
Juarez dental clinic offers world-class dental care to international patients and the staff is fluent in English so communication will be easy. The best thing about the Juarez clinic is that you can get your new teeth with just a day trip across the border.
In addition, you will benefit from the high-quality treatment but at more reasonable prices. The highly skilled team will treat you with compassion and guide you throughout the process.
Here is the profile of the best dental clinic in Juarez.
Top Center
As an experienced dentist in Ciudad Juarez, Mexico, Dr. Gamez provides the best services and specialties for your dental problems. He consults, evaluates, and treats his patients with dignity and respect. His excellent skills result in the best quality of service.
---
Top Videos about Dental Work in Mexico
---
Best Dentist in Juarez, Mexico for Implants
Dentists in Juarez have years of experience treating various dental problems in foreign patients. The city is close to the USA and thus favorable for dental tourists to just cross the border for cheap and quality dental work.
Thanks to experienced and qualified dentists in Juarez you'll receive top-notch care at a low cost and high quality. Professional dentists speak English fluently, attend continuous training abroad, and are members of world-reputable dental organizations.
You can trust Juarez dentists' expertise because they utilize the A.D.A. standards.
Meet your Juarez dentist by contacting our team for more details.
---
Why Choose Juarez for All on 4 Dental Implants?
Ciudad Juarez is situated about 30 minutes south of El Paso, TX. Juarez has four border crossings, making it one of the largest US-Mexico entry and exit points. Dental tourism is very common here providing easy access, very reasonable prices and first-class standards.
You can travel to Juarez by air at Ciudad Jurez International airport (CJS) or El Paso International airport (EPL) and drive 25 mins to Juarez. The second option is to come here by a 5-hour drive from New Mexico and 30 min from El Paso, Texas.
If you opt for All on 4 in Juarez, you can take advantage of enjoying its attractions before the treatment. Here are the most popular places in Juarez worth visiting:
The Mision de Nuestra Senora de Guadalupe

The city's Historical Museum

The Museo de la Revolucion en la Frontera MUREF (Revolution in the Border Museum)

The INBA Modern Art Museum

Monumento a la Mexicanidad (the city's largest park)

Parque Central Hermanos Escobar

Bars, shops, restaurants and other entertainment are in the PRONAF Zone and Juarez Avenu

Shopping at Mercado Juarez, Las Misiones, Galerias Tec and Plaza Juarez.
---
Book Consultation for All on 4 Dental Implants in Juarez, Mexico Today!
Don't hesitate to contact our team if you need more information about All on 4 Dental Implants in Juarez or if you want to book your dental trip.
Ciudad Juarez can be a great option for a cheap and quick dental implant solution.
---