All on 4 Dental Implants in Cancun by Dentaris
Treatment:
Dentistry, All on 4 Dental Implants
Focus Area:
All on 4 | Dental Implants | Cancun | Mexico | Dentaris | All on 4 Dental Implants
---
Affordable Package for All on 4 Dental Implants in Cancun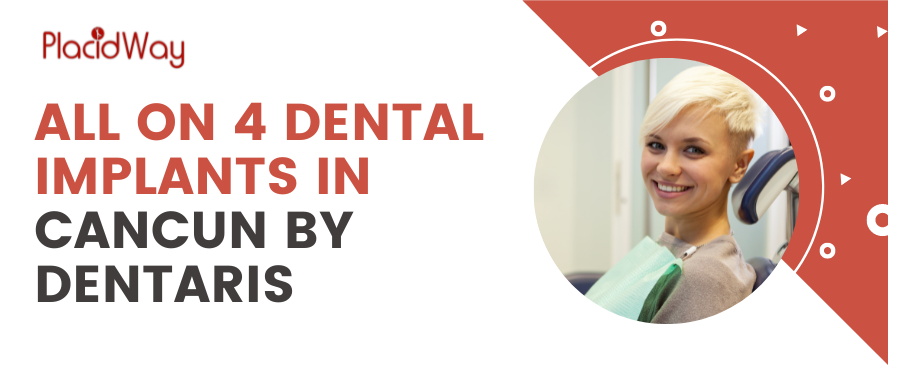 Inclusive All-On-4 Package in Cancun, Mexico
The ALL-ON-4 procedure is an excellent option for patients who suffer from missing teeth. Dentaris Cancun Riviera Maya Dentistry offers an all-inclusive package for All-On-4 dental implants in Cancun, Mexico. Get high-quality dental work in Cancun at only $12,635!. 
Dentaris is a world-class dental clinic in Cancun. The clinic attracts thousands of American and Canadian patients annually.
Advantages of Choosing Dentaris Clinic:
Dental work has up to a 5-year full warranty.

Offer the most innovative dental procedures.

Bilingual staff.

Modern facilities and various treatments for all kinds of dental needs.

Affordable and high-quality dental care.
The All-on-4 procedure is an innovative approach to help patients who have problems with missing teeth. It's an immediately loaded fixed acrylic prosthesis supported by four implants.
All-on-4 improves your oral health as well as smile aesthetics. A dentist will perform this procedure to help you restore your teeth' function.
All-On-4 Dental Implants Cost in Cancun by Dentaris
You can get your package for All-On-4 in Cancun by Dentaris at only $12,635!
As you see in the cost comparison table below, All-on-4 in Cancun is up to 60% cheaper than in North America.
Note: Contact the clinic directly for more information about the final price. The price may vary depending on your condition and the complexity of the procedure.

Advantages of All-On-4 in Cancun, Mexico by Dentaris
Here are the benefits of getting All-On-4 dental implants: 
The high strength of jaws 

You can eat your favorite food 
Boost your confidence 

Natural-looking smile 

More youthful appearance 

Easy maintenance

Less invasive technique 
A quicker recovery time 

Cost-effective implants
CT Scan

IV Sedation

PRGF

4 Implants

Conversion to hybrid denture-all on four technique

All abutments required for immediate denture and final denture
Flight tickets 

Hotel stay
Payment Options: Cash, Credit Card, or Checks.
Best

Dentists

 in Cancun at Dentaris
Dentists at Dentaris in Cancun provide the best dental care for their local and overseas patients. Some of the specialists you can find in Cancun at Dentaris clinic are:
Dr. Joaquin Berron

Dra. Hilda Irene Navarro

Dra. Ana Duran

Dra. Carmen Chávez

Dr. Eduardo Salcido

Dra. Paola Mora

Dr. Leonardo Sierra

Dra. Renata Camino
Cancun is a luxury summer resort visited by millions of tourists each year. In addition, tourists also take advantage to visit top dental clinics for their dental work.
Here are the top places to explore in Cancun:
The Mayan Museum of Cancun

La Isla Shopping Villige

Avenida Kukulkan

Cancun beaches on the Caribbean coast
FAQs about All-On-4 Implants in Cancun
Am I a good candidate for All On 4 procedure?
You are a good candidate for All-On-4 if 
You have all or most of the missing teeth 

Sufficient jawbone structure and gum tissue in place 

You are committed to proper oral hygiene  
You have bone loss 

Good general health 

You don't smoke.
What should I expect after All-On-4 procedure?
After All-On-4 procedure, you can expect minor discomfort which can be reduced with pain killers. The recovery time lasts only a few days and you'll gain the complete functionality of your jaws. Another benefit of All-on-4 restoration is that you regain your natural-looking smile with artificial teeth.
How long does All-On-4 procedure take?
The All-On-4 procedure can take 4-6 months after implant insertion. It will depend on your oral health, jaw strength, and quality of dental work.
What is the recovery process after All on 4 procedure?
The recovery process of All-on-4 procedure is minimal. You might feel sore and experience bleeding and swelling in and around the mouth. 
You can reduce these issues with pain medication and apply an ice pack to the outside of the jaw area.
Choose Your All On 4 Package in Cancun, Mexico Today!
All on 4 procedure can help you achieve a natural-looking smile and restore your beautiful smile. At Dentaris, professional dentists will provide you with the best package and affordable All-on-4 in Cancun. Contact us now for more information!

Related Experiences:
Your Complete Guide to All on 4 Dental Implants in Cancun Mexico
All on 4 Dental Implants in Mexicali
All on 4 Implants in Cabo San Lucas
All-on-4 Dental Implants in Nuevo Progreso Mexico
All on 4 Dental Implants in Puerto Vallarta Mexico
All on 4 Dental Implants in Matamoros Mexico
---
---
---
---