Estetik Center Clinic by Dr. Ali Dursun Kan MD
Dr. Ali Dursun Kan MD Clinic for Cosmetic Surgery in Istanbul, Turkey
Postane, Tarhan Sk No:3/1, 34940 Tuzla/?stanbul, Istanbul, Turkey

Specialty:

Anti Aging, Cosmetic/Plastic Surgery, Hair Transplantation

Focus Area:

Estetik Center Clinic by Dr. Celal Alioglu MD | Plastic Surgery | Rhinoplasty | Face Aesthetics | Body Aesthetics | Hair Transplant | Aesthetic Treatment | Nutrition and Diet | Istanbul | Turkey
Estetik Center Clinic by Dr. Ali Dursun Kan MD Profile Overview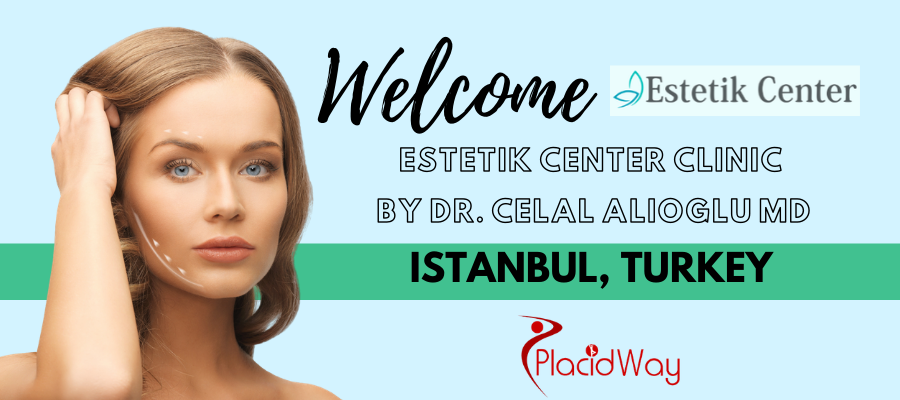 Estetik Center is a leading clinic offering cosmetic surgery, aesthetic solutions and hair treatments in Istanbul, Turkey. Renowned aesthetic and plastic surgeon Dr. Celal Alioglu MD serves a wide range of local and international patients at his clinic and he is ably assisted by a team of expert professionals that includes top dieticians, beauty experts, plastic surgery nurse and other professionals. Being a top plastic surgery and aesthetic solution clinic, Estetik Center features the most advanced techniques to ensure smooth and result-oriented cosmetic surgery solutions. Those who prefer non-surgical procedures, for them also, the clinic features a wide range of medical aesthetic choices.
Apart from aesthetic surgical and non-surgical solutions, Estetik Center also focuses on nutrition and diet. They believe it is extremely important to maintain healthy and balanced nutrition to improve health and quality of life. Moreover, balanced and adequate nutrition is essential to minimize nutritional health problems and reduce the risk of chronic diseases. That is why the expert team of Estetik Center provides professional advice on nutrition and its impact on health and beauty.
Advantages of Estetik Center Clinic in Istanbul
State-of-the-art facility equipped with the latest medical technology and equipment
Experienced and qualified medical staff, including plastic surgeons and dermatologists
Comprehensive range of cosmetic treatments including face and body procedures, skin rejuvenation, and hair restoration
Use of only high-quality and safe products and treatments
Personalized care and attention to meet individual needs and goals
Affordable pricing and flexible payment options
International patient coordination and support, including visa and travel arrangements
High-quality patient care, comfort and privacy
Proven track record of successful results and satisfied patients
Convenient location in the heart of Istanbul, with easy access to public transportation.
Treatments and Procedures at

Estetik Center Clinic in Istanbul, Turkey
Aesthetic Surgery
Facial aesthetics

Breast aesthetics

Buttock reshaping

Body contouring

Rhinoplasty
Medical Aesthetic
Non-surgical face rejuvenation

Non-surgical skin treatments

Non-surgical body contouring

Dermal fillers
Hair Treatments
Hair transplantation

PRP for hair loss

Hair mesotherapy

Beard, mustache and eyebrow transplantation
Nutrition and Diet
How to Book Plastic Surgery at Estetik Center Clinic in Istanbul?
Booking plastic surgery at Estetik Center Clinic in Istanbul is super easy and simple. The clinic has got a whole bunch of services and treatments for you to choose from, so it's a great option for anyone who wants top-notch plastic surgery. And don't worry, scheduling a consultation with the clinic's amazing doctors is a breeze. They're all experienced and knowledgeable, and they'll give you a personalized assessment so they can recommend the perfect treatment for you.
For more details about the treatments and procedures at Estetik Center, click the button below:

---
---
Reviews
Soffie

very professional

Google

Aug 19 2022

Leontina

I have had a very good experience with Dr. Celal, attention at all times. Operation with perfect result, hardly any pain. He transmits confidence and tranquility, he is a professional. I recommend him 100%.

Google

Aug 21 2022

samuel

Can only recommend, very good surgeon

Google

Aug 21 2022
---
Anti-Aging Related Packages