Mr Dental Health
MR Dental Health, Best Dental Clinic in Tijuana Mexico, General Dentistry, Dental Implantology, Cosmetic Dentistry, Tijuana, Mexico

Dr. Atl 2110 Int 105 Zona Urbana Río, Tijuana Baja California, Tijuana, Mexico

Focus Area:

MR Dental Health | Best Dental Clinic | Dental Implants | Dental Sealants | Dentures | Dental Bridges | Tooth Extractions | Bone Grafting | Sinus Lift | Non-surgical Root Canal | Cosmetic Braces | Invisalign | CEREC Restorations | Teeth Whitening | Onlays and Inlays | Porcelain Veneers | Dental Bonding | Tijuana | Mexico
Mr Dental Health Profile Overview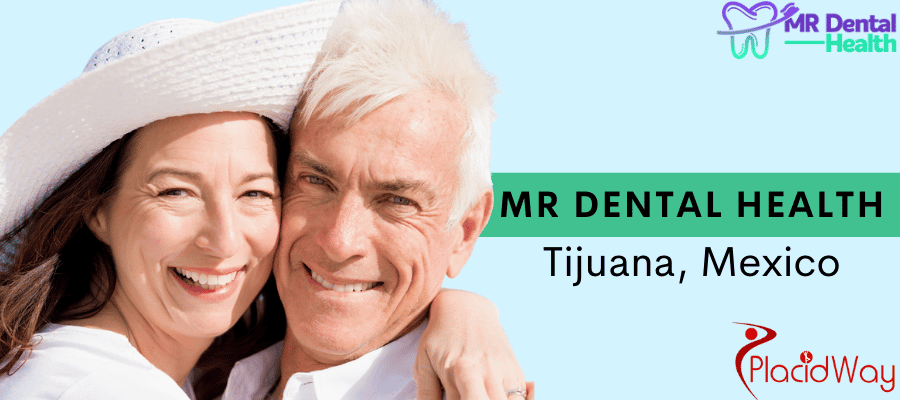 MR Dental Health - Best Dental Clinic in Tijuana, Mexico
Mr Dental Health is one of the largest and most prestigious dental clinics in Tijuana, Baja California. The clinic is specialized in General dentistry, Oral Surgery, Dental Implantology, Cosmetic Dentistry, Orthodontics, Endodontics, Periodontics, and more.
Our mission is to help patients smile. We provide a variety of options in cosmetic dentistry along with the latest technology to offer you the best dental care you can get. Your comfort and health are our #1 priority. Whether you require a premium dental implant or crown or would like to enhance your smile with porcelain veneers or teeth whitening, you can count on or experienced team to help your needs.
Treatment and Services:
Dental Implants:
Dental implants are designed to provide a foundation for replacement teeth that look, feel and function like natural teeth. The person who has lost teeth regains the ability to eat virtually anything and can smile with confidence, knowing that teeth appear natural and that facial contours will be preserved. The implants are tiny titanium posts that are placed into the jaw bone where teeth are missing. The bone bonds with the titanium, creating a strong foundation for artificial teeth. In addition, dental implants can help preserve facial structure, preventing bone deterioration which occurs when teeth are missing.
Dental Sealants:
Highly effective in preventing decay on the biting surfaces of your chewing teeth, dental sealants are a simple procedure in which a tooth-colored acrylic "coating" is painted onto the surface of the tooth. Sealants effectively "seals" the deep grooves, acting as a barrier and protecting the enamel from plaque and acids. Sealants protect the depressions and grooves of your teeth from food particles and plaque that brushing and flossing can't reach. Easy to apply, sealants take only a few minutes to seal each tooth. Sealants hold up well under the force of normal chewing and can last several years before a reapplication is needed.
Dentures:
A denture or a complete denture as it is often called, is an appliance that is inserted in the mouth, replaces natural teeth and provides support for the cheeks and lips. The teeth are made of plastic, porcelain or a combination thereof. Dentures can be fabricated to fit over endodontically treated teeth and a complete denture can be attached to dental implants to allow for a more secure fit of the appliance. Dentures over a normal course of time will wear and need to be replaced or relined in order to keep the jaw alignment normal. The alignment will slowly change as the bone and gum ridges recede or shrink due to the extraction of the teeth. Regular dental examinations are still important for the denture wearer so that the oral tissues can be checked for disease or change.
Dental Bridges:
A bridge attaches artificial teeth to adjacent natural teeth, called abutment teeth. Bridges are either permanently attached or they can be removable.
Tooth Extractions:
Some teeth are extracted because they are severely decayed; others may have advanced periodontal disease, or have broken in a way that cannot be repaired.
Bone Grafting:
Bone grafting can repair implant sites with inadequate bone structure due to previous extractions, gum disease, or injuries.
Sinus Lift:
A sinus lift is one of the most common bone grafting procedures for patients with bone loss in the upper jaw.
Non-surgical Root Canal:
This simple treatment can save your natural teeth and prevent the need for dental implants or bridges.
Top Cosmetic Dentistry Procedures in Tijuana:
Cosmetic Braces:
"Clear" braces serve as a cosmetic alternative to traditional metal braces by blending in more with the natural color of the teeth or having a less conspicuous or hidden appearance.
Invisalign:
Invisalign straightens your teeth just as effectively as traditional metal braces but using a modern approach that is best suited for an active and social lifestyle.
CEREC Restorations:
Often, patients with amalgam fillings will exhibit amalgam breakdowns and damage to the tooth structure as recurrent decay creates stress fractures on the enamel.
Teeth Whitening:
In only a day or two, your custom bleach splints will be ready for you to pick up.
Onlays and Inlays:
Onlays and inlays can be made of porcelain, gold, or composite resin.
Porcelain Veneers:
Porcelain veneers are thin shells of ceramic that bond directly to the front surfaces of the teeth.
Dental Bonding:
Bonding is an alternative to veneers and can be used as a restorative procedure for teeth that are chipped, cracked, discolored or misarranged.
For more details about the treatments and procedures, click the button below:

---
---