Plastica Madrid
Dra. Claudia Leticia, Best Plastic Surgery Clinic in Mexico, Breast Implants, Breast Lift, Tummy Tuck, Liposuction, Liposculpture, Buttock Augmentation, Buttock Lift, Nose Surgery, Rhinoplasty, Facelift, Eye Surgery, Blepharoplasty, Chin Contouring, Chin Implant, Lip Implant, Neck lift, Durango, Mexico

, Durango, Mexico

Specialty:

Cosmetic/Plastic Surgery, Anti Aging

Focus Area:

Breast Implants | Breast Lift | Tummy Tuck | Liposuction | Liposculpture | Buttock Augmentation | Buttock Lift | Nose Surgery | Rhinoplasty | Facelift | Eye Surgery | Blepharoplasty | Chin Contouring | Chin Implant | Lip Implant | Neck lift | Durango | Mexico
Plastica Madrid Profile Overview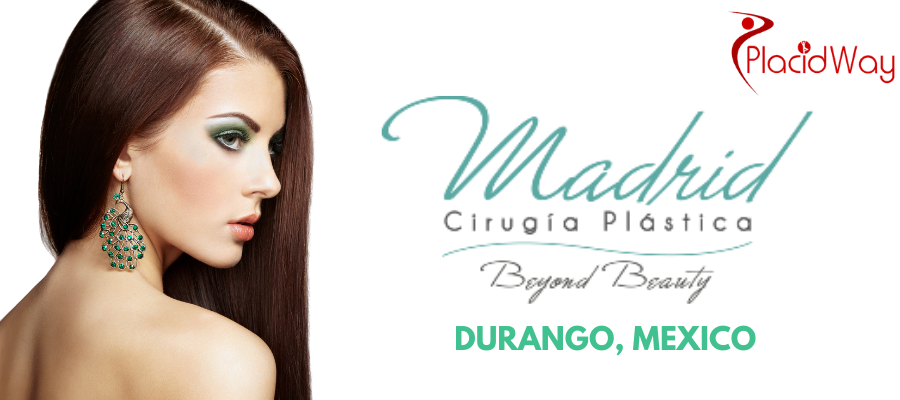 Dra. Claudia Leticia - Best Plastic Surgery Clinic in Mexico
Dra. Claudia Leticia Madrid Gonzalez is located in Durango, Mexico, and offers numerous Cosmetic and Plastic procedures, such as: breast implants, breast lift, tummy tuck, liposuction, liposculpture, buttock augmentation, buttock lift, nose surgery (rhinoplasty), facelift, eye surgery (blepharoplasty) chin contouring, chin implant, lip implant, neck lift, and many more. Offering pocket-friendly costs and featuring the latest technology and a renowned team of medical specialists, Dra. Claudia Leticia Madrid Gonzalez welcomes both international and local patients.
As a certified Plastic Surgeon, my philosophy is that doctor-patient communication is the foundation to understand the particular goals of each patient, who seek in me an aesthetic or reconstructive improvement. Patient safety is my priority, thus achieving the best possible result. I consider every detail for every procedure, from the nursing staff, the operating rooms, medications, and postoperative care. My goal is to achieve a harmonious, aesthetic, and natural balance in the appearance of each of my patients. The improvement is evident without an artificial appearance.
Top Plastic Surgery Procedures
Breast augmentation:
If you are unsatisfied with the size and/or shape of your breasts, we can help you. This being one of the most common cosmetic surgeries performed in our private practice, we can offer you many options to achieve the appearance you want. Through the variety of breast implants, we can improve the contour and shape of the breast as well as in case of wanting to increase in size, always looking for symmetry and an appearance that goes with your body so that it looks natural. This will make you more confident in yourself. There are many reasons why women seek this procedure that ranges from weight loss, which in turn loses breast volume, or after breastfeeding where the breast loses turgidity, or simply because the shape and size are not to our liking.
Tummy Tuck:
Tummy Tuck is also known as Abdominoplasty. It is one of the most rewarding surgeries that we perform at Plástica Madrid since the results are immediately evident. The change in body contour is radical. Pregnancy and weight loss causes the skin of the abdomen to become flaccid and in some cases the presence of stretch marks. Likewise, the muscles of the abdominal wall become lax, giving an unpleasant prominence at the abdominal level. These changes do not improve with exercise or treatments with devices or creams. Abdominoplasty surgery removes all that excess skin and fat, restoring the muscles of the abdominal wall. The incision is made in the lower abdomen near the pubic region, so the scar will remain in an area which can be hidden with a bikini or underwear.
Rhinoplasty:
If you have concerns about your appearance about your nose and want to change the shape, size or angle, rhinoplasty is the treatment for you. It is one of the procedures most requested by men and women. It is impressive how subtle changes to the nose can so dramatically improve our appearance. It is an outpatient surgery that lasts approximately 2 hours depending on the complexity of the surgery. It is done under general anesthesia. It may present significant facial swelling as well as bruising, which will subside in the second week.
For more details about the treatments and procedures, click the button below:

---
Reviews
Maria

Their professionalism in their work, and treatment of their patients

Facebook

Jul 21 2018

Jimena

Excellent doctor, professional and super prepared! the best!!!

Facebook

Oct 23 2018

Martina

Excellent professional and very affordable costs.

Facebook

Mar 11 2019
---
Cosmetic/Plastic-Surgery Related Packages
Cosmetic/Plastic-Surgery Related Experiences