Dent Laracity
Dental Work in Antalya, Turkey at Dent Laracity
Çaglayan, Barinaklar Blv. No:19/A, 07230 Muratpasa/Antalya, Antalya, Turkey

Focus Area:

Dent Laracity | Antalya | Turkey | Dental Implants | Veneers | Crowns | Sinus Lifting | Cosmetic Dentistry | Smile Makeover | Pediatric Dentistry
Dent Laracity Profile Overview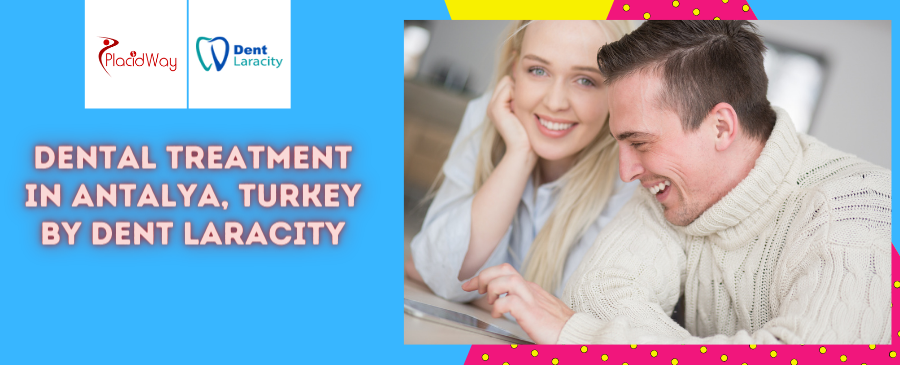 About Dent Laracity - Dental Treatment in Antalya, Turkey
Dent Laracity provides best Dental Treatment in Antalya, Turkey. Book online now Cosmetic Dentistry, Implant Dentistry, and Pediatric Dentistry at Dent Laracity.
Dent Laracity is a dental facility that proceeds with its services with an ideal assistance understanding in oral and dental wellbeing. The organization, what began its activates by opening its new center in Antalya in 2021, offers the most imaginative and present-day administration approach in the dentistry area to its patients.
The institution, which has adopted the mission of branding in oral and dental health first upon their arrival to Antalya; they have since determined its purpose abroad.
Dent Laracity, a clinic that knows the significance of adjusting to the creating scene inside the extent of its vision and mission, has hardware furnished with the most current advancements and the most imaginative treatments toward this path.
Dent Laracity, clinic that has become well known with its dynamic design and achievement in Antalya and all through Turkey, proceeds with its exercises to build the quality and administration principles in the area by spreading its vision to the whole oral and dental wellbeing area.
Dent Laracity, which offers types of assistance in the field of oral and dental wellbeing, a region that requires awareness and skill, focuses on quiet wellbeing and fulfillment with the treatments it performs with expert doctors.
Under the administration of Dentist Ahmet Erdoğan, the center presenting with its expert doctors proceeds with its exercises in Antalya for new fellowships with its fulfilled patients in the fields Dental Implant, Cosmetic Dentistry, and many more with an assistance comprehension of worldwide quality norms.
Dent Laracity as best Dental Treatment in Antalya, Turkey means to offer added benefit to Turkish Health Tourism with its Health Tourism Authorization Certificate. Dent Laracity, which gives numerous oral and dental wellbeing administrations to various objections of the world, positions itself as a significant agent of Turkish wellbeing the travel industry in the nation and abroad.
Here are several advantages that you can obtain from Dental Clinics in Antalya, Turkey by Dent Laracity:
Medical Advices & Check Ups

Trusted Medical Treatment

Emergency Help Available 24/7

Professionals Medical Research

Qualified Doctors

Cutting Edge Facility

Affordable Prices for All Patients

Quality Care for Every Patient
Check below for list of procedures available at Dental Treatment in Antalya, Turkey by Dent Laracity:
Oral and Maxillofacial Surgery is the most common type of procedure that we can be used for people who need stronger jaws in order to chew their food properly!
Oral and Maxillofacial Radiology
Oral and maxillofacial radiology is concerned with performance (interpretations) or diagnostic imaging used for examining the craniofacial, dental structures.
Pediatric Dentistry (Pedodontics)
Pediatric dentists are the only doctors that solely focus on oral healthcare for children. They make sure your young one has healthy gums, teeth and bones from daycare to high school!
Endodontics (Root Canal Treatment)
Endodontics or Root canal treatment is a series of steps that are designed to help remove any infection from your tooth and protect it against future microbes.
Orthodontics is a branch of dentistry that treats patients with misaligned teeth and jaws.
Periodontology (Gum Diseases)
The practice of dentistry that studies supporting structures and diseases affecting them is called periodontology.
Prosthetic Dentistry (Dental Prosthesis)
The practice of prosthodontics is the replacement or restoring missing parts to teeth, bone structure, gum tissue and/or facial structures.
Restorative Dentistry (Aesthetic Dentistry)
Restorative dentistry is the practice of replacing missing or damaged teeth.
Dental Treatment in Antalya, Turkey by Dent Laracity will provide you with affordable cost and using the latest equipment and technology. As a result, you will get the best result and satisfactory you need. For more information about the latest Cost of Dental Treatments, feel free to click button below:

Check below for information about Dentists in Antalya, Turkey by Dent Laracity that can provide you with best dental care:
Name: Dt Ahmet Erdogan
Specialty: General Dentistry
Dr. Ahmet Erdogan finished his essential auxiliary school training in Konya. Ahmet Erdogan, who have moved on from the Karadeniz.
Name: Dt Mehmet Sarı
Specialty: General Dentistry
Born in Antalya, Manavgat in 1993, Dt. Mehmet Sarı finished his essential, optional and secondary school training in Antalya, Manavgat.
It is time to get awesome result of Dental Treatment in Antalya, Turkey by Dent Laracity, and bring back your healthy smile again! You can obtain variety Dental Packages available with many benefits that you need. For more information, or if you want to make inquiry, feel free to click contact us button below:

---
---
Reviews
Aleyna

Ahmet is a very good doctor. He is the best doctor I have ever seen personally. It was a very comfortable and painless procedure. My recovery process is also painless.

Google

Jul 01 2022

Eda

I came for my root canal treatment. I was going to come for the first time, so I took a risk, but Mr. Ahmet did not let us down, it was a very comfortable and fast operation.

Google

Jul 31 2022

Alperen

Dr. Ahmet Bey is a competent, very caring, smiling physician towards his patients. He explains the treatment options, the advantages and disadvantages of these options in detail, leaving no question marks in your mind. I had my treatment without hesitation in this clinic, which was designed in a modern way and equipped with all technological facilities. Dr. Thank you to Ahmet Bey and his team.


Google

Jul 31 2022
---
Dentistry Related Packages
Dentistry Related Experiences