Wockhardt Hospitals
Best Hospital for Orthopedic in India
Wockhradt Tower, BKC Mumbai, Maharashtra 400051, Mumbai, India

Specialty:

Cancer Treatment, ENT, Executive Healthcheck, General Medicine, General Surgery, Gynecology Treatment, Heart Care/Surgery, Laparoscopic Surgery, Laser Surgery, Neurology, Obesity/Bariatric Surgery, Organ Transplant, Orthopedic/Knee Surgery, Pediatric Treatment, Radiology/CT Scans, Robotic Surgery, Spine Care/Surgery, Sports Medicine, Urology, Vascular Surgery

Focus Area:

Wockhardt Hospitals | Orthopedic | Spine Surgery | Bone and Joint Care | Heart Care | Brain and Spinal Cord | Mumbai | India
Wockhardt Hospitals Profile Overview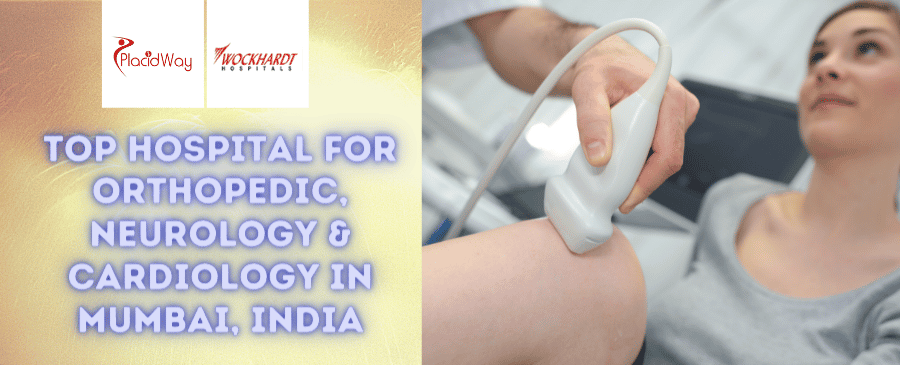 Wockhardt Hospitals provides best Orthopedic in Mumbai, India. Book online now Bone and Joint Care, Heart Care, Brain and Spinal Cord Care at this Top Orthopedic Hospital in India. Wockhardt Hospitals Group is a chain of super specialty hospitals across India. Wockhardt Hospitals offer the latest technology, multi-disciplinary capabilities, state-of-the-art facilities, a world class infrastructure and excellent patient care ambience and processes. Wockhardt Hospitals are JCI.
Wockhardt Hospitals has become a leading health service provider with its strong presence in the western parts of the country i.e. Mumbai, Nagpur, Rajkot and Nasik. This group of 6 hospitals fulfils the need of the community in its chosen field of super specialty like Cardiology, Orthopedics, Neurology, Gastroenterology, Urology, Aesthetics and Minimal Access Surgery.
Benefits

of

Wockhardt Hospitals

in Mumbai, India
Check below for several advantages that you can find from Orthopedic Clinics in Mumbai, India by Wockhardt Hospitals:
Leading health service provider for orthopedic, cardiology and neurology in Mumbai, India
Offer the latest technology

Multi-disciplinary capabilities

State-of-the-art facilities

A world class infrastructure

Excellent patient care ambience and processes
Cost effective solution for local and abroad patients

Online consultation 24/7
List

of Treatments at Wockhardt Hospitals in India
Here you can find list of procedures available at Orthopedic in Mumbai, India by Wockhardt Hospitals:
Bone and Joint Care
The bone and joint care proven and world class treatment for different muscular issues and sports wounds. Muscular surgeons consolidate their ability in the space of patient consideration, clinical exploration, and scholastics to give the most significant level of particular administrations to our patients to treat the condition from all sorts of dislocations, bone break, ligament tear, tendon wounds, and tendon tears to chronic joint torment conditions.
We give solution to heart care. Coronary illness is any condition that influences the function of the heart. Hypertension, high blood cholesterol, and smoking are key risk factors for coronary illness. About portion of Indians have no less than one of these three risks factors.
Brain and Spinal Cord Surgery
The brain and spinal cord together structure the focal sensory system. This system is important for all that we do. It controls the things we decide to do, thus a small issue can be of grave risk to one's life. Neurosurgery is considered the unique domain of a portion of the world's most regarded surgeons. The surgeons of Wockhardt Hospital work on state of the art cutting edge neurosurgery with a huge involvement with brain and spine problems.
Urology is a medical specialty which treats conditions medical conditions influencing urinary tract, for example, infections, the executives and treatment of prostate conditions like the benign prostatic hyperplasia (BPH). Urology likewise investigates surgeries for bladder dysfunctions, prostate disease, and removal of kidney stones, stress incontinence, congenital anomalies, and horrendous injury.
Rheumatology incorporates clinical issues including joints, delicate tissues, immune system sicknesses, vasculitis, and heritable connective tissue problems. A significant number of these infections are presently known to be problems of the insusceptible system, and rheumatology is progressively the investigation of immunology.
Cost

of Orthopedic Surgery in Mumbai, India by Wockhardt Hospitals
Orthopedic in Mumbai by Wockhardt Hospitals provides you with the best services at competitive prices. You will get the best service from specialists who are highly competent in their field. For information regarding the Cost of Orthopedic in Mumbai by Wockhardt Hospitals, please contact the Customer Representative.
Top Orthopedic

Surgeon

in Mumbai, India
Here you can find information regarding Orthopedic Surgeon in Mumbai, India by Wockhardt Hospitals:
Doctor at Wockhardt Hospitals:
Dr. Mudit Khana

Dr. Behram Pardiwala

Dr. Ravi Gupta

Dr. Prashant Makhija
Book Your Consultation for Orthopedic Surgery

in

Mumbai, India Today!
Orthopedic in Mumbai by Wockhardt Hospitals provides exceptional benefits to both local and international patients. Do your consultation now and get the best treatments from experienced specialists in their fields. For more information about Orthopedic Surgery Packages or if you want to connect with this clinic, please press the contact us button below:

---
---