Dr. Ulises Solis
Board Certified Cosmetic Surgeon in Cancun Mexico
Av Yaxchilán 180, 17, 77500 Cancún, Q.R. Cancun Quintana Roo, Cancun, Mexico

Specialty:

Cosmetic/Plastic Surgery

Focus Area:

Plastic Surgery in Cancun Mexico | Breast Augmentation | Liposculpture | Mommy Makeover | Botox Application | Sex Reaffirmation
Dr. Ulises Solis Profile Overview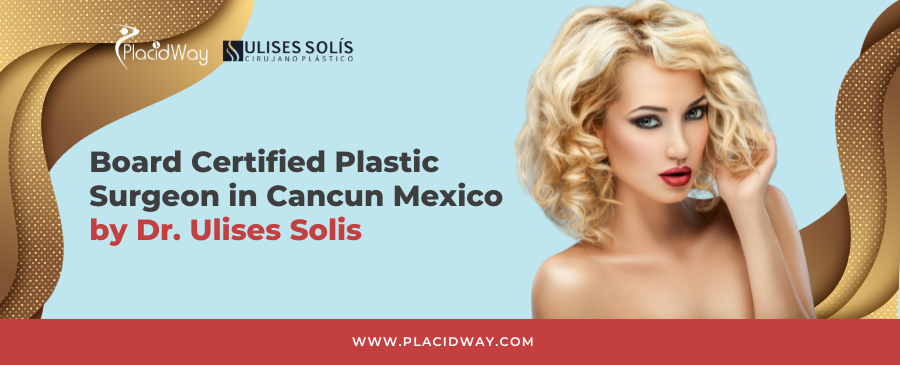 Dr. Ulises Solis is board licensed surgeon for Plastic Surgery in Cancun Mexico. Book now Rhinoplasty, Breast Augmentation, and Liposculpture at PlacidWay. If you want to improve your appearance and boost your self-confidence, there is no better option than plastic surgery. And if you are looking for the best plastic surgeon in Cancun, look no further than Dr. Ulises Solís.
Dr. Solís is a highly experienced and skilled plastic surgeon who has helped countless patients achieves their aesthetic goals. Whether you want to get a mommy makeover, liposuction, breast augmentation, or any other type of procedure, you can rest assured that you will be in good hands with Dr. Solís.
What sets Dr. Solís apart from other plastic surgeons is his commitment to achieving the best possible results for his patients. He listens to his patients' needs and wants, and he makes sure to exceed their expectations.
If you are considering plastic surgery, make an appointment with Dr. Ulises Solís and see for yourself why he is the best plastic surgeon in Cancun.
Clinic Name: Dr. Ulises Solis
Procedure: Cosmetic/Plastic Surgery
Location: Cancun, Mexico
Doctor: Dr. Ulises Solis
Here are several benefits of selecting Plastic Surgery in Cancun at Dr. Ulises Solis:
Here you can find list of procedures available when you consult with best plastic surgeon in Mexico, Dr. Ulises Solis:
Breast augmentation is a surgical procedure that involves the placement of implants to increase the size and fullness of the breasts.
Liposculpture is a type of cosmetic surgery that can help to sculpt and improve the appearance of the body. It involves removing excess fat from specific areas, such as the stomach, hips, thighs, buttocks, arms or neck.
Mommy makeover surgery refers to a combination of different surgical procedures that are performed together in order to help a woman restore her pre-pregnancy body. The most common procedures that are included in a mommy makeover are breast augmentation, breast lift, tummy tuck and liposuction.
Botox is a neurotoxin that is used to relax the muscles in the face. It can be used to treat wrinkles, fine lines, and crow's feet. Botox is also sometimes used to treat migraine headaches, excessive sweating, and muscle spasms. The effects of Botox typically last for 3-4 months.
Sex reassignment surgery (SRS), also known as gender confirmation surgery or genital reconstruction surgery, is a surgical procedure that changes the anatomical characteristics of a person's reproductive organs and secondary sex characteristics to better match their gender identity.
If you're considering plastic surgery in Cancun Mexico, you'll want to know the cost. Dr. Ulises Solis is a highly experienced plastic surgeon who can provide you with the results you desire at a price that fits your budget. One thing for sure, when it comes to plastic surgery, there are many factor that can affect the cost. The type of procedure you have, the amount of time it will take, the complexity of the surgery, and the location of the surgeon can all play a role in determining price. For more information about Price for Cosmetic Surgery in Cancun Mexico, click button below:

Here you can find information about Top Surgeon for Plastic Surgery in Mexico, Dr. Ulises Solis:
Doctor Name:

Dr. Ulises Solis
Experiences and Certifications:
Specialist in Botox, Nose Surgery and Mommy Makeover

Specialist in Penile Enlargements and Implants
Looking for affordable cosmetic and aesthetic surgery in Cancun Mexico? Look no further than Dr. Ulises Solis! He offers a wide range of Cosmetic and Aesthetic Surgery procedures, including Facelifts, Breast Augmentation, Liposuction, Tummy Tucks and more. Schedule your consultation today to learn more about our services at PlacidWay!

---
---
Reviews
Will A

All very good services

Dec 17 2022

Sonia C

Excellent surgeon and very human in his treatment to patients, I recommend it to all my friends.

Dr. Ulises Solis

Dec 16 2021

Kiera U

He saved my sons life and hand! We were visiting Mexico on a family vacation. My son fell on a glass and injured his hand very badly. He was the plastic surgeon on call at the hospital. My son has full movement in his hand and will be in PT for awhile but is thought to have full range of motion eventually! Thank you for saving my son! You have no idea how much you mean to my family. Thank you!

Dr. Ulises Solis

Oct 14 2021
---
Cosmetic/Plastic-Surgery Related Packages
Cosmetic/Plastic-Surgery Related Experiences