Madera Sagrada
Experienced Clinic for Drug Addiction Treatment in Spain
Cortijo de los Patios, Parcela 273, Fuente Mariano, Buzón 15, Órgiva, Granada, Spain, 18400 Órgiva Granada, Granada, Spain

Specialty:

Addiction Treatment

Focus Area:

Ibogaine Drug Detox Treatment in Spain | Madera Sagrada | Spain | Ibogaine Retreats | Iboga
Madera Sagrada Profile Overview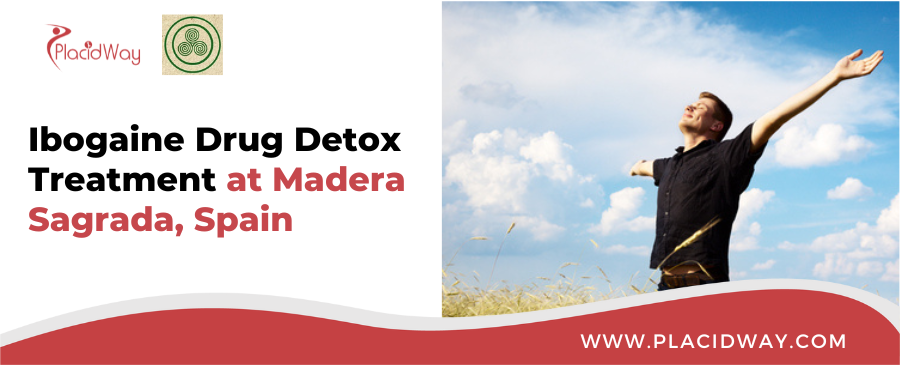 Top-Rated Clinic for Ibogaine Treatment in Granada Spain
About Madera Sagrada Ibogaine
Madera Sagrada is iboga clinic in Spain providing ibogaine training that ranges from the medical to the shamanic. The clinic is located in the beautiful surroundings of Las Alpujarras, south of the Sierra Nevada in Spain, near Órgiva mountain village.
Ibogaine practitioners at Madera Sagrada are committed to giving their guests safe and effective ibogaine treatments and iboga ceremonies. Team members of the clinic strive to provide patients with a pleasant environment and comfortable stay during the therapy.
They will help you leave behind bad habits and become your new self. Ibogaine therapy consists of powerful meditation techniques such as breathwork, yoga, sound, and mindfulness. In addition, Madera practitioners also teach their guests self-acceptance and letting go methods.
Clinic Name:

Madera Sagrada

Procedure:

Ibogaine Treatment

Location:

Granada, Spain

Doctor:

Richard Hughes
There are numerous advantages you get by choosing ibogaine therapy at Madera Sagrada clinic, such as:
Safe and effective ibogaine treatment

Compassionate and professional team members

Beautiful surroundings of the clinic

Effective Ibogaine drug detox supporting programs
Cost of Ibogaine Treatment in Granada Spain at Madera Sagrada
We understand that you need transparent and up-to-date information for Ibogaine Drug Treatment. We provide information on Price for Ibogaine Treatment in Granada Spain, so you will be able to get the best price for this procedure. For more information, please contact us by pressing the button below:
Ibogaine is a psychedelic substance found in iboga, a Western African shrub. It has been used at healing ceremonies in the Bwiti religion, West Africa.
Doctor Name: Richard Hughes
Experiences and Specializations:
As a former drug addict, Richard Hughes is helping other people beat their addiction and begin living healthier lives. He provides safe and effective iboga detox programs to anyone willing to change life for the better.

Richard speaks Spanish and English. He is also trained for several years in various settings ranging from shamans in the Amazon rainforest to Ibogaine drug detox clinics in Mexico and Portugal.

Rich has completed a first aid training course with St. Johns Ambulance in the U.K.
Regain a healthier lifestyle and beat your addiction with safe and effective Ibogaine Drug Treatment and mindfulness programs in Spain. Professional ibogaine practitioner at Madera Sagrada will help you on this journey to your new life and new you. Contact us today for more information.

---
---
Reviews
Sean W

Wow where do I even begin?? Simply put, Rich is the MAN! I met Rich De la Madera over a year ago for my first introduction to the plant medicine 'Ibogaine'. The moment I met him I felt an immediate connection with him, as if I had already known him my entire life. Aside from being extremely personable, I found Rich to be incredibly knowledgeable about Ibogaine and, more importantly, the steps that need to be taken before and after the treatment to ensure long-term success.
Many people come to the plant medicine desperate for change but unwilling to do any of the footwork that is required before and after. In my experience, this is the biggest mistake that can be made. Although Ibogaine gives you a physiological reset and a significant head start on the road to recovery, it is not a magic bullet and will not do ALL the work for you. No one knows this better than Rich, who was the first person I encountered willing to provide me with this crucial information. Although Ibogaine works beautifully in its ability to combat opiate addiction in any capacity, it is not to be forgotten that it is a sacred plant and must be handled with the utmost respect. Rich showed me the importance of this sentiment with significant intention setting and commitment to change on the front end of treatment, leading up to my flood dose. Afterwards, we did work on a daily basis integrating the gains from ibogaine into my new life, which was as important (if not more important) than the treatment itself. Among many other things, we discussed the mechanics of the midbrain and its role in the addiction process; we talked about the neurological reset from ibogaine and what that meant for me moving forward; and also, we did extensive planning/ scheduling for my future to solidify the changes that were going to be made when I returned home.
The most important thing that can be said about Rich is that he genuinely cares about your wellbeing moving forward with your life and permanently burying whatever issues that brought you to the medicine. Having dealt with his own issues through the use of Ibogaine and realizing the power of the medicine (unlike most providers), Rich has the utmost empathy for clients and respect for this life changing process. Not only do I consider Rich a lifelong friend and brother through this experience, I can honestly say I would not be where I am today without his help and support.
If you are genuinely interested in changing you life and are looking for a credible person to embark on this journey with, look no further; Rich De la Madera is the guy for you. The immediate benefits that you feel from the depths of your soul are unmatched by any other forms of treatment on earth. I've tried them all and Rich's approach with Ibogaine cannot be topped. 5stars, 10/10, 2 thumbs up! Accept the change you deserve and stop living life in fear! Rich has got your back!

Madera Sagrada

Jun 15 2022

Tiffany L

Rich is a genuine & caring man. I had a great experience in his care. He's also super knowledgeable about health and the heart. Definitely recommend!

Madera Sagrada

May 11 2022

Christian H

I have participated in a 5 day Iboga retreat with Rich and Andrew. When I came in, I was in a bad place emotionally. I had done a lot of work on my personal healing in the last 2 years, but stuff didn't go as wished and I had retraumatized myself in the process: When I came in, I had a hard time connecting to others, i couldnt hold eye contact well, I felt ashamed of myself and I was in a perpetual state of tension.
The Ceremony itself was very intense for me, but it was just what I needed. Today I feel energized, something big in me has been released. I can hold eye contact, feel more at peace with myself and can relax more. I still feel the Iboga working in me and changing stuff for the better.
All of this was made possible by the amazing work of Rich and loving support of Andrew. Throughout the whole journey, they have guided us with love and care. They carefully looked after our health and physical wellbeing. Rich gave us a lot of valuable input to find the right path through the ceremony. Andrew served us amazing food everyday. They both shared a lot of wisdom with us.
But most importantly, they both put in all of their hearts. They don't just do it as a job, but they both follow their spiritual calling.
So, thank you Rich, thank you Andrew (and thank you Jag, who shared this journey with me!). I am truly grateful for this experience and I wholeheartedly recommend putting your trust in these beautiful people!

Madera Sagrada

Feb 17 2022
---
---