AnteraPark Dental Clinic
Cosmetic Dentistry in Antalya, Turkey at AnteraPark Dental Clinic
Fener Mah. Falez Cad. Kemerler Ap. K:1, 07160 Muratpa?a/Antalya, Turkey, Antalya, Turkey

Focus Area:

AnteraPark Dental Clinic | Dental Clinic | Dental Treatment | Cosmetic Dentistry | Dental Implants | Veneers | Crowns | Antalya | Turkey
AnteraPark Dental Clinic Profile Overview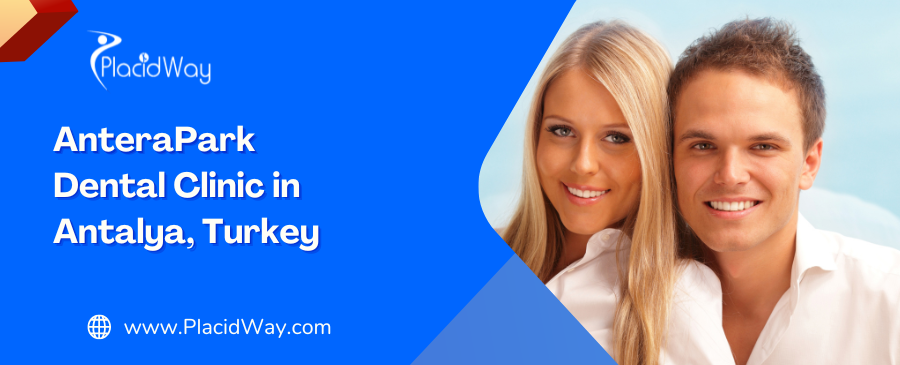 AnteraPark provide safe, affordable, and effective dental implants, veneers, crowns, smile makeovers, and other popular dental procedures in Antalya, Turkey. You can also find other cosmetic dentistry, such as teeth whitening, alongside facial and dental Botox treatments.
In 2013, our clinic began providing its expert oral and dental health staff to the Antalya/Lara region. With the opening of our second location in the Antalya/Konyaalt region in 2019, we increased the size of our service area and made it simpler for patients to reach us.
In the Antalya regions of Lara and Konyaalt, our doctors blend science and art, and they impart their wisdom to you. Our skilled doctors perform applications for dental implants and cosmetic dentistry.
Applications in general dentistry (tooth cleaning, root canal therapy, filling), implant application, aesthetic dentistry (bonding, laser teeth whitening, laminated crowns, crowns, bridges), and prosthetic applications are all meticulously and carefully carried out in our clinics.
Clinic Name: AnteraPark
Procedures: Dental Implants, Hollywood Smile, Veneers, Crowns, etc.
Location: Antalya, Turkey
Benefits of Choosing

AnteraPark

for

Dental Treatment in Antalya, Turkey
Here are the benefits you can get by selecting Antera Dis Klinigi for your dental procedures in Antalya:
No waiting time for dental treatment

Highly skilled dentist

Comfortable setting in a well-equipped clinic

Affordable prices for dental work

Nice vacation in Antalya during your dental care treatment

Advanced technology in dental procedures
You can find the following dental treatments in Antalya, Turkey by AnteraPark Clinic:
Dental implants, veneers, crowns, and other dental procedures at AnteraPark in Antalya, Turkey are more affordable than in your home country. You can receive high-quality treatment at AnteraPark and get a new smile with low-cost dental care. Check our price list table to learn more:
| | |
| --- | --- |
| Procedure | Cost |
| Dental Bridges | $450 |
| Full Mouth Restoration | $8,610 |
| Gingivectomy | $480 |
| Smile Makeover | $3,000 |
| Cyst Operation | $380 |
| Cyst Removal | $380 |
| Dental Implants | $550 |
| Dental Veneers | $245 |
| Dental Crowns | $150 |
| All on 8 Dental Implants | $6,420 |
| All on 6 Dental Implants | $5,325 |
| All on 4 Dental Implants | $4,305 |
Note: Price can change and vary depend on complexity of the procedure and patient condition. Click FREE QUOTE button below for more information:

Best Dentists

in

Antalya, Turkey at AnteraPark
You can achieve your desired smile and dental health goals with dental implants, root canals, teeth whitening, and other dental procedures at Antera Dis Klinigi in Antalya, Turkey. Contact us today for more information about dental treatment in Antalya, Turkey!

---
---
Reviews
Elena M

The best doctors and the best coordinator (Cecile) Now I have a nice smile ..Thank you Antera dental Clinic.

AnteraPark Dental Clinic

Nov 24 2022

Mandy H

I messaged Antera Dental and I received a message straight away, Very professional service, answered all my questions and I had a lot, I was collected at the Airport and taken to the hotel, which was very nice, got constant updates on when my next appointment would be, and all the staff are very friendly, they made myself and my husband who came with me very welcome. The Dentist was lovely and I had no pain at all having my treatment. My coordinator Cecile was fantastic such a lovely young lady. I am very happy with my new smile, I had 8 new crowns at the front, when your treatment is finished and you go back to the airport the driver takes you, he also is very nice. Couldn't fault this place and would recommend to go to Antera Dental.

AnteraPark Dental Clinic

Nov 24 2022

Jenny L

My husband recently completed his treatment at this clinic. The service and professionalism are both outstanding and I can't wait until it's my turn to get my teeth done.

AnteraPark Dental Clinic

Jan 02 2023
---
Dentistry Related Packages
Dentistry Related Experiences