Ahalia Medical Group
Urology, Dental Care, Eye Surgery, Plastic Surgery, Heart Surgery, Orthopedic Surgery, Abu Dhabi, UAE

Hamdan Street, Abu Dhabi, UAE

Specialty:

Anti Aging, Chronic Diseases, Cosmetic/Plastic Surgery, Dentistry, ENT, Executive Healthcheck, Eye/Lasik Care, Fertility Treatment, General Surgery, Gynecology Treatment, Heart Care/Surgery, Laparoscopic Surgery, Laser Surgery, Neurology, Organ Transplant, Orthopedic/Knee Surgery, Rehabilitation, Robotic Surgery, Skin Care, Spine Care/Surgery, Urology, Vascular Surgery

Focus Area:

Urology | Dental Care | Eye Surgery | Plastic Surgery | Heart Surgery | Orthopedic Surgery | Abu Dhabi, UAE
Ahalia Medical Group Profile Overview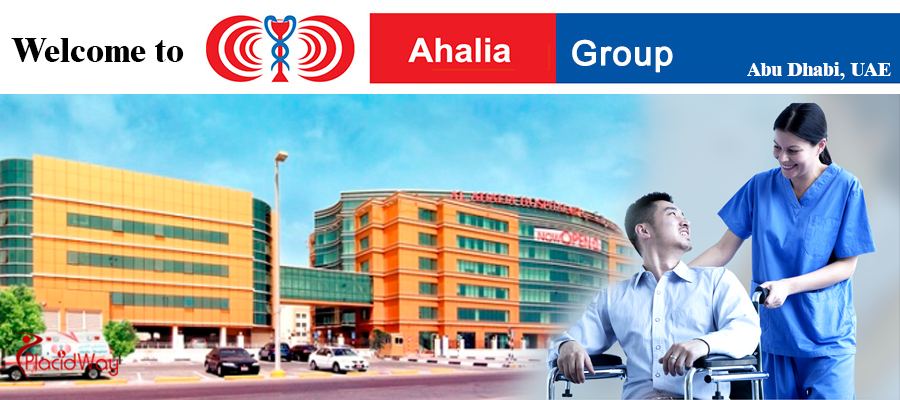 Welcome to Ahalia Group
Located in Abu Dhabi , UAE, Ahalia Group was founded in 1984 as an ordinary GP clinic. Since then it has become one of the best hospitals in the UAE aiming to bring international standards of health care within the reach of common people. The hospital received the JCI Accreditation after successful culmination of four day survey during the year 2010.
Nearly 1000 people, including doctors, nurses, pharmacists and other professionals like Chartered accountants, IT experts, Management personnel and Bio-medical Engineers are the lead team of experts with this medical group. The medical professionals are recruited on the basis of their internationally accredited degrees and practice and from various ethnic and cultural backgrounds so as to cater to the cosmopolitan society of Abu Dhabi.
Treatments and procedures
Ayurveda
Cardiology
Cardiovascular surgery
Dental services
ENT
Gastroenterology
Internal medicine
Neurology
Neurosurgery
Gynecology
Ophthalmology
Orthopedics
Rehabilitation
Plastic surgery
Urology
For more information about the treatments and procedures offered by Ahalia Group, please contact us!

---
---
Anti-Aging Related Packages