Family Hospital | Hospital de la Familia
Hospital de la Familia - Top Orthopedic, Bariatric and Plastic Surgery Centre in Mexicali Mexico
Circuito Brasil No: 82, Parque Industrial 'El Alamo', Baja California, Mexicali, Mexico

Specialty:

Anti Aging, Cosmetic/Plastic Surgery, ENT, Executive Healthcheck, Eye/Lasik Care, Fertility Treatment, General Medicine, General Surgery, Gynecology Treatment, Heart Care/Surgery, Laparoscopic Surgery, Laser Surgery, Neurology, Obesity/Bariatric Surgery, Organ Transplant, Orthopedic/Knee Surgery, Pediatric Treatment, Radiology/CT Scans, Robotic Surgery, Skin Care, Spine Care/Surgery, Sports Medicine, Urology, Vascular Surgery, Weight Loss Program

Focus Area:

Family Hospital | | Hospital de la Familia in Mexicali Mexico | Plastic Surgery | Bariatric Surgery | Orthopedic Surgery | Breast Augmentation | Tummy Tuck | Rhinoplasty | Gastric Sleeve | Mommy Makeover
Family Hospital | Hospital de la Familia Profile Overview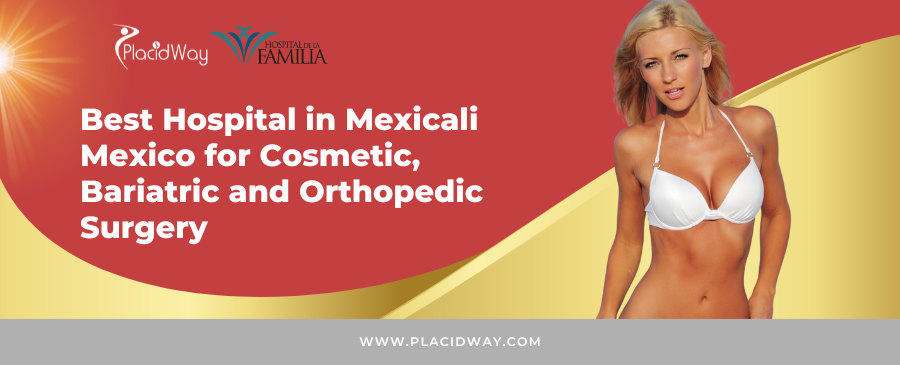 Best Hospital in Mexicali Mexico for Plastic Surgery, Bariatric Surgery and Orthopedic Surgery
Welcome to Family Hospital - Hospital dela Familia
Hospital dela Familia is the best clinic for Bariatric, Orthopedic and Plastic Surgery in Mexicali Mexico. Schedule your consultation today at PlacidWay. At Family Hospital, we offer a wide range of surgical procedures to help our patients achieve their desired results. Whether you are looking for plastic surgery, bariatric surgery, or orthopedic surgery, we have the experience and knowledge since 2003 to help you achieve your goals.
We understand that each patient has unique needs and concerns, which is why we offer a personalized approach to each and every case. We will work closely with you to develop a treatment plan that is tailored to your individual needs and goals. At Family Hospital, your satisfaction is our top priority. We offer a wide range of financing options to make our services more affordable, and we accept all major insurance plans.
As a successful institution in full development, it is necessary to feed the growth of our growth with the creation of a group of certified specialists Doctors who have the sense of responsibility and pursuit of excellence that have distinguished us and especially with a SHARED VISION of a better future as a leading Hospital.
Clinic Name: Family Hospital - Hospital dela Familia
Procedure: Plastic Surgery, Weight Loss Surgery, Orthopedic Surgery, etc.
Cost: $40 - $7,900
Location: Mexicali, Mexico
Doctor: Dr. Marco Sarinana, Dr. Jorge Maytorena, Dr. Rafael Abril, Dr. Jose Durazo, Dr. José Manuel Delgado Hurtado, Dr. Juan Luque, Dr. Alejandro Montan, and Dr. Gustavo Gaspar.
Our Mission
Family Hospital Medical Group: has been created with the commitment to provide our users a comprehensive hospital attached to a culture of quality and excellence in service and patient treatment, with specialized doctors, advanced technology and skilled technical and administrative staff. Not only have the patient and satisfaction as a priority but also offer benefits, services, and support required by OUR DOCTORS.
Our Vision
Achieve that FAMILY HOSPITAL MEDICAL GROUP is the most complete and recognized in the region, with a projection in other countries through medical tourism. Hospital de la Familia and its Medical Group: Leaders and associates.
Our Values
FAMILY HOSPITAL MEDICAL GROUP: Proclaim and live their values!
Ethics

Medical Professionalism

Disclaimer

Integrity

Honesty

Simplicity

Altruism
Here are several advantages of choosing best hospital in Mexico by Family Hospital:
A hospital where you can experience quality premises and services converge, and where one can find the disposition and warmth that allow us to thoroughly accomplish both your utmost welfare, as well as your family's, during your hospital stay.
At the Family Hospital, we've set ourselves the aim of developing a comprehensive and thorough medical service for the care of women since childbirth all the way to their adult stage. The hospital has medical services, experience, and technology to assist men, women, children, and elderly of any age. All our services are offered within a setting where tranquility, privacy and personalized attention provided by all our certified staff will make your stay with us reliable and quiet one. Most surely, you'll feel in good hands!
From the second you enter to the hospital, you can feel the security and tranquility that comes knowing that we have the best specialists in the city to offer the intensive care needed in areas such as:
We have the most up-to-date equipment to attend to all of our patients with integrity and professionalism with services such as:
Every area in the Hospital is equipped with the best frequently-updated technology to offer the best performance in all of our services:
Our personnel here at the Hospital understands how important it is to make you feel comfortable, taken care of, and pampered during the time of your stay with us, even for just a couple of hours or a few days.
Family Hospital is equivalent of tranquility and safety for your family; you can trust it has the support of the best medical team and equipment in all specialties. It's the region's most complete hospital working 24 hours a day. All Family Hospital areas have the highest technology for optimum performance for all medical services.
Family Hospital is a highly specialized hospital, which has beds, 2 central clinics (staffed by doctors in all specialties), nurses and dozens of services attended by skilled personnel, which allows us to provide the best quality healthcare.
Family Hospital has developed comprehensive and thorough medical services for women from birth through adulthood. But it's not just a hospital for women.
Here you can check information about price for Plastic Surgery and Bariatric Surgery in Mexico by Family Hospital:
Cosmetic Surgery
| | | | |
| --- | --- | --- | --- |
| Procedure | Price | Hospital Nights | Hotel Nights |
| Arm Lift | $4,150 | 1 | 4 |
| Breast Augmentation | $3,920 | 1 | 4 |
| Breast Augmentation & Lift | $4,950 | 1 | 4 |
| Breast Lift | $3,980 | 1 | 4 |
| Breast Reduction | $4,500 | 1 | 4 |
| Tummy Tuck + Liposuction + Brazilian Buttocks | $5,990 | 1 | 3 |
| Tummy Tuck | $3,460 | 2 | 6 |
| Tummy Tuck with Lipo | $5,500 | 2 | 6 |
| Neck Lift | $3,920 | 1 | 3 |
| Full Face Lift | $5,975 | 2 | 3 |
| Eyelid Lift-Upper (both) | $1,870 | 0 | 1 |
| Mommy Makeover* | $5,575 | 1 | 7 |
| Mommy Makeover* with Breast Lift | $6,900 | 2 | 6 |
| Mommy Makeover* + Lift + Implants | $7,900 | 2 | 6 |
| Buttock Implants | $4,500 | 1 | 4 |
Bariatric Surgery
| | | | |
| --- | --- | --- | --- |
| Procedure | Price | Hospital Nights | Hotel Nights |
| Gastric Band | $5,800 | 2 | 0 |
| Gastric Sleeve | $6,500 | 2 | 3 |
| Gastric Bypass | $8,500 | 2 | 3 |
| Intragastric Balloon | $3,500 | 1 | 1 |
Others:
| | |
| --- | --- |
| Procedure | Price |
| Torax Xray | $ 50 |
| EKG | $ 40 |
| Torax Xray | $ 50 |
| Mammography | $ 80 |
| Tomography (Angiotac) | $ 800 |
| Tomography (Abdomen & Pelvis) | $ 720 |
| Tomography (1 area) | $ 550 |
| Ultrasound (Depends on area) | $ 70 - $ 250 |
| Doppler | $ 420 |
| Colonoscopy | $ 700 |
| Biopsy (breast) | $ 600 |
| Biopsy (uterus) | $ 2,200 |
| Biopsy (other areas) | $ 600 |
| Endoscopy | $ 500 |
| Lab test (Hepatitis ABC, Complete Biometrics, Urine Test, Coagulant levels) | $ 225 |
| Lab test (Complete Biometrics, Coagulant levels, Hepatitis C, Creatinine, Glucose, HIV, Hemoglobin) | $ 190 |
| Hepatitis-C test | $ 45 |
| Internal Medicine Doctor evaluation | $ 180 |
| Echocardiogram test (ECG) | $ 150 |
| Stress Test | $ 550 |
| MRI test | $ 600 |
| Blood transfusions x unit | $ 250 |
Note: Surgery Package Price includes all doctor, hospital, and lab fees required hospital nights and hotel nights indicated. Transportation to and from Yuma or San Diego airport included. Transportation between hospital and hotel included. Gastric Band package does not include hotel night, however, patients should plan on staying in an area hotel at least 1 night before returning home.

Before and After Plastic Surgery in Mexicali Mexico at Family Hospital
Check below images about before and after plastic surgery in Mexico at Hospital Dela Familia: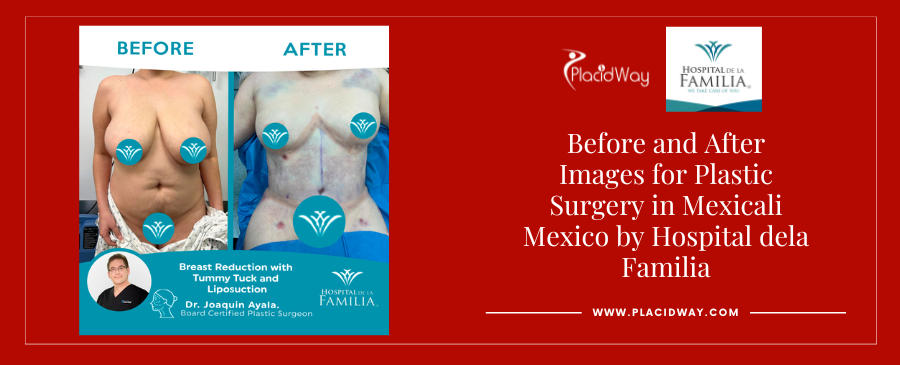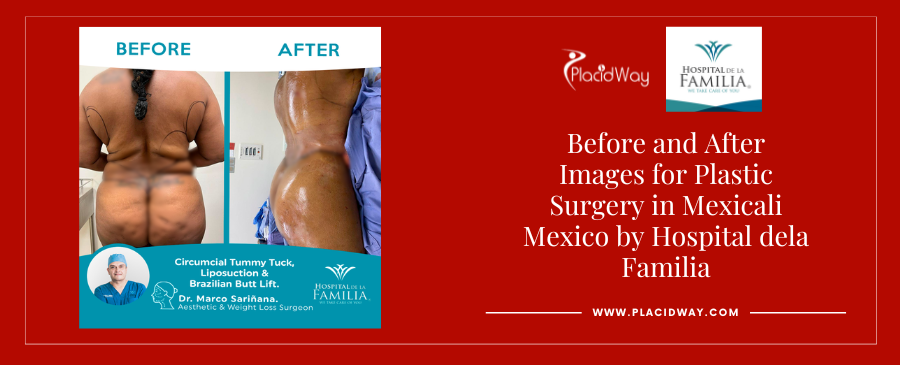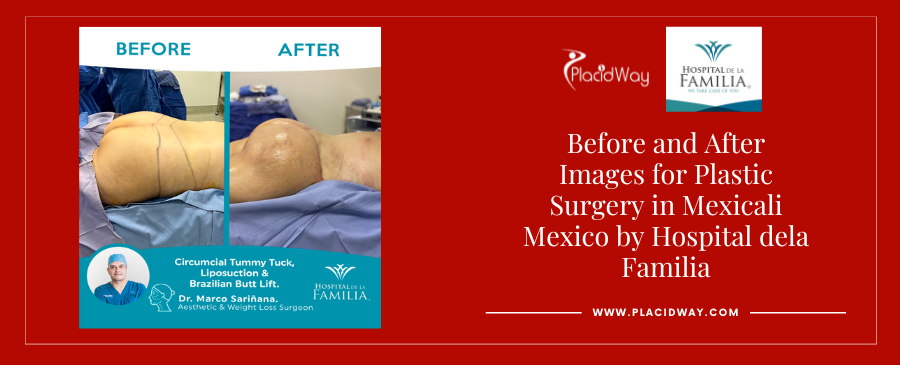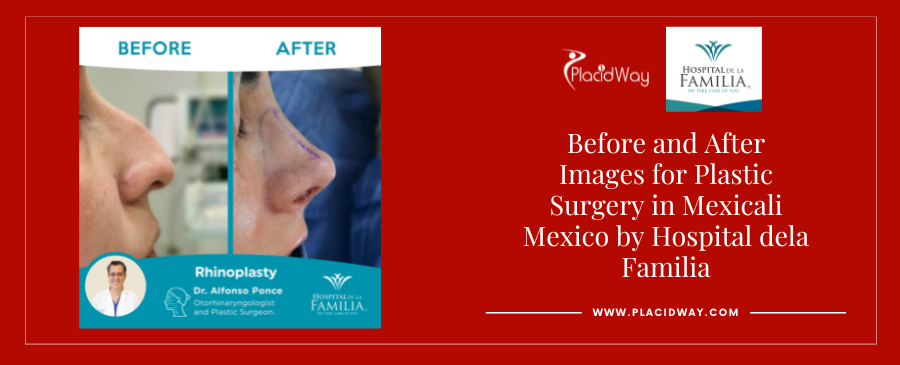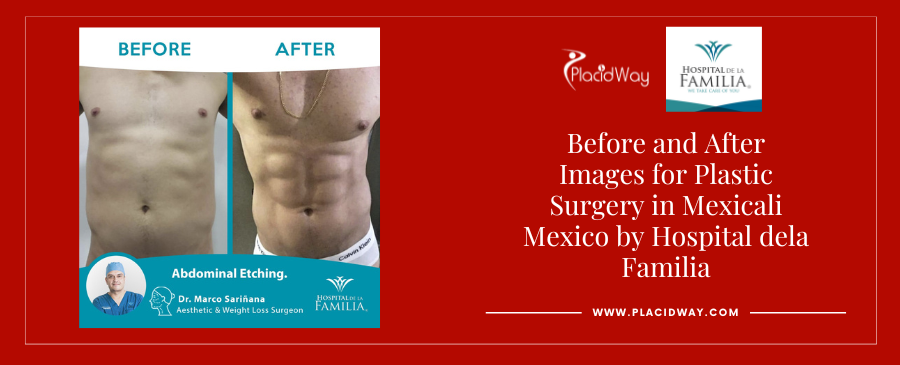 FAQs about Plastic Surgery in Mexicali Mexico
Check below information Frequently Asked Questions for Plastic Surgery in Mexico:
What types of plastic surgery procedures are available in Mexicali Mexico?
Mexicali Mexico offers a wide variety of plastic surgery procedures, including facelifts, breast augmentation, liposuction, and tummy tucks.
How much do plastic surgery procedures cost in Mexicali Mexico?
The cost of plastic surgery procedures in Mexicali Mexico can vary depending on the specific procedure, the surgeon, and the facility. However, Mexicali Mexico is generally considered to be a very affordable destination for plastic surgery.
What are the benefits of having plastic surgery in Mexicali Mexico?
Mexicali Mexico offers a number of benefits for plastic surgery patients, including high-quality surgeons, affordable prices, and a wide variety of procedures. Additionally, Mexicali Mexico is located in a convenient location for many US patients, making it easy to travel to and from the country for surgery.
Are there any risks associated with plastic surgery in Mexicali Mexico?
As with any surgery, there are always risks associated with plastic surgery. However, the risks are typically low and can be easily managed by a qualified surgeon. Additionally, Mexicali Mexico has a very good reputation for safety and quality, so patients can feel confident that they will be in good hands during their procedure.
It's time to take charge of your health! Schedule a consultation for Cosmetic Surgery, Obesity Surgery, and Orthopedic Surgery in Mexicali Mexico today at Family Hospital. PlacidWay will help you get in touch with this best hospital in Mexico which offers a wide range of options for everyone.
We believe that taking care of your health should be convenient and affordable. That's why we offer a variety of services that you can tailor to your needs. Call us today to learn more about how we can help you achieve your health goals!

---
Family Hospital | Hospital de la Familia, Mexicali, Mexico Profile Details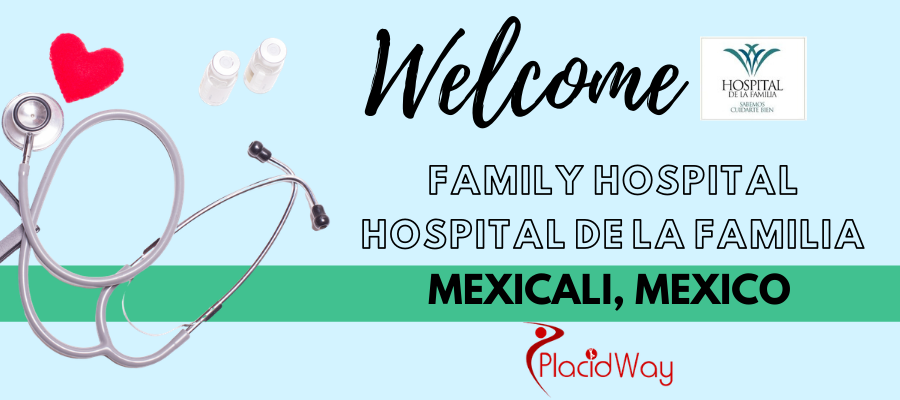 Leading Center for Cosmetic, Bariatric, and Orthopedic Surgery in Mexico
At Family Hospital, we've set ourselves the aim of developing a comprehensive and thorough medical service for the care of women since childbirth all the way to their adult stage. The hospital has medical services, experience, and technology to assist men, women, children, and the elderly of any age. All our services are offered within a setting where tranquility, privacy and personalized attention provided by all our certified staff will make your stay with us reliable and quiet one. Most surely, you'll feel in good hands!
Attending every family medical attention that concerns women...
We have developed a medical service that allows us to be part of your family from the happiness that comes with a newborn baby, to the extended care needed to help live a long, healthy and flourishing life for our grandparents.
Family Hospital was founded in 2003 by the initiative of a group of physicians and businessmen committed to the community who felt it was necessary to have a specialty hospital to cover all the expectations and medical needs for women with the highest level on medical care.
According to our growth plan projected in 2004 we expanded our infrastructure to meet all health care needs for families on both sides of the border, always providing personalized service with quality and human warmth.
In 2010 we're growing over 70 percent over the current hospitalization capacity, intensive care units, and emergency services.
Our Facilities
Hospital Rooms
Completely private, with Satellite TV Service, wireless internet and safety. Assisted by our team of doctors and nurses 24 hours a day.
Nursery: Newborn Special Care Area
Family Hospital has the Technical Equipment and qualified staff, trained and sensitized to give the newborn the care that benefits and promotes their evolution 24 hours a day. With closed circuit cameras for their monitoring and electronic access keys for authorized staff only, this area offers the best security for the care of our little patients in the three levels of care:
The Healthy newborn normal nursery (maternity room)

The baby who needs intermediate care

The baby who needs critically intensive care (neonatal intensive care unit)
Newborn Intensive Care Unit (UCIN)
This unit is fully equipped for newborns subjected to heart surgery among other conditions. Attended by specialized neonatal physicians and highly trained nursing staff.
Intensive Unit Care (UCI)
Unit specialized in care for patients post-cardiac surgery, cardiac catheterization, and coronary care unit, among others. With special monitoring equipment, invasive ventilator support and completely isolated unit for the care of contagious or infectious cases and low defenses patients susceptible to infections.
Operating and Recovery Room
In Family Hospital, we offer the trust of organized, professional and safe care of any health condition that requires surgery. We have 5 fully equipped operating rooms with the latest technology available in the medium, anesthesia service ISO-9002 certified and continually trained staff, all to the integral attention of surgical patients.
Hemodynamic
Thanks to our high-resolution image and appropriate technology, our cat lab allows the specialty Physician to detect any abnormality in the cardiovascular system and thereby offer the best treatment (catheterization, cardiovascular surgery, angioplasty, etc).
Insurance and Financial Services
Currently, Family Hospital covers the following insurance services:
Axa Seguros

Axa Assistance

Inbursa

Simnsa

GNP

Quilitas

Zurich

Banorte Generali

Atlas

Metlife

AIG de México

Seguros Interamericana

Metropolitana MAPFRE Tepeyac

Solórzano Jacquez y Asociados

Allianz de México

Medical Home

Seguros Monterrey New York Life

Medi Access

United

Vitamédica

Latino Health

Amed Baja

USA MEX Frontera Internacional

Preventis

Axa Seguros
For more information about Family Hospital and the treatments and procedures they are offering, click the button below!

---
Family Hospital | Hospital de la Familia Treatments Offered
The Gastric Bypass is considered by the American Society of Bariatric Surgeons and the National Institutes of Health to be the gold standard of weight loss surgery, and the single most successful procedure for excess weight loss and long-term weight control. The surgery has been performed by the laparoscopic method since 1997, which results in smaller incisions, less pain and scarring, reduced blood loss, shorter hospital stay, and reduced risk of internal organ damage and infection when compared to the traditional open incision technique.
Gastric Band surgery is an adjustable surgical treatment for morbid obesity. It induces weight loss by reducing the capacity of the stomach, which restricts the amount of food that can be consumed and increases the time it takes for food to be digested.
The sleeve gastrectomy is a procedure that induces weight loss by restricting food intake. The procedure removes up to 80% of the stomach laparoscopically so that the stomach takes the shape of a tube or "sleeve". The Gastric Sleeve procedure is a relatively new approach to bariatric surgery and is usually performed on severely obese or high-risk patients with the intention of performing another surgery such as the gastric by-pass at a later time. This combined approach has dramatically decreased the risk of weight loss surgery for certain types of weight loss surgery patients, even when the risk of the two surgeries is added.
The intragastric balloon is designed to provide short-term weight loss therapy. The silicone balloon is placed endoscopically and filled with liquid so it partially fills the stomach and creates a feeling of fullness. The maximum time a balloon can be left in place is 6 months, after which it must be removed.
Cosmetic Surgery Center
Cosmetic surgery can improve your appearance, confidence and outlook on life. Our experienced surgeons offer a variety of procedures that can help you look your best. Whether you are seeking a more youthful appearance with a face lift or neck lift, enhancing your body image with breast enlargement or body contouring or looking for a way to get back your pre-mommy figure with a tummy tuck, Mexicali Health Care can help you love the way you look.
General Surgery Packages
Some of our most commonly requested procedures are listed below:
Angioplasty with stent(s)

Cardiac Catheterism (Left & Right)

Open Heart Surgery

Knee Arthroscopy with Ligament Reconstruction

Shoulder Arthroscopy

Hysterectomy

LASIK
The decision to undergo surgery is a major one. It can also be a major investment. That's where Mexicali Health Care comes in. Its two well-equipped hospitals provide comprehensive health care services, enabling you to care for your whole family for less, in specialties including Cosmetic Surgery, Bariatric, and General Surgery, Orthopedic Surgery, Obstetrics, and Gynecology, In Vitro Fertilization, Cardiology, Pediatric Surgery, Neonatology, Adult and Pediatric Neurosurgery, and many others.
Featuring comfortable private rooms, wireless internet access, bilingual staff, satellite/cable television and on-site restaurants, chapel, and pharmacy, Mexicali Health Care provides all the comforts you expect from a leading health care provider.
Other Services
There are rooms designed with the goal of creating a friendly and relaxed environment to help to the fastest patient recovery. We have a nursery place, pediatric and adult hospitalization units, intermediate care, intensive care, and 24-hour emergency service.
The Hospital has specially designed areas, the technology, personnel, and resources required for efficient and opportune care on a patient who arrives at our emergency unit. These areas are separated in adult and pediatric care, providing proper service at any time.
Equipped with cutting edge technology in areas as radiology, hemodynamic, and ultrasound, as well as Gynecology-Obstetrics Unit.
Has 5 complete surgery rooms, pre-operative and recovery rooms plus Adult and Pediatric IC Units.
For more information about Family Hospital and the treatments and procedures they are offering, click the button below!

---
Family Hospital | Hospital de la Familia Certificates, Accreditations, Qualifications
---
Family Hospital | Hospital de la Familia Testimonials
Real Patient Treated by Family Hospital – Hospital De La Familia in Mexicali Mexico
Check below for information about heart touching Patient Reviews after receiving treatments or procedures at Family Hospital:
Toya Ducolon
"Definitely recommend them to anyone who asks! The staff was amazing!!! All the nurses were so kind and made me feel like i was never alone in my recovery! Maritza did a fabulous job at helping me translate and setting up everything from my surgery to a chauffeur to pick me up at the airport!! Alfonso, the chauffeur was so kind as well! An elderly gentleman who loves to learn new things! He knows Spanish and English and is currently on the road to learning French as well!! This hospital changed my life! I'm forever grateful!"
Holly Brim
"My husband and I traveled to Mexicali to have a Tubal Ligation Reversal procedure done by Dr Llamas and Dr Rojas. Upon arrival in the hospital I recieved an ipad/ tablet device to use for translating between us and the Medical staff. The day I arrived was my surgery day. I stayed that night and the next night for recovery before returning home. My surgery was in April of 2017 and against Drs orders we tried and successfully conceived by June 2017. We did not wait the recommended time but had no complications conceiving sooner. Our beautiful baby girl was born Feb 2018. I'm very grateful for my experience in Mexicali and the chance to grow our family. Thank You!"
Sheri Melanson
"I had surgery at Hospital De La Familia that Carlo and his team arranged for me. I had some concerns, being a Canadian and travelling down during COVID restrictions, but Carlo personally handled my mother (who was also having surgery) and I, as well as my husband expertly. He helped us navigate a flight issue after surgery that came up and helped to drive us back over the border when it was still not allowed for Canadians to do so. "
"Both my surgery and my mothers went very well. Dr. Sarinana knew exactly what to do during surgery for me to have the best outcome. I couldn't be more pleased with my results! I will definitely contact Carlo to arrange any other surgeries I might consider in the future and I will definitely have Dr. Sarinana do the procedure. Highly recommend!!"
Jacqueline Oakley
"I travel from California to Hospital De La Familia and I had a full mommy makeover with Dr. Marco Sariñana. From the drivers, check in staff, Marizta, nurses and Dr. Himself I had an amazing experience. I had traveled by myself for the procedure and everyone was extremely kinda and answered an and all questions. The only part that was difficult sometimes was the language barrier but we managed with Google Translate. I did not get to meet Dr. Sariñana until I was in the operation room per their Covid protocol. He suggested more to my procedure than I had planned to make sure I would be happy with my end result. Let me tell you...I AM SOOO HAPPY! If in the future I would decide i want more work I will definitely be traveling back to them."
Julianne Plunkett
"The absolute BEST! Not only was communication amazing throughout the whole process w/ Carlo, I was taken such good care of. The surgery I had required me to stay over night and I had my own private room w/ a sofa bed for a guest, TV, and full bathroom (w/ a complimentary toiletries bag w/ toothbrush, soap, ECT anything I could need including slides lol) The nurses came all throughout the night to check on me and make sure I was okay. I can not recommend Hospital de La Familia enough."
"I refer them to EVERYONE. Ive gotten two procedures from here and both went so beautifully. I get compliments on my results all the time. Maritza was my point of contact once I arrived both times and was so sweet and helpful, I was able to text her any questions or concerns w/ a reply immediately. I personally didn't have any issues after either of my surgeries (thank god) thats how good of a job Dr Sarinana did for both of my surgeries."
"The lady who did my post op massages was so impressed, she wanted my dr information. She couldn't believe 1. The results and 2. How well I was healing to the point I didn't need to do a lot post op. I should've been down 2-6 weeks at least for my first surgery and I was back to normal by the 4th day! It's insane, I can't rave about them enough! Will definitely be back for ANY future surgeries. It's so impressive how talented Dr Sarinana is; most doctors will specialize in a specific surgery but I'm literal proof he can do it all!"
Hope this helps anyone make their decisions, you are in great hands at Hospital de La Familia!

---
Family Hospital | Hospital de la Familia Awards & Recognitions
Awards Received by Family Hospital – Hospital de la Familia Mexicali
Here you can find information about awards received by Family Hospital: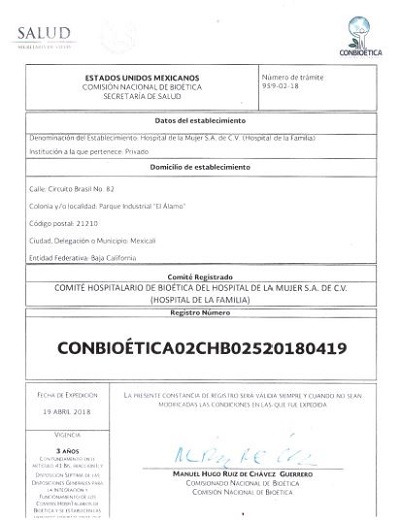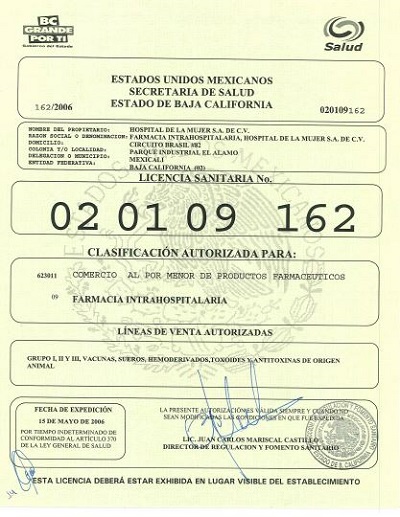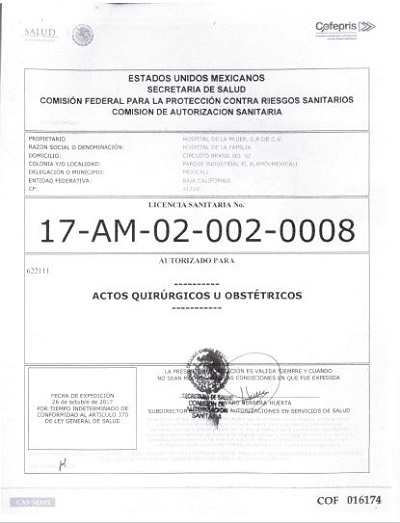 Why Choose Mexicali Mexico for Plastic Surgery
For starters, the cost of living is much lower than in the States, which means that you can get high-quality procedures at a fraction of the cost. What's more, the weather is gorgeous year-round, so you can enjoy sunny days and beautiful beaches even as you recover from your surgery. And last but not least, the people of Mexicali are incredibly friendly and welcoming, so you're sure to feel right at home during your stay.
For more information about Family Hospital and the treatments and procedures they are offering, click the button below!

---
Mexicali, Mexico Destination Overview
Visiting Mexicali for Cosmetic Surgery, Orthopedic Surgery and Bariatric Surgery
Mexicali is the capital of the Mexican state of Baja California. Founded in 1903, Mexicali is situated in the U.S.?Mexico border adjacent to Calexico and is the northernmost city in Latin America.
Mexicali Valley is one of Mexico's most productive agricultural regions, mostly producing wheat, cotton and vegetables. The city of Mexicali is one of Mexico's most important exporters of asparagus, broccoli, carrots, green onions, lettuce, peas, peppers, radishes and tomatoes to the world.
It's geographic location is an important aspect of Mexicali. Located on the border with Calexico, California the city lives in the middle of a long and arid valley that separates the city by over 50 miles from other populous cities. Because of this geographical characteristic, the people of Mexicali are known for being very welcoming and open to visiting tourists.
The population of Mexicali is over 900,000, making it the 13th largest municipality in Mexico. It is among the most ethnically diverse cities in Mexico and is considered among the most prosperous cities in the country. In fact, in the past 10 years, Mexicali has been one of the fastest-growing cities in Mexico, mostly due to the installment of international companies in the region. Thousands of people from the south of Mexico have migrated to Mexicali for the employment opportunity that the city can offer.
Mexicali has been considered the safest and most organized border city in Mexico. The UABC (Universidad Autonoma de Baja California) located in Mexicali is recognized as one of the top schools in Mexico in fields such as medicine, law, and engineering. Mexicali is also home to the Teatro del Estado (the State Theater) which features many plays, shows, and events every day open to the public. In the heart of the city, you can find the Mexicali Zoo, also known as 'El Bosque de la Ciudad'.
The Mexican peso is the legal currency, though US dollars are accepted in all locations. Spanish is the dominant language in Mexicali. However, English is spoken by many in tourist locations, as well as by most taxi drivers.
Weather
Mexicali is well known for its dry climate, with weather similar to Palm Springs, CA, and Scottsdale, AZ. The area has the average annual rainfall of fewer than three inches.
Getting There
International visitors have the option of flying into Yuma, Arizona?45 miles away from Mexicali, or San Diego, California 120 miles away, and driving to Mexicali. The city is linked to other Mexican cities by the Mexicali International Airport, which serve the city itself and the surrounding towns.
Visitors can also cross by foot or car from Calexico in the United States. Restaurants and taco stands, pharmacies, bars and dance clubs are part of the draw for the city's tourists. Many shops and stalls selling Mexican crafts and souvenirs are also located in walking distance from the border.
About Mexicali Health Care
Featured Provider Mexicali Health Care Mexicali Health Care is a network of the regions' top physicians and two major hospitals, Family Hospital and Hospital Hispano Americano, which got together to provide Americans, and all international travelers, with a comprehensive health care option at prices far below those in the U.S.
Family Hospital is the newest and most modern medical facility in Baja California. With a goal of developing comprehensive and thorough medical care for women from birth through adulthood, services are offered in a setting where tranquility, privacy and personalized attention provided by the experienced staff will make your stay a comfortable one. Since 2006, the hospital has treated thousands of American patients. The hospital features comfortable, private rooms, a coffee shop and restaurant, wireless Internet, a chapel, satellite television, and a comfortable waiting area. All rooms are private rooms, giving patients the privacy and tranquility they deserve.
Hospital specializations:
Plastic & Cosmetic Surgery

Bariatric & General Surgery

Orthopedic Surgery

Obstetrics & Gynecology

In Vitro Fertilization

Cardiology/Hemodynamic Room

Gynecological & Obstetric Surgery

Pediatric Surgery

Neonatology

Adult & Pediatric Neurosurgery

Minimally Invasive Hemodynamic Monitoring and Treatment
Opened in January 1992, Hospital Hispano Americano is a private health care facility with a mission of providing high-quality professional health services. The hospital features private patient rooms, coffee shop and restaurant, wireless internet, cable television in English and Spanish, 24 hr. Security and video surveillance, and a pharmacy.
What to Do in Mexicali?
Mexicali is well known for its nightlife and cuisine. You might be surprised by the number of restaurants, nightclubs, movie theaters, bars, bowling alleys, and plazas you can find. Since Mexicali is home to over 80,000 Chinese immigrants, one of the city's most traditional and recognized cuisine is Mexicali Chinese food. Mexicali is well known for its many downtown art museums.
Mexicali is home to two national televised sports teams in Mexico: The Aguilas de Mexicali (Baseball) and Soles de Mexicali (Basketball). Both teams play in their very own stadium and arena. The city also has its own rodeo stadium where the traditional Mexican sport of "Charreria" is practiced. Almost every Sunday locals from the city go to the stadium to experience what has become the most popular sport in Mexican culture. Mexicali also has its very own bullfighting stadium known as "La Plaza de Toros Calafia" which has featured not only bullfights but concerts and other events.
Visitors to Mexicali may enjoy trips to:
Club Campestre, a professional 18 hole golf course where both national and international championships regularly take place.
Sol Del Nino, an interactive science, technology, arts, and environment center for children. Located in the heart of Mexicali it is surrounded by beautiful gardens and in an enormous building recently designated fights, events.
Mexicali, as a historic landmark. The Center houses more than 260 interactive exhibits. Guided tours are available.
San Felipe, the closet beach to Mexicali.

The beach town provides unique shops and excellent restaurants and bars.

Morelos Dam, inaugurated on September 23, 1950, and covering 175,000 acres, offers a beautiful natural setting.
Las Dunas, dramatic sand dunes provide the ideal place for riding motorcycles, ATVS, and sand buggy.
Shopping
Mexicali features plenty of state-of-the-art shopping malls where you can find designer stores, fine jewelry, department stores, and Mexican artistry. The most visited shopping center is the air-conditioned Plaza La Cachanilla, located just a few minutes away from the US border. The mall hosts a variety of shops ranging from local Mexican curiosities to expensive imports.
Galerias del Valle is anchored by a WallMart Supercenter, 12 screen movie theater Cinepolis and Ashley Furniture. It includes familiar U.S. restaurant chains like Carl's Jr, Applebee's, Starbucks, VIPS and Burger King, also has a large food court.
Where to Stay
Hotel Lucerna is a 5-star hotel offering a traditional and colonial atmosphere surrounded by extensive gardens. Located strategically in the Hotel Zone, the hotel is near shopping malls and easily accessible to government offices, the airport, and international borders. Rooms are beautifully equipped with a complimentary fruit basket and bottled water, coffeemaker, hairdryer, iron, free wireless internet access, Satellite TV, voice mail, automatic wake-up calls, data port phones, and air conditioning. The hotel features:
176 rooms and suites

3 restaurants

Night club

Piano bar

Ladies bar

Business center

Meeting rooms

2 swimming pools

Gift shop

Crown Plaza Mexicali
The Crown Plaza is just two miles from the heart of Mexicali in Baja California. The hotel provides a complimentary shuttle to destinations within 9 miles of the hotel. A fitness center, outdoor pool, and sauna provide recreation. The business center offers to copy, faxing, and computer access. High-speed Internet access is complimentary throughout.
Plaza Jardin Cafeteria on-site serves breakfast, lunch, and dinner. Premier Restaurant also on-site, serves lamb, ribeye steak, shrimp and lobster dishes, and Mexican gourmet specialties. Lobby and sports bars are also on the premises and room service is available. Other features include:
Swimming pool

Sauna

Room service (24 hours)

Business center

Internet access in public areas

Babysitting or child care

Laundry service

Fitness equipment

Gift shop
For more information about Family Hospital and the treatments and procedures they are offering, click the button below!

---
---
Reviews
Debbie M

Excellante

Nov 04 2022

Anonymous

Dr. Maytorena saved my life! And not just by providing me the opportunity to loose weight and change my life. My husband and I had been fighting weight loss, diets, and exercise for several years. We have a son with a metabolic disorder and eating right and staying fit needs to be a big pa

Dec 08 2021

Thalia S

Buena comunicación

Sep 25 2020
---
---