Stem Cell Therapy for Idiopathic Pulmonary Fibrosis in Mexico
Location:
Paseo del Centenario 9580-2802 NewCity Medical Plaza |, Piso 28, Zona Urbana Rio Tijuana, 22010 Tijuana, B.C., Tijuana 22010, Mexico
Focus Area:
Stem Cell Therapy in Mexico | Stem Cell Treatment | Idiopathic Pulmonary Fibrosis Treatment | Stem cell Treatment Clinic Mexico
Idiopathic Pulmonary Fibrosis Treatment, Stem Cell Therapy in Mexico, Stem Cell Clinic, Idiopathic Pulmonary Fibrosis Stem Cell Treatment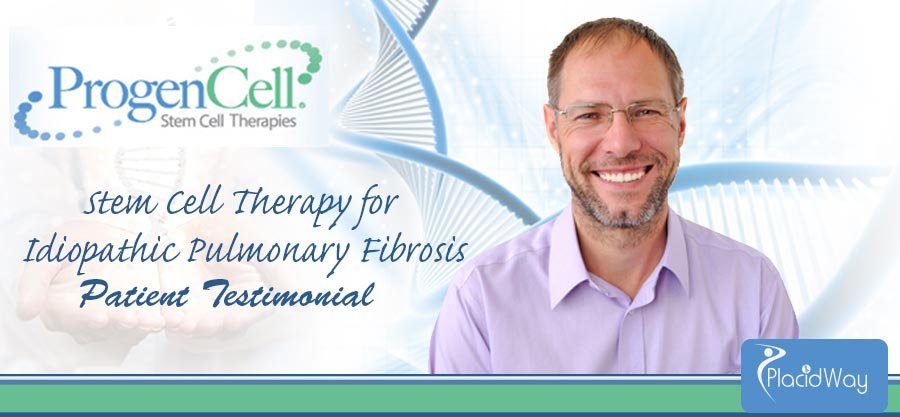 Mister Keith P., 54, from Woodend, Australia is one of the many international patients who accessed PlacidWay's services for treatment abroad. He underwent successful Stem Cell Therapy for Idiopathic Pulmonary Fibrosis in Mexico. After his safely return home, PlacidWay contacted Mr. Keith for more information about the procedure, the clinic and his medical experience abroad.

PlacidWay: Please describe your condition when you contacted us
Mr. Keith: I was diagnosed with Idiopathic Pulmonary Fibrosis 5 years ago and since then I had been trying various therapies and treatments with no result. I even felt my condition worsening. I came to this conclusion as I noticed that I was running out of breath much sooner during exercise, walking, going up stairs etc. than previously.
PlacidWay: Did the doctor who diagnosed you tell you what the cause for your IPF was?
Mr. Keith: Well, that was kind of the problem. He told me that IPF, being an idiopathic disease, doesn't have a precise known cause. He did tell me that some of my habits were aggravating my condition.
PlacidWay: What kind of habits?
Mr. Keith: Smoking, for instance. I was a 2 pack-a-day guy. You see, I used to work in a coal shipping yard, but then I quit and went to work on a farm. He said that some of the environmental and occupational exposures at my workplaces may also have had influenced it. I can understand coal dust. But I didn't expect wood dust or hay to be this important. I mean, I grew up on a farm, and never had hay fever. Not even as a kid.
PlacidWay: How did you find out about PlacidWay?
Mr. Keith: I discovered your site after a friend of mine recommended it. His wife had a similar condition to mine and told me that you guys could help me. I went online and did a little research on the treatment offers you had on there. And I found the Progencell clinic in Mexico. They offered a stem cell therapy aimed precisely for what I had. As you can imagine, this wasn't my first time around the block.
PlacidWay: Could you offer more details on what did the treatment at Progencell consist of?
Mr. Keith: The treatment plan was made up of a bone marrow stem cell therapy (IV infusion), an antiaging 3 day package and a Pre-Tx: colony growth stimulation.
PlacidWay: Did the treatment work?
Mr. Keith: Oh God, yes! I would say immediately, but as soon as I was discharged and got back home, I noticed a major improvement. I still go to regular check-ups and keep clear of any work that might make my disease reaper, but all in all it's much, much better!
PlacidWay: How much were you charged for the treatment?
Mr. Keith: I paid $8,837. And I'm glad I did!
PlacidWay: So, on a scale of 1 to 10, how satisfied were you by ourservices and the services of the clinic?
Mr. Keith: 10! Undoubtedly 10! Everybody was very nice to me over there, and made me feel safe and well taken care of. And you guys are doing a smashing good job!
PlacidWay: Would you recommend PlacidWay and Progencell to others?
Mr. Keith: With all my heart!

---
Request your Free Quote
×