Best Eye Lasik Surgery Center in Mexico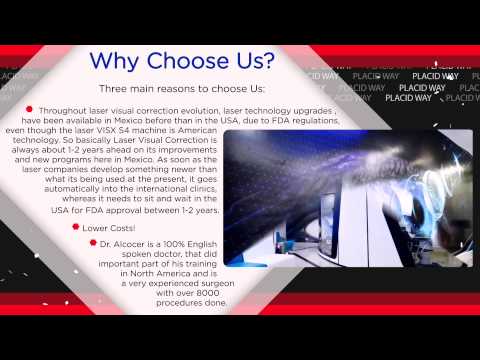 Best Eye Lasik Surgery Center in Mexico, Eye Lasik Surgery Center in Mexico, Perfect Vision, Lasik eye surgery, eye surgery, Eye-Lasik Care, Laser Monovision Treatment, LASIK & LASEK / PRK, Presbilasik, Intraocular Lenses, Cataract Surgery, ZLASIK Corneal Rings
Category:
Eye Lasik Surgery Abroad
Procedure:
Eye/Lasik Care
Source: Youtube
Perfect Vision - one of the best eye lasik surgery center in Mexico is a Laser Eye Institute dedicated to advanced treatments for Myopia, Hyperopia, Astigmatism, Presbyopia, Cataracts with the latest technology.
Perfect Vision started its activities on 2005, under the medical direction of Carlos Alcocer Lamm,ophthalmic surgeon, graduated from AsociacionPara Evitar La Ceguera en Mexico, which is the largest eye hospital in Mexico and with fellowship training in the same institution and McGill University in Refractive Surgery and Opthalmic Pathology.
If you want to know more about Perfect Vision and its treatments offered, you may contact us by simply clicking the button below!
PlacidWay can help you access affordable eye lasik surgery at renowned clinics all over the world, according to your needs.


Best Eye Lasik Surgery Center in Mexico
Keywords: Best Eye Lasik Surgery Center in Mexico, Eye Lasik Surgery Center in Mexico, Perfect Vision, Lasik eye surgery, eye surgery, Eye-Lasik Care, Laser Monovision Treatment, LASIK & LASEK / PRK, Presbilasik, Intraocular Lenses, Cataract Surgery, ZLASIK Corneal Rings, PlacidWay