10 Questions to Ask A Doctor Before IVF Fertility in Istanbul, Turkey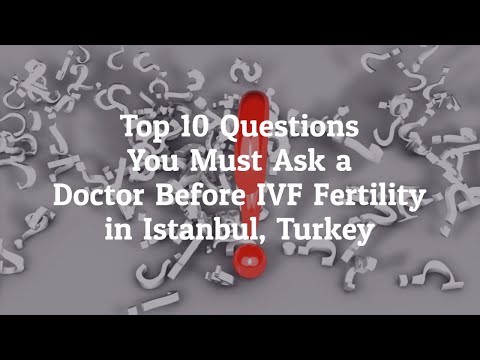 IVF Fertility Clinic, IVF Fertility Procedure, IVF Fertility Packages, IVF Fertility Cost, Istanbul, Turkey
Category:
Fertility / IVF
Procedure:
Fertility Treatment
Source: YouTube
Top Questions to Ask A Doctor Before IVF Fertility in Istanbul, Turkey
IVF (In-vitro Fertilization) is a procedure that involves combining sperm and ovary outside the human body. This procedure is usually carried out in the glass. The resulting embryo is then transferred into the uterus forming pregnancy. IVF treatment is for those who have been trying to conceive and this treatment has been used successfully to solve infertility problems in marriages.
If you are looking at pursuing IVF treatment in Istanbul, Turkey, your choice is on point as Istanbul is a good destination for this treatment due to the quality of service and cost flexibility. Moreover, many countries have legal hassles to proceed with this treatment. Istanbul is a safe bet in that area and thus you can carry on with the treatment without bothering about legal hassles.
Please feel free to click the button below.

Contact us: https://www.placidway.com/contact/contact-us.php
Website: https://www.placidway.com
Phone number: +1.303.500.3821
Email: [email protected]
Follow us:
Facebook: https://www.facebook.com/Placidway
Twitter: https://twitter.com/placidway
You Tube: www.youtube.com/user/placidways
Pinterest: https://www.pinterest.com/placidway/
Google+: https://plus.google.com/u/0/111891372235542070653/posts
LinkedIn: https://www.linkedin.com/company-beta/902030
Best Questions to Ask A Doctor Before IVF Fertility in Istanbul, Turkey
Keywords: IVF Fertility Clinic, IVF Fertility Procedure, IVF Fertility Packages, IVF Fertility Cost, Istanbul, Turkey