Jinepol IVF Clinic
Best Clinic for Fertility Treatment in Istanbul Since 1997
Nispetiye Mahallesi Aytar Caddesi Baslik Sokak No:1/B1. Levent Besiktas Istanbul/TURKEY, Istanbul, Turkey

Specialty:

Fertility Treatment, Infertility/IVF

Focus Area:

IVF Treatment in Istanbul Turkey | ICSI | PGD | Micro TESE | Egg Freezing | Sperm Freezing
Jinepol IVF Clinic Profile Overview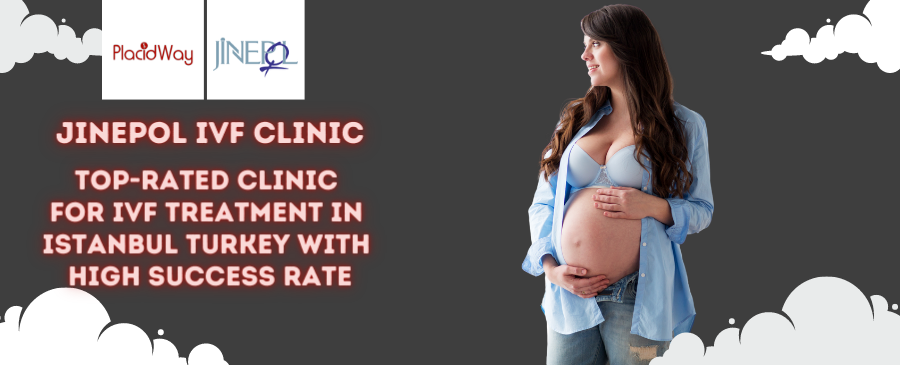 Jinepol IVF Clinic provides best IVF Treatment in Istanbul Turkey. Book online now ICSI, IUI, and Egg Freezing at PlacidWay. Jine Pol IVF Clinic was established by Dr Selim Senoz who has over 20 years of experience in Turkey. Our clinic provides patients with affordable prices and offers them different programs so they can try as many cycles if necessary to get pregnant.
We care about our patient's success rates are not measured on simple numbers, but true measure lies within getting pregnant after trying several times under guidance staff members. It shows how much support system is available here at Jinepol IVF Clinic.
The moderate sized facility located right outside the city center offers warm doctor-patient relationships along-side modern technology while maintaining its own identity!
Here are several advantages of having IVF in Turkey at Jinepol IVF Clinic:
Here you can find information about list of procedures available at IVF in Turkey by Jinepol IVF Clinic:
In vitro fertilization (IVF) is a fertility treatment in which eggs are retrieved from the ovaries and fertilized with sperm in a laboratory. The resulting embryos are then transferred to the uterus where they implant and grow. IVF is one of the most commonly used fertility treatments. It can be used when a woman's fallopian tubes are blocked or when a man has a low sperm count. IVF can also be used if you have unexplained infertility or if you have had failed IVF cycles in the past.
ICSI is a fertility treatment that involves injecting a single sperm directly into an egg. The fertilized egg is then implanted in the uterus. ICSI can be used if there are issues with the man's sperm. It can also be used if the sperm has difficulty penetrating the egg.
Preimplantation genetic diagnosis (PGD) is a technique that can be used to identify genetic diseases in embryos before they are implanted into the womb. PGD can be used to evaluate embryos for a wide variety of conditions, including single gene disorders, chromosomal abnormalities, and even certain types of cancer.
The procedure involves removing a small number of cells from the embryo, which are then tested for the presence of abnormal genes. If PGD detects an abnormal gene, the embryo can be discarded before it is implanted, thereby avoiding the birth of a child with a serious genetic disorder.
Micro TESE is a minimally invasive surgery used to treat male infertility. During Micro TESE, your surgeon will make a small incision in your scrotum and then insert a microscope into the opening. They will then look for matured sperm cells in your epididymis, which is the duct that carries sperm from your testicle. Once they have located sperm, they will collect a sample for in vitro fertilization or intrauterine insemination.
Egg freezing is a process whereby a woman's eggs are harvested and stored for future use. The process of egg freezing allows a woman to take control of her fertility and plan for her future. Egg freezing can give a woman the peace of mind that she will be able to have children even if she experiences fertility problems later in life. If you are considering egg freezing, please consult with a fertility specialist to learn more about this exciting reproductive option.
Sperm freezing is a way to preserve your fertility. It involves collecting your sperm and storing it in a special frozen state. This can be used later on if you want to have children and need fertility treatment. When you freeze your sperm, it's important to know that the quality of your sperm may change over time. That's why it's important to talk to a fertility specialist about whether sperm freezing is right for you.
Check below for more information about IVF Treatment Cost in Istanbul Turkey by Jinepol IVF Clinic:
| | |
| --- | --- |
| Procedures | Cost |
| IVF (ICSI) | 1800 Euros |
| Embryo Frozen | 600 Euros |
| Embryo Storage/Year | 250 Euros |
| Thaw Cycle Monitoring and Embryo Transfer | 750 Euros |
| IMSI (Sperm Selection) | 250 Euros |
| IVF/ICSI 4 Cycle Package | 3600 Euros |
| IVF/ICSI 4 Cycle Package Refund Plan | 5000 Euros |
For more information about the Price, please Contact Us!

Here you can find information about Best Doctors for IVF in Istanbul Turkey:
Doctor Name:

Dr. Selim Senoz
Educations and Experiences:
1993/95 Clinical Fellow in Reproductive Sciences, University of Toronto, Toronto, Ontario, Canada.

1984/88 Obstetrics and Gynecology, Ankara Maternity Hospital, Ankara, Turkey.

1976/82 Medicine, Hacettepe University, Ankara, Turkey.

1973/76 Ankara Science High School, Ankara, Turkey.
Other IVF Specialists:
Dr. Basak Direm

Dr. Figen Atesalp

Embryologist Ulku Coskunoglu
If you're considering IVF treatment, Istanbul Turkey is a great place to go. And at Jinepol IVF, you can book a consultation to get started. There's no need to feel alone in this process. The expert team at PlacidWay will guide you every step of the way. So why not give them a call today and book your consultation? It could be the first steps towards starting or expanding your family.

---
---
Reviews
Muna A

Finally past the 3 months period. I am happy that the Dr Senoz helped me become a first time mum to be after years of fertility problems. Dr did for me test/exams required and not unnecessary things. He will get straight to the point and reassure you if needed. I would definitely recommend this doctor to anyone trying to conceive. Just trust him.

Jinepol IVF Clinic

Jan 15 2022

CurlyGirlie 8

Dr. Selim is one of the best IVF specialists, he knows the job and does it adequately without much blabbering. His English is perfect and answers all the questions patiently. He is the most considerate doctor ever as I had many personal issues with some private scans and he never made me embarrassed one bit. His staff members are very polite, over all my experience at Jinepol was superb and I recommend it 100 percent to everyone if u want success with the treatment.

Jinepol IVF Clinic

Apr 18 2022

Fadumo M

I highly recomend jinepol hospital i got my dauhter with the support of Dr Selim Sentoz also he did for me delivery of C-section, now my daughter is 2years and seven months' Alhamdulilah.

Jinepol IVF Clinic

Mar 17 2022
---
Fertility-Treatment Related Packages
Fertility-Treatment Related Experiences