Implant, Fillings, and Tooth extraction in Los Algodones, Mexico by Sani Dental Group - Testimonial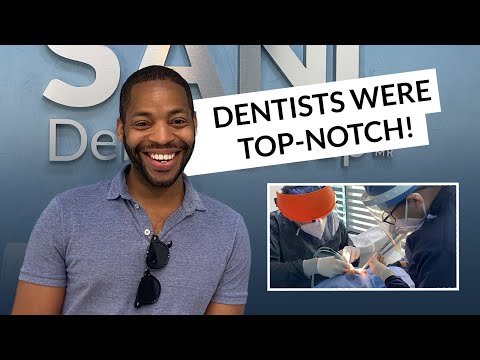 Dental Implants, Fillings and Tooth extraction Video | Los Algodones | Mexico | Sani Dental Group | Dental Implants | Fillings | Tooth extraction | Dental treatment
Category:
Patient Testimonial
Source:
Check below Video of Implants, Fillings and Tooth Extraction in Los Algodones, Mexico. Find best and affordable Dental Implants, Fillings or Tooth Extraction at Sani Dental Group. Our beloved patient, Dwayne, traveled from Georgia to obtain dentistry at our facilities in Mexico, and eventually paid only one-third of his total cost in the States. After receiving the implant, five fillings and tooth extraction, EVERYTHING on the same visit, Dwayne returned to his activities and began to smile confidently again.
"The staff not be more friendly, polite and more honest, the dentists were much better, they all explained everything that happened during the operation. In addition to mentioning that the facilities are prettier than any clinic he has visited in the United States, Dwayne mentions that he feels safe in Mexico. I will be 100% back on future visits. And I would highly recommend it to anyone who needs dentistry. " He commented on his departure.
If you are ready to make a revolutionary choice to get your smile back, Sani Dental Group is the one the ideal place for you when it come to dental clinics in Mexico.
Why choose

Dental Implants, Fillings, and Tooth extraction

in

Los Algodones, Mexico by Sani Dental Group
Our perspective is to put your requirements first. We like great letters and have to react to your inquiries, concerns and needs. We want to include you in each period of your treatment. All choices for dental treatments are explored to suit your requirements At Sani Dental you can see the best dental specialists in Mexico! Our clinical staff comprises of the North of 40 experts with changing strength and limit from five to thirty years; our clinical group is comprehensively skilled and qualified to serve patients with high morals for clinical practice.
How to Book

Dental Implants, Fillings, and Tooth extraction

in

Los Algodones, Mexico
Mexico is likely the best spot for clinical treatment. We are here around for you if you truly need any information. you can call us or contact us by pressing the button below:

Dental Implants, Fillings and Tooth extraction in Los Algodones, Mexico by Sani Dental Group
Keywords: Dental Implants, Fillings and Tooth extraction Video, Los Algodones, Mexico, Sani Dental Group