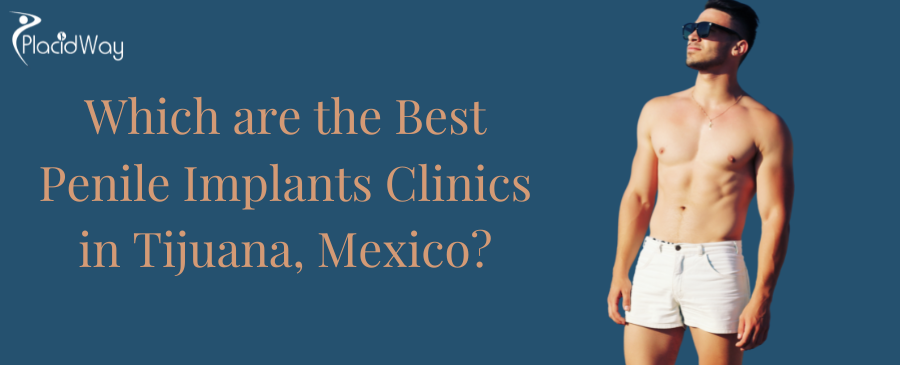 Tijuana, Mexico is known for offering medical procedures, including penile implants, at a lower cost than in the United States. Penile Augmentation is critical to getting the results you desire. Thats why we hand-picked the best Penile Augmentation clinics in Tijuana, Mexico. These clinics are renowned for their patient-focused approach and excellent level of medical care.
Top 6 Clinics for Penile Implants in Tijuana, Mexico

Your choice of a cosmetic medical center will be a choice you live with a long time, if not your entire lifetime. A successful Penile Augmentation will make you feel more confident for years to come.
What is Penile Augmentation?
Penile Augmentation is a cosmetic procedure that improves the patients physical appearance, but also offers positive psychological benefits to millions of people around the world. Issues of self-esteem are important not only in private life but in the professional world as well.
Cost of Penile Augmentation in Tijuana, Mexico
The cost of penile augmentation, in Tijuana, Mexico can vary depending on the type of implant, the surgeon, and the facility. On average, the cost of penile implant surgery in Tijuana, Mexico is $4,000 which is lower than in the United States and Canada.
| | |
| --- | --- |
| Location | Penile Implants Cost |
| Tijuana, Mexico | $4,000 |
| United States | $17,500 |
| Canada | $12,500 |
However, it's important to note that the cost of penile implant surgery in Tijuana, Mexico, like in any other place, is not the only factor to consider. The quality of care, the experience of the surgeon, the reputation of the clinic and the post-operative care are also important considerations. It is also important to note that medical tourism can have risks, so it's important to do your research and understand all the risks before making a decision.
It's always important to have a clear understanding of the costs involved and what is included in the price, such as the implant, the surgery, the anaesthesia, and any follow-up care that may be required. It's also a good idea to ask about financing options if you need them.

Benefits of Undergoing Penile Augmentation in Tijuana, Mexico
Penile augmentation, also known as penile implant surgery, is a procedure that can help men who have erectile dysfunction (ED) or other issues with the size or shape of their penis. The benefits of this surgery include:
Improved sexual function: Penile implants can help men achieve and maintain an erection, which can improve their sexual function and satisfaction.

Increased self-confidence: Men who are self-conscious about the size or shape of their penis may experience increased self-confidence and self-esteem after the surgery.

Improved quality of life: Penile implant surgery can improve a man's overall quality of life by helping him to be more active and engaged in sexual activity.

Non-Invasive: Penile implant surgery is a non-invasive procedure, with minimal discomfort and minimal recovery time.

Permanent solution: Penile implant surgery is a permanent solution for erectile dysfunction, so men don't have to worry about temporary solutions like pills or pumps.
Questions to Ask Penile Surgeon Before Surgery?
When considering a penile implant surgery, it is important to have an open and honest conversation with your surgeon to ensure that you are well-informed about the procedure and that your expectations are realistic. Some questions you may want to ask your surgeon include:
What type of penile implant do you recommend and why?

How long have you been performing this surgery?

What is the success rate and complication rate for this surgery?

How long is the recovery time and what kind of post-operative care will I need?

What are the potential risks or complications that can occur?

What is the cost of the surgery, and are there financing options available?

What kind of follow-up care will I receive after the surgery?

Are there any alternatives to a penile implant that may be appropriate for me?
It's important to keep in mind that the best surgeon is one who is a board-certified urologist with specific training and experience in the field of male sexual dysfunction and who is able to provide detailed answers to all your questions.
Why Choose Tijuana, Mexico for Penile Implants Surgery?
Tijuana, Mexico is a popular destination for medical tourism, including for penile implant surgery. Some reasons why people may choose to have this procedure done in Tijuana include:
Cost: The cost of medical procedures in Tijuana, including penile implant surgery, can be significantly lower than in the United States.

Quality of care: Some clinics in Tijuana offer high-quality care and have experienced, qualified surgeons who perform the procedure.

Convenience: Tijuana is located close to the US-Mexico border, making it a relatively convenient location for people in southern California and other nearby states.

Privacy: Some people may prefer to have the procedure done in a location where they can keep it private.
Tijuana, Mexico is increasing in popularity among medical tourists from all around the Globe. This happens thanks to the variety of Penile Augmentation options available, as well as the great-quality of the medical care system.
Let us help you with any question you have regarding the top Penile Augmentation medical centers in Tijuana, Mexico! Get in touch with us!