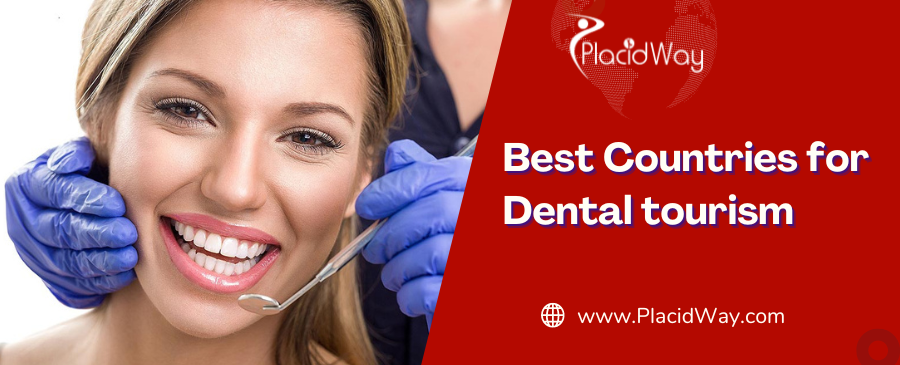 Do you have problems with your teeth? Teeth ache almost drives you crazy but you postpone the visit to the dentist because dental treatments are too expensive? If you keep ignoring your teeth problems you will soon have problems with your speech, chewing will become difficult and painful, hot or cold food or liquids will spread pain throughout your teeth. If you ignore your teeth problems you will get to complications, such as gum disease or periodontal disease which will cause loss of teeth and infections. We know that you are concerned about money, everyone is these days. But, did you know that going to other countries for dental treatments could help you save up to 70%?
Mexico, Costa Rica, Turkey, Dominican Republic, Colombia, Croatia, India and Thailand are the cheapest and best countries for dental tourism in the world where you will receive affordable prices for the same dental treatments compare to the US or the UK or Canada, you will find highly-trained dentists, most of them trained in Europe or the US, and all dental procedures will be performed with state-of-the-art equipment.
8 Best Countries for Dental Tourism in the World 
1. Mexico
Mexico is the perfect dental tourism destination for US and Canadian citizens. Thousands of medical tourists choose this country for its top-notch dental treatments, affordable prices, modern equipment, but also to visit this beautiful region.
Some of the most sought dental clinics in Mexico are Sani Dental Group in Los Algodones, Dentaris Cancun Riviera Maya Dentistry in Cancun and PV Smile in Puerto Vallarta. To make an idea about the prices offered in Mexico we will offer you a comparison between the costs in the US and Mexico for several dental procedures.
To get your teeth cleaned prices will be around $30 in Mexico, but higher than $200 in the US, fillings are $30 in Mexico but reach $100 in the US, a root canal is $100 in Mexico, but up to $2,000 in the US, dental implants are $950 and dental crowns $400 in Mexico, while the US offers the same treatments for $3,500 and $2,000.
2. Costa Rica
Costa Rica is another popular destination for medical treatments, chosen not only by American citizens but by people all over the world.  The lower cost of living as well as lower overhead and labor costs, translates into affordable dental treatments, with results that meet and exceed standards of dental care in the U.S. and Canada.
Some of the most popular dental clinics in Costa Rica are Davincis Dental Designers Group in San Jose, Chaves Dental Care in Jaco, and Dr. Rojas - Esthetique Dental Clinic in San Jose.
A dental Implant with Crown in Costa Rica is $1,500, fillings are $60 each, dentures $600, veneers are $400, while in the US you will pay $3,500 for implants, $100 for fillings, $1,700 for dentures and $1,000 for veneers.
3. Dominican Republic
Dominican Republic has a wealth of experiences to offer travelers looking for dental services abroad. As one of the most popular countries in the world for medical tourism, Dominican Republic offers some of the highest quality dental procedures at an affordable cost.
Visitors can expect significant savings in dental procedures when compared to the same procedures performed in Europe or North America, as well as access to top-notch dental specialists. In addition to its reasonable pricing, Dominican Republic takes pride in its excellent care and customer service, ensuring a comfortable and safe experience surrounded by beautiful beaches and resorts.
With its unbeatable combination of price, quality and excellent customer service, it's no surprise that Dominican Republic is quickly becoming a popular destination for dental tourists from around the world.
4. Turkey
The fourth spot is taken by Turkey, which gathers thousands of medical tourists annually, especially from Europe and the Middle East. Easy to travel to, no waiting lines, prices 75% lower compared to other countries, high-quality treatments, experienced dentists, beautiful cities to visit?what more could you wish for?
Some of the best dental clinics in Turkey are Ethica Medical Group in Istanbul, Hospitadent Dental Group in Istanbul, and Tanfer Clinic in Istanbul.
Dentures in Turkey are $900, veneers are $300, dental crowns you will pay $300, and dental implants are $1,000. Tooth extraction in Turkey is only $50 and a dental filling costs $80.
5. Colombia
Dentists in Colombia have been providing superior dental care to patients for decades. The doctors are experienced, board certified professionals and adhere to the highest standards of healthcare.
In addition to having excellent technical capabilities, Colombian dentists are adept at making patients feel comfortable and taken care of during their procedure.
Furthermore, the cost of treatment is significantly lower than that found in many other countries due to Colombia's low-cost operating environment. For those seeking great dental care at an affordable price, Colombia should be considered a top destination for dental work.
6. Croatia
Croatia is one of the best country for dentistry and rapidly becoming known worldwide as a premier provider of excellent dental care, due to the combination of low costs and highly trained dentists. Croatia's long history in dentistry ensures they have a strong tradition to draw on, with new and advanced treatments now availble.
As well their commitment to evidence-based methods mean that you can rest assured your oral health will be in safe hands.
For those who might need additional reassurance, many Croatian clinics are certified by regulatory bodies such as JCI (Joint Commission International). Ultimately, choosing cosmetic dentistry in Croatia offers a hassle-free experience from start to finish and a wonderfully cosmetic outcome.
7. India
India is a famous medical tourism destination for cosmetic and dental procedures chosen by thousands of medical tourists from Africa, Europe, and even the US. Dentists in India can deal with any type of dental procedure from dental care to surgery, all performed with top-notch equipment. Each patient is treated with care and professionalism and each treatment is adapted to the patient's needs.
Some of the most chosen dental clinics and hospitals in India are Manipal Hospital in  Bangalore, Laser Dental Clinic in Mumbai, and Dental Solutions Centre for Implants and Laser Dentistry in Bangalore. For a dental filling in India, you will pay $37, dental crowns are between $150 and $500 depending on the material used, dentures are $300, teeth whitening is $100, dental implants are $750 and tooth extraction will take only $37 out of your pocket.
8.Thailand
The last dental tourism destination is Thailand, chosen especially by patients from Australia, New Zealand, and Americans. This country impresses not only with its sandy beaches, beautiful sights, lush forests and exotic foods, flora, and fauna but also with high-quality medical treatments, among which are cosmetic and dental.
Some of the most sought-after dental clinics in Thailand are Nirunda Clinic in Bangkok, Bangpakok 9 International Hospital in Bangkok, and Phuket International Dental Center in Phuket.
Dental fillings in Thailand are $33, dental crowns range from $250 to $450, dental veneers cost $250, dental implants you will pay between $850 and $1,850, and for teeth whitening between $250 and $350. Tooth extraction is only $50 and dental bridges $300. Now with all this information available, what are you waiting for? Just book a flight, visit a beautiful country and get the movie star smile at unbelievably small prices.
Overview of Dental Tourism
Medical, or dental tourism, is when patients travel abroad with the end goal of clinical or dental treatment. In 2016, around 70,000 US residents voyaged abroad for treatment.
It has been accounted for that the quantity of Americans traveling to another country for therapy has expanded fundamentally from 48,000 patients in 2017 to 164,000 in 2018
Also, it was accounted for that Medigo, which was a clinical travel stage, had in excess of 350,000 visits every month by 2019
In 2020, it was assessed that no less than 190,000 patients were considering therapy abroad in light of long NHS holding up lists.
The assessed worth of the clinical travel industry market overall was 80 billion US dollars in 2021, which expanded to 100 billion US dollars in 2022.
While patients from non-industrial nations are quick to go to the US to get to better quality wellbeing administrations, USA residents are currently eagerly leaving the great treatment in the USA in the quest for less expensive treatment abroad.
FAQs about Dental Tourism
Dental tourism refers to the practice of traveling to another country for dental treatment. Here are some frequently asked questions about dental tourism:
Why do people choose to go for dental tourism?
Many people choose to go for dental tourism because it is often less expensive than getting treatment in their home country. Additionally, some countries have a reputation for having highly skilled dentists, which can be another motivating factor.
What are the risks of dental tourism?
Some of the risks of dental tourism include lack of regulation and oversight in certain countries, which can lead to unqualified practitioners and lower standards of care. Additionally, there may be language barriers that make it difficult to communicate with your dentist, and there may be a lack of continuity of care if follow-up treatment is needed.
How can I find a reputable dentist for dental tourism?
One way to find a reputable dentist for dental tourism is to research and read reviews from other patients who have had treatment with that dentist. Additionally, you can check the qualifications and credentials of the dentist and look for certifications from reputable organizations.
What should I consider before going for dental tourism?
Before going for dental tourism, it is important to consider factors such as the cost of treatment, the qualifications of the dentist, the standard of care in the country, the availability of follow-up treatment, and the language barriers that may exist. Additionally, it is important to consider the risks and any potential complications that may arise from the treatment.
How can I plan a dental tourism trip?
Planning a dental tourism trip can include research on the cost of treatment and the qualifications of the dentist, as well as making travel arrangements and accommodations. It is also important to consider how you will pay for the treatment and how you will get follow-up care if necessary.
Can I get insurance coverage for dental tourism?
Some insurance plans may cover some or all of the costs associated with dental tourism, but it is important to check with your insurance provider to see what is covered.
If you need more information about best country for dental tourism around the world click the button below.