10 things you must bring or do before planning
Your Dental Trip to Mexico
Mexico has become in recent years a very sought after destination for medical tourism. One of the specialties of the Latin American country in this field is dental work. Either you need a dental implant, or some cosmetic surgery done, Mexico is the place to go. The abundance of medical tourists can be explained through Mexico's highly trained specialists, low prices and high level medical facilities.
Although you can just hop in your car, drive right down to Los Algodones or Cancun and look for a dental clinic, there are some things that you should know beforehand which can help you plan your dental trip to Mexico.

Here are the steps you should take before choosing a dental clinic in Mexico:
Research your doctor

or clinic

and make sure that they are the best for you. Although many dentists and dental clinics offer the same treatments, not all of them are necessarily good. Best thing to do is a little background check (number of cases similar to yours, rate of success, patient satisfaction etc.). Once you've made sure that you chose the right one, you can go ahead and get in touch and set an appointment.

Research your procedure.

It's best to know what you're getting yourself into before you do it. Go on the internet, talk to your doctor or friends that had the same procedure done, and just try to get as much information about it as possible. Some people might be scared of the dentist and maybe even of the procedure itself, but knowing what lay ahead might help.
Insurance. Before going down to Mexico and having your dental procedure, and if you don't want to pay very much yourself, check to see if your insurance covers it. Although the prices in Mexico are lower, why come out of pocket when you have insurance? But keep in mind that we are talking about a foreign country, and you should make sure that your insurance is available.

Accommodations.

Depending on the procedure, you will have to stay at the very least two days in Mexico. Thus, some accommodations are required, especially if you are not traveling alone. Also, if you want to take your mind off of dentists and dental procedures, Mexico is a beautiful country that you might enjoy visiting and it could be worth spending another day or two doing just that. So if you're planning to make a short vacation out of it, book your hotel rooms early, and don't just walk off the street in the first hotel you see.

Old medical records.

Although in most cases when going to a dental clinic for a certain procedure, they perform a diagnosis too, bring your old medical records with old X-rays, medication, doctor's notes etc. This will help speed up the process and the doctor will know, based on your medical past, what other procedures you have underwent.

Local currency.

If you're planning your dental trip to Mexico, don't forget that although they accept foreign currency, like US dollar, it's best that you have a certain amount of the local currency, the Peso. You might find Exchanges or even locals willing to buy dollars off of you, but the exchange rate will always be in their favor.

Identification.

Mainly, your passport or driver's license. If you're from the US or Canada, and you are travelling by land to Mexico you may be required to have your passport or driver's license on you. This isn't necessarily for when you enter Mexico, but for when you are exiting it and entering the US. This is due to the 2004 Western Hemisphere Travel Initiative (WHTI), which was set up in order to strengthen border security.

Appropriate clothes.

Don't simply assume that the weather in Mexico is always hot. In some cases, in the higher altitudes, temperatures can vary quite a bit from what they are at lower altitudes. Also, don't just go around wearing shorts and tube tops everywhere, even if it is the right weather for it. Some parts of Mexico, mainly some cities more inland, require a more formal attire. Swimwear is acceptable in beach cities. Same goes for footwear.

Conversational guide.

Although the people at your clinic and at your hotel know English, you should make an effort and try to use a few basic expressions in Spanish to help you get around the cultural gap easier. There is no shame in walking with a conversational guide on you and using it when needing information. It's better than having to rely on your 10th grade Spanish. Plus, you will score some big points with the locals and maybe even learn some of it.
A friend. To make the trip less stressful, the best idea is to have someone come along with you. It's a good way of spending some quality time with someone that you enjoy being with and also it can turn out to actually be a fun couple of days. Also, in some cases after certain dental procedures, some strong medication is prescribed. So it's best if you have somebody with you that can take care of you, like driving you to and from the clinic and hospital, driving you back home, give you the medication if needed etc.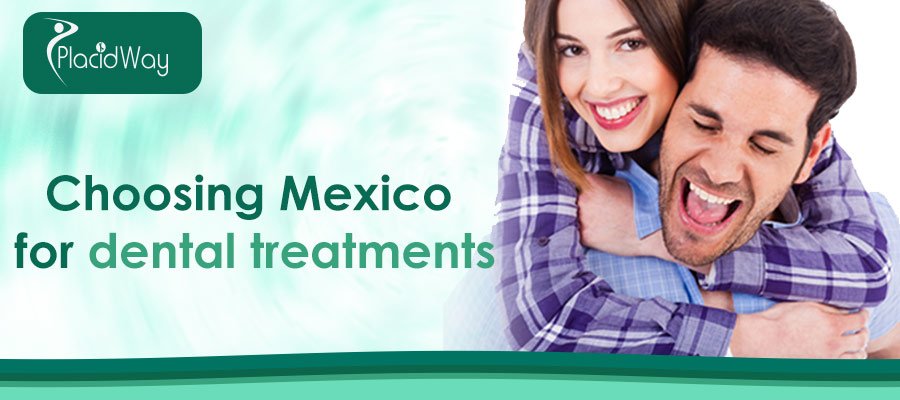 Choosing Mexico for dental treatments is a smart thing to do. People from all over the world come here in search of medical attention from world renowned doctors in high standard medical facilities. Also, the prices are a fraction of what they are for instance in the US. Depending on what you are looking for, you could save anything from 10% to 35%. But that doesn't mean they skimp on the quality.
As with any foreign country experience, especially the ones that include medical procedures or treatments, you might be tense about the outcome. The secret is to relax, let the professionals do their job and enjoy as much as you can everything that Mexico has to offer. From its ocean swept beaches, to its picturesque small cities, and from its monumental historical artifacts to its bustling modern metropolitan areas, Mexico offers you countless possibilities for rest, relaxation and recovery.
PlacidWay is a world leader in medical tourism, offering clients affordable and high quality solutions for all of their specific needs. Our top priority is the safety and quality of services provided to our patients. Through its extensive network of international medical facilities, PlacidWay helps patients get access to top notch dental care clinics and hospitals in Mexico.
PlacidWay's job is to help our customers get the best procedures, at the best medical facilities, performed by certified medical professionals. Whether it is dental cosmetic surgery or any other kind of treatment, we are always happy to help our customers get in touch with the best doctors and medical facilities out there. PlacidWay has helped thousands of patients get the proper medical attention abroad, and can help you through the process of choosing a foreign medical institution.

For more information about dental procedures and clinics in Mexico, do not hesitate to contact us!