Top 10 Clinics for Hair Transplant in Istanbul, Turkey
Hair Transplant Surgery in Istanbul Turkey, Hair Transplant Turkey Cost, FUE, FUT, DHI, PRP, Istanbul Turkey Plastic Surgery Costs, Istanbul Cosmetic Surgery

Top 10 Clinics for Hair Transplant in Turkey
Are you searching for the best hair transplant destination abroad? Turkey is gradually becoming very popular among medical travelers looking for hair replacement at an affordable price. Turkey's capital city Istanbul is considered as one of the major players in the medical tourism industry in the region. The availability of highly experienced and qualified hair transplant experts and world-class facilities at the clinic for much lower costs are the key contributors to its success. In fact, you can notice many people with a bandage or a red patch on their heads in Istanbul signifying they have gone through a hair transplant procedure in the city. Thus, it is not surprising anymore that one can find over 350 hair transplant clinics in Istanbul, Turkey.
What is the Average Cost of Hair Transplant in Istanbul, Turkey?
The expertise of renowned surgeons, advanced equipment, and low prices are making Istanbul a go-to destination for affordable hair transplant surgery. A general hair transplant surgery in Istanbul costs around $2000, while the average FUE and FUT treatment price can cost $2,400 and $4,545 approximately. This implies big savings compared to the same procedures in many European countries.
With so many top-class clinics offering the best of hair transplant treatments in Istanbul, it is the best time to pack the bags and get the hair job done. However, it is important that you know about the best places to get the best treatment. Here, we have prepared a list of 10 reputed clinics for hair transplant in Istanbul, Turkey.
10 Best Hair Transplant Clinics in Istanbul, Turkey
Most talented and internationally accredited doctors perform hair transplants at Clinic Center. They combine advanced surgical methods and the latest technology to deliver the best and affordable hair transplant solutions. Every year, the clinic is visited by thousands of patients from the US, UK, Canada, Australia, Italy, Germany, New Zealand, Africa, Middle-East and many more countries.
The clinic is treating patients from all around the globe for over 15 years. Their highly experienced staff has performed over 1,500 hair transplants so far with a high number of grafts including key procedures such as FUE and DHI. All surgeries of Dr. Clinik are done at the JCI-USA Certified international hospital. They also claim to provide 80% better prices compared to the countries such as the UK, USA, Europe, Canada, UAE, China, Brazil, Russia, and Korea.

One of the most well-known hair transplantation brands that feature several centers in different parts of the world. MAXIM is now available in Istanbul and like its other centers, hair transplantation is done by the plastic surgeons, not the 'so-called experts.' Apart from all the regular hair transplant procedures, they also provide stem cells for hair therapy.

Being one of the most advanced hair transplant clinics in Istanbul, Estetik provides a wide range of procedures such as organic hair transplantation, FUE, PRP, hair Mesotherapy, Mustache Transplantation, wound and burn scar transplantation, Here, you will be informed of everything regarding the operation along with a detailed explanation of the pros and cons. Apart from Istanbul, Estetik has its presence in other cities of Turkey such as Izmir, Ankara, and Bursa.

In the heart of Istanbul, the clinic provides specialized services in hair transplantation and aesthetics. Apart from the top-rated hair transplantation treatment, the center is popular for its modern equipment and experienced medical staff. The clinic has specialization in the treatment procedures such as FUE/FUT hair transplantation, eyebrow transplantation, and unshaved hair transplantation.
 

The group eleven affiliated healthcare facilities and hospitals across Turkey. In Istanbul, their center is named Medicana International Istanbul Hospital that provides a wide range of treatment procedures including top-notch hair transplantation. They combine innovative medical technology and expertise to enhance their performance by providing quality care to the patients.
 
Transes Hair Transplant Center focuses on the best of treatment and procedures such as hair transplant, beard transplant, facial hair transplant, Mico FUE transplant, FUE, direct hair transplant, Platelet Rich Plasma, hair restoration with micro/mini grafts, hair loss treatment, and specialist consultation. Serving both local and international patients, Transes has become one of the hottest destinations for hair transplant in Istanbul.
 

The clinic is offering highly successful hair, beard, and eyebrow hair transplant procedures to local and international patients since 2010. The medical team of the clinic follows every innovation in the hair surgery sector and performs the procedures with the latest tools such as sapphire tipped slits that cause less trauma to the skin compared to the other regular types of equipment. They also use the best techniques that leave no scars after the procedure. Every patient feels safe at Hair World Turkey because of careful attention, a thorough discussion with the surgeons and a natural-looking post-procedure appearance.

Owned by Dr. Onur Gurcan Ergen, Clinista offers high-quality hair transplant procedures maintaining a high success rate. Patients enjoy the best of procedures at an affordable price. Some key treatments provided in Clinista are FUE, FUT, a bald spot removal, female pattern hair loss treatment, eyelash transplant, eyebrow transplant, beard transplant, and scalp micro-pigmentation.

Newage Clinic is a hair transplant specialist headed by Dr. Ilker Apyadin who holds impressive international affiliations from the International Society of Hair Restoration Surgeons (ISHRS) and International Society of Aesthetic Plastic Surgery (ISAPS). Newage Clinic is well known in Turkey for its highest quality treatment, experienced medical staff and modern equipment which are helping patients fully enjoy their treatment. Here, the procedures are not supervised by a physician, but by a plastic surgeon.
You can avail of many procedures for hair transplants in different medical centers in Istanbul, Turkey. The treatments can differ in costs and recovering processes. However, if you want an advanced treatment for your baldness, Istanbul would be the best destination for your hair transplant surgery. If you are ready to travel, go through the reviews of the leading clinics and get your appointment as soon as possible. PlacidWay can help you as an expert partner to find the best hair transplant clinic in Istanbul. Being an industry leader in medical tourism, we have the best of resources to educate you about the top clinics, doctors, prices and packages for hair transplant in Istanbul, Turkey.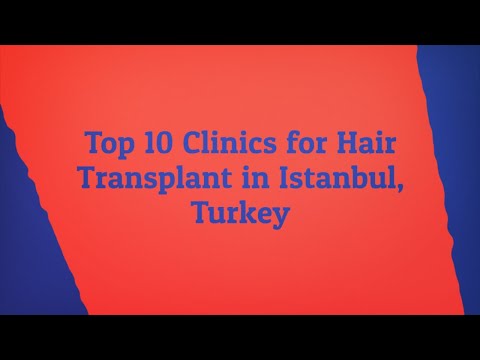 For more information on the top hair transplant centers in Istanbul, Turkey, click on the tab below:
Related Experiences:
Get a Flat Stomach with Tummy Tuck in Istanbul Turkey
Most Recommended Penile Implants in Istanbul, Turkey – Best Prices and Clinics
Get Your Knee Replacement in Istanbul - Turkey
Affordable Gastric Bypass Surgery Istanbul – Get Free Quote Now!
Dentists in Istanbul, Turkey
Reasons to Choose Hair Transplant in Istanbul - Turkey
2018-07-23 / Updated on: 2021-11-01