Treatment for Motor Neuron Diseases-MND and ALS
Beijing Puhua International Hospital, Stem Cell Therapy, Stem Cell Therapy for ALS, Motor Neuron Diseases, Amyotrophic Lateral Sclerosis

Treatment for Motor Neuron Diseases - MND and ALS in Beijing
Beijing Puhua International Hospital has one of the leading neurosurgery and neurology centers in Asia, which begun treating Motor Neuron Diseases (MND) such as Amyotrophic Lateral Sclerosis (ALS) and Primary Lateral Sclerosis (PLS) by use of stem cells since 2005.
After transplantation of stem cells combined with professional rehabilitation treatment, significant improvements have been observed in 90% of patients. Stable positive clinical effect after treatment persists for three to six months.
Case Studies:
1 Warm melted her
Ms. KADI KORNAK is an ALS patient from Estonia. At the end of 2016, she started to feel weakness on the left foot after injury. The weakness existed long after the injury healed. She gradually developed to four limbs weakness. Accompanied with muscle tone increasing, lack of urine control and lumbar back pain. Finally she couldn't take care of herself. In Oct 2017, she was diagnosed with ALS at local hospital.
After a MDT consultation, the patient was given medicine to improve the nutrition supply of the nerves, Stem Cell Injection, rehabilitation therapy (Physical therapy, speech therapy, occupational therapy), and TCM (Traditional Chinese Medicine).
During this four weeks hospitalization of comprehensive treatment, Kadi feels her movements of neck, shoulder and hips are more flexible, involuntary tremor in legs is stopped. Her speech is louder and clearer before discharged.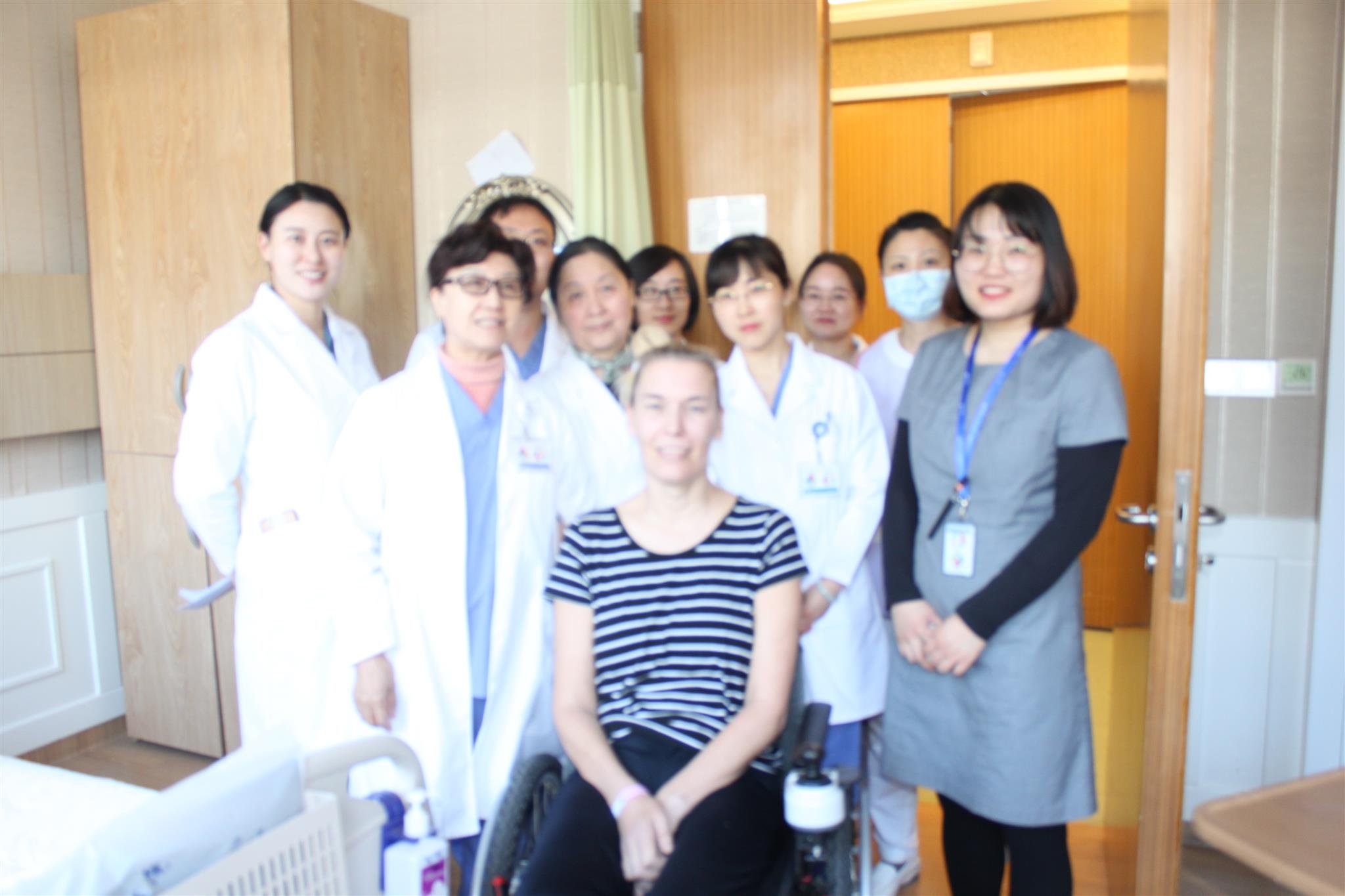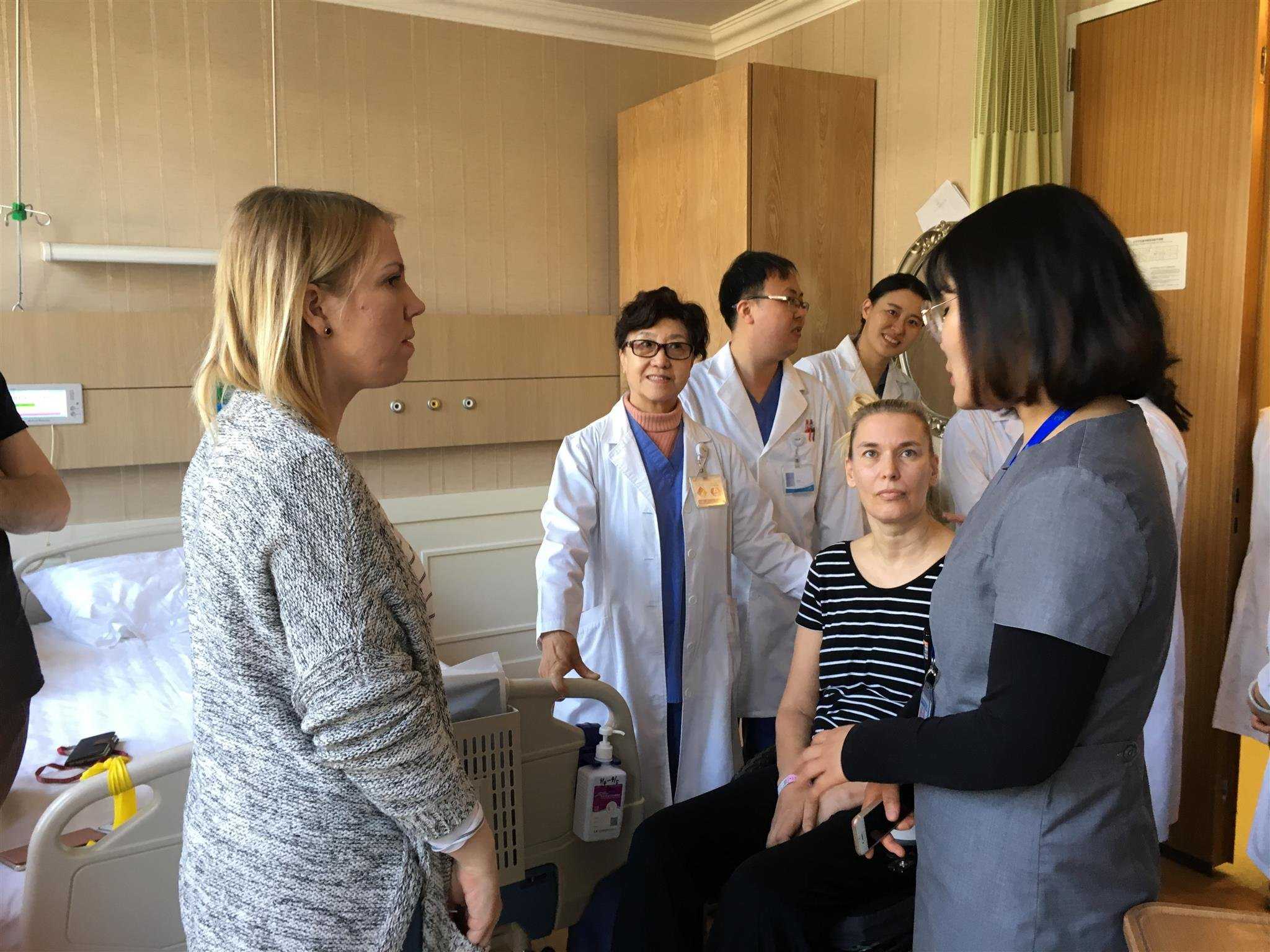 2 My compatriot encouraged me
Mr. Indrek Olmaru first got sick in Apr 2017 with muscle cramps in legs, then his condition gradually developed into four limbs weakness, slurred speech, respiratory difficulty, as well as swallowing difficulty. His family was desperate.
Only one week after admission, his balance improved a lot and could walk for a longer distance. At that time, with assistance, he could walk for 60ms.
During the 2nd and 3rd week of his hospitalization, his condition keeps improving and could walk independently for 10 meters.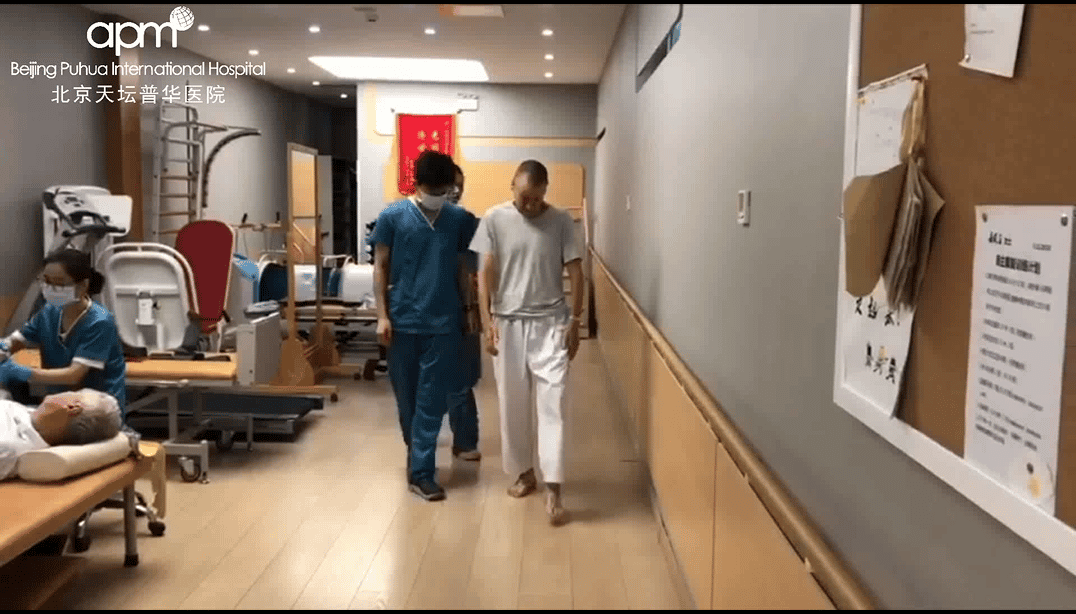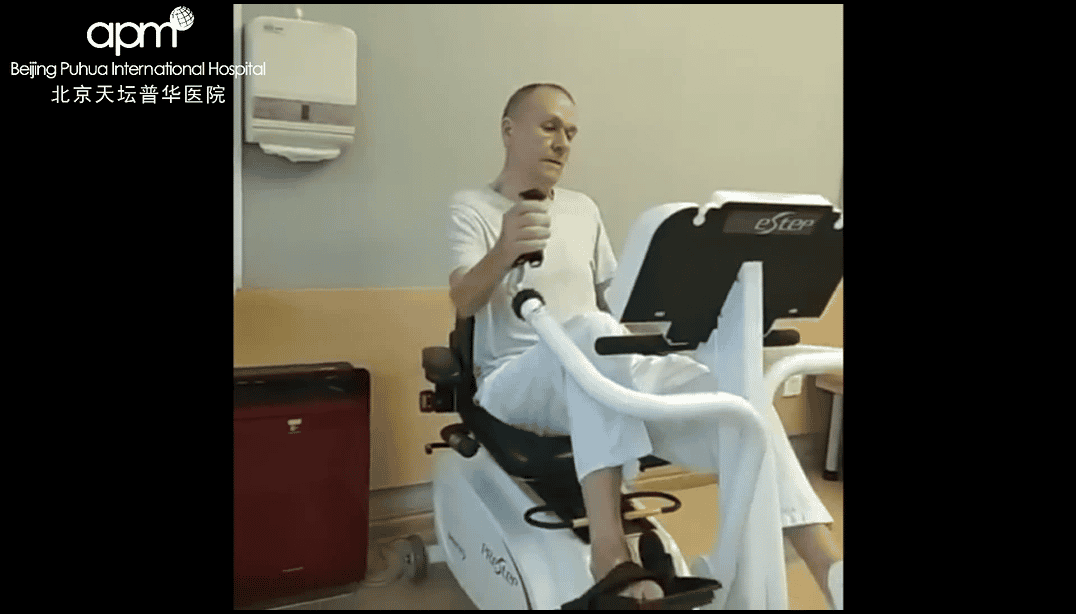 3 I regained confidence
Mr. Lama Tendi Sherpa is a 45-year-old male ALS patient from Nepal. At the beginning of 2018, he was suffering from right leg weakness, then aggravated to lower limbs weakness. With 3 months passed by, he gradually felt speech disturbance. During the past half an year, Lama Tendi has tried so many kinds of treatments, but didn't gain any improvement.
Prior to his admission, he could not sleep well because of chest distress. He felt speech disturbance and he could not jump by himself. When he drunk water, it is difficult for him to keep water in his mouth. As the secretary general of Nepal Wheel Chair Basketball Association, he felt that disease has affected his life and work.
Just only after 1 time nerve growth factor injection through IV, he felt that he could sleep well and didn't wake up several times because of breathe hard like before. He also could walk with better balance. After 2 times injection through lumbar puncture, he could walk faster with a longer distance, and he could jump by himself. Besides, his speech is louder and clearer before discharged, his muscle tremor decreased and his drink choking cough problem got significant improvement.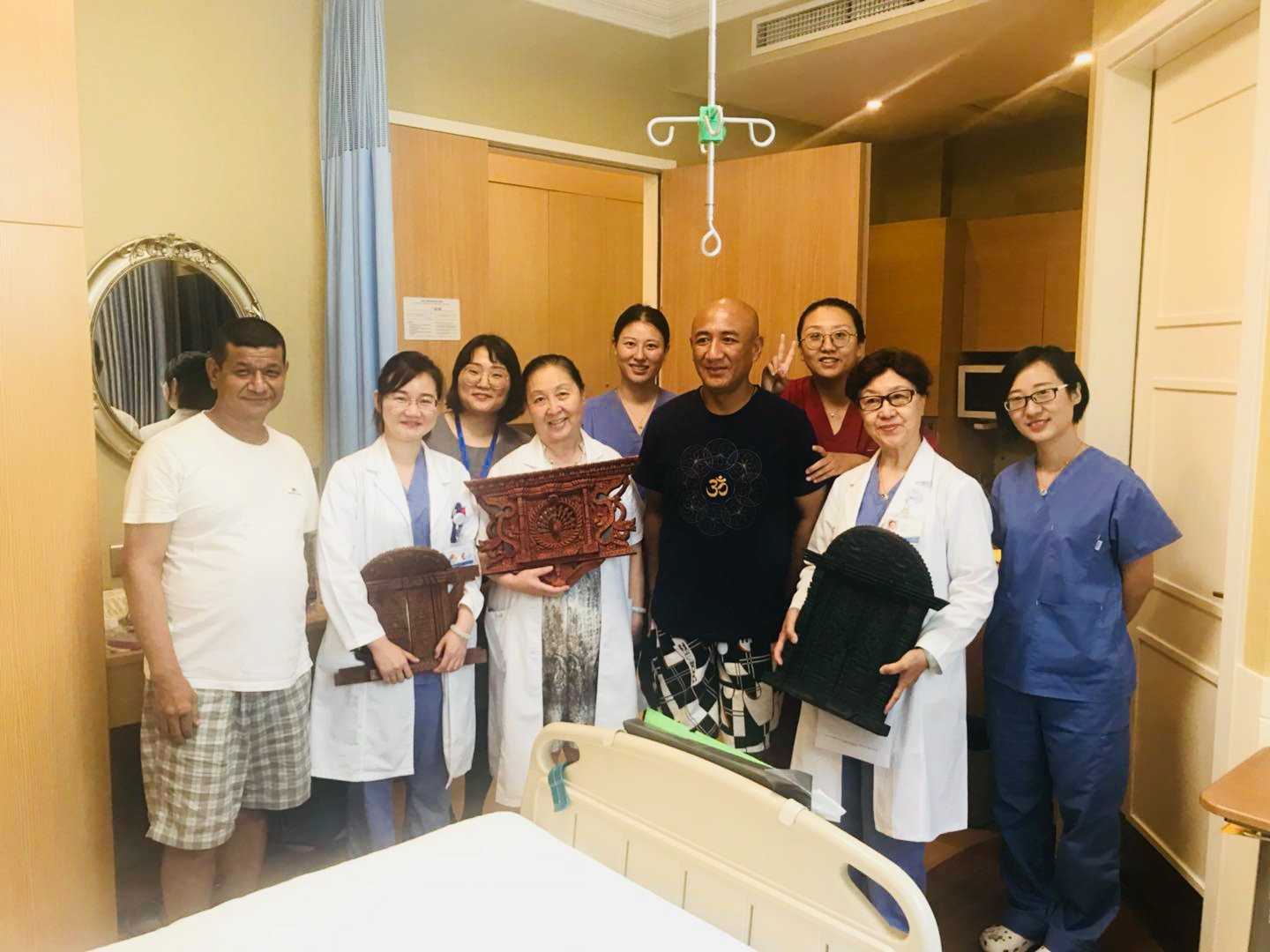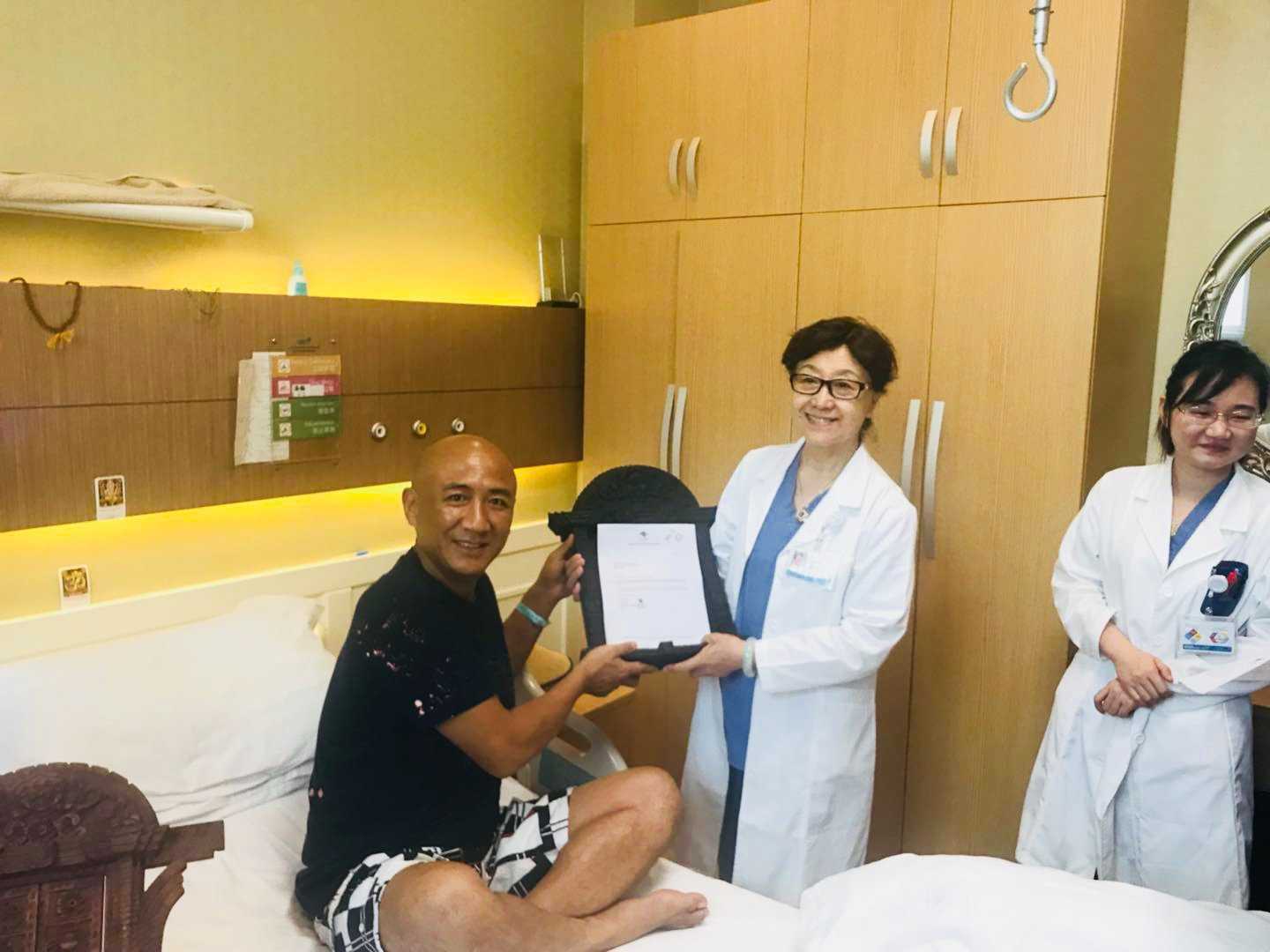 Motor neuron disease is a progressing illness that manifests as gradual weakening and atrophy of muscles and lasts for two to five years (in very rare cases – for seven years) with 100% fatal outcome. Until now there is no known cure for the disease, but stem cells are being used as its new ray of hope.
Neural stem cells and mesenchymal stem cell that we use have plasticity properties and the ability to provide growth factors which modulate the immune system, also can stimulate the self stem cells differentiate and proliferate, and then repair the damaged neurons and strengthen the patient's muscles.
The transplantation of Mesenchymal Stem Cells (MSCs) leads to the increase in the survival of neurons as these cells are known to produce proteins that are helpful in the growth and survival of new-developing and mature neurons. Moreover, the idea of replacing the dying neurons with new stems cells is now more realistic, feasible and appealing. "More than 90% of our treated ALS patients got different levels of improvements, including improved mobility, better balance control, more flexibility, clearer speech, swallowing function and so on."
The Puhua Aizawa Rehabilitation Center is equipped with state of the art equipment and utilizes only the most advanced methods and modalities prescribed by Rehabilitation science. The center is equipped with exercise therapy equipment, an occupational therapy area, a physical therapy treatment zone as well as a Pediatric Rehabilitation and so on. A wide range of treatments in varying disciplines, including medical physical therapy, modern rehabilitation sport therapy, occupational therapy, speech therapy, swallowing therapy and other rehabilitation evaluation and technology are offered to increase ALS patients' improvement.
For more information, click the button below:
Related Experiences:
Stem Cell Therapy for Knee in Mexico - Choose Knee Treatment Mexico
Stem Cell for Cerebral Palsy in India - Improve Quality of Life
Stem Cell Therapy for Diabetes in India – Proven Results!
Top and Effective Stem Cell Therapy for Autism in Florida USA
Multiple Sclerosis Stem Cells Treatment in Europe
Stem Cell Therapy for Osteoarthritis in India
2018-08-17 / Updated on: 2021-11-01