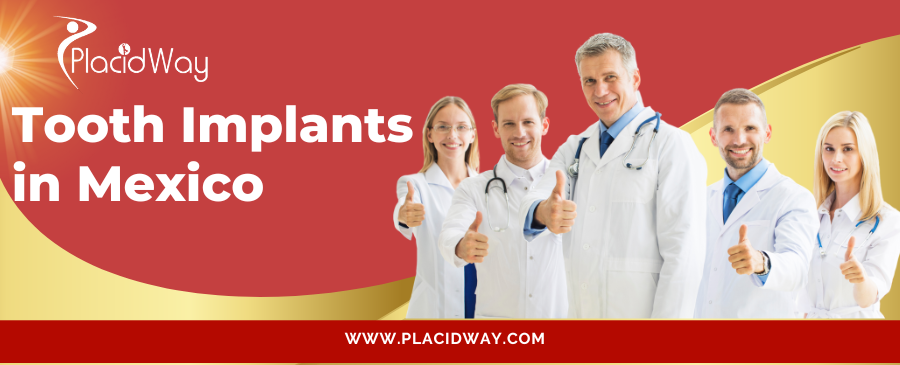 Best treatment for lost or damaged teeth is tooth Implants. Your dental implant in Mexico clinics will not only be a cost-saving solution for thousands of dollars, but it will also give you a stunning smile. Save more than 70% of your Canadian and American costs. Dental clinics in Mexico provide a range of high-quality and best dental implants.
In Mexico, the cost of a single implant is $700, as compared to $2,800 in the United States. A single tooth replacement with implants, abutment, and crowns will cost roughly $1,200.
| | | | |
| --- | --- | --- | --- |
| Dental Treatments | USA | Canada | Mexico |
| Single Tooth Implant | $2,800 | $2,500 | $700 – $900 |
| Implant, Abutment and Crown | $5,000 | $4,500 | $1,200 – $1,300 |
| All-on-4 Implants | $25,000 | $22,000 | $7,000 – $12,500 |
| All-on-6 Implants | $31,000 | $28,000 | $7,500 – $14,000 |
| All-on-8 Implants | $31,000 | $34,000 | $10,000 – $16,000 |
Some patient needs bone graft, which can cost almost $300. In Mexico, a full mouth restoration with All-on-4 implants costs around $7,000.
According to the chart above, the price of dental implants in Mexico might be up to 70% less than in the United States. Because of this, Mexico is one of the world's cheapest places for dental implants.
Tooth implants are metal screws that are surgically implanted into your bone. They act as a replacement for your natural tooth roots.

Dental implant methods, like dentures, provide for instant tooth function.

Tooth implants help to prevent bone loss inside the lower and upper jaws.

Following implant insertion, the bone and implants fuse together in a process known as "osteogenesis."

Dental implants, in opposed to dentures, are fixed and stable.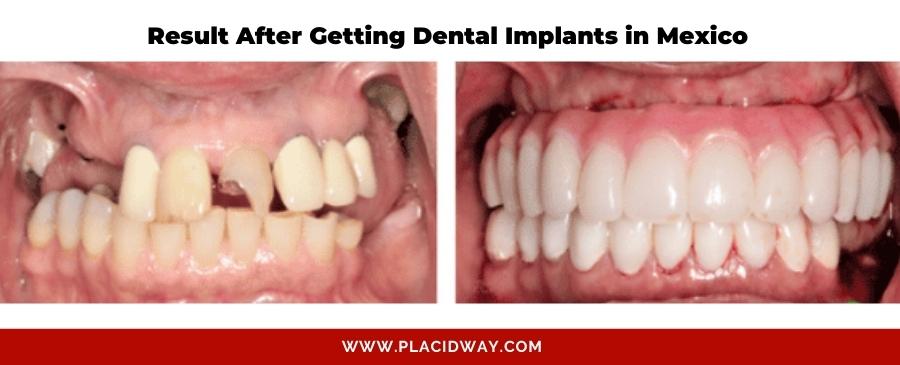 Options for Tooth Implants in Mexico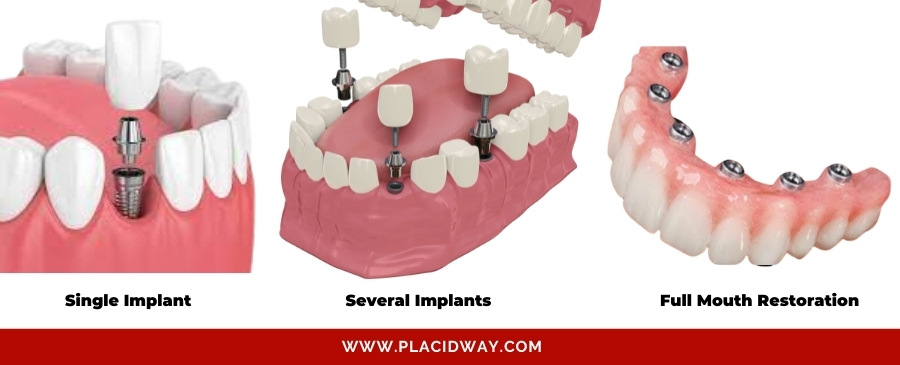 Replacement of a Single Tooth
If you are missing just one tooth, one implant will be placed and capped with a dental crown.
Replacement of Multiple Teeth
When numerous teeth are lost, at least two implants will be placed in your bone, which will be topped by a dental bridge.
Complete Mouth Restoration
Full-mouth restoration procedures replace all of your missing or damaged teeth. Full mouth rehabilitation treatments such as All-on-Four, All-on-Six, and All-on-Eight are common.
Because to the close proximity, journey time and expenditures are minimal.

We collaborate with bilingual implant experts or hire an interpreter.

You save over three time more of what you would pay in the United States and Canada.

Our affiliated clinics adhere to standard surgeries.
The table below lists the distances from different Mexican border towns to nearby cities across the United States.
| | | |
| --- | --- | --- |
| Mexican Cities | Nearest American Locations | Miles Distance |
| Nuevo Laredo | Laredo, TX | 3.5 miles far |
| Mexicali | Calexico, CA | 4 miles far |
| Los Algodones | Yuma, AZ | 10 miles far |
| Tijuana | San Diego, CA | 17 miles far |
Famous towns such as Puerto Vallarta and Cancun have flights daily from major USA  and Canadian locations.
Dental implant procedures will be carried out in Mexico's top dental clinics. PlacidWay  collaborates with respected dental clinics in Los Algodones, Cancun, Tijuana, Mexicali and Puerto Vallarta that provide dental implants.
The following are the features of top dental clinics in different Mexican cities:
Los Algodones is located near Yuma, Arizona.
Los Algodones is only a short drive from Yuma, Arizona, in the United States. One of our Clinics All on X Dental Studio is only a short walk from of the Andrade border crossing.
The facility offers an on-site lab where porcelain crowns, veneers, implants, and other dental procedures are created. CAD-CAM technologies is also available in this location.
It is a member of the American Dental Association. Learn more about Algodones dental implants.
Cancun, Quintana Roo, Mexican Town
Sani Dental Group in Cancun is an internationally recognised  Clinic. Luis Alberto Rodriguez Castro is a dental implant and oral surgery specialist. He is eager to help you with his more than 12 years of experience in Dental Surgery. He is also a member of the Multidisciplinary Congress and the American Dental Association.
The clinic is around 12 kilometres from of the airport.  Find out more about obtaining dental implants in Cancun.
Tijuana, MX is located near San Diego, CA.
The majority of dental facilities in Tijuana are about 45 minutes away from San Diego International Airport.
The clinics have a fully updated dental facility and staff who are board-certified.

The implant dentists and patient coordinators are bilingual, which means they speak both Spanish and English.

A computerised surgical guidance is created using advanced dental planning software.
Find out more about receiving dental implants in Tijuana.
Mexicali is located near Calexico, California.
Dental Elizondo is located near the US-Mexico border in Mexicali.
The ADA has approved the clinic (American Dental Association). The dentists that work here have an average over ten years of experience.
Puerto Vallarta, Mexico
Many modern dental clinics may be found in the lovely Mexican resort of Puerto Vallarta. Many clinics has been in business for 15 years and provides a comprehensive range of cheap general and specialty dental care.
Below are some of the more affordable clinics where many of Mexico's top class and best dentists for Implants work:
Is it Safe to get dental implants in Mexico?
Getting dental implants in Mexico is a safe and affordable option for people looking to get dental work done.
Mexico's lower cost of labor and medical supplies means that you can save up to 70% by getting dental implants in Mexico instead of the USA or Canada. That is not including the savings that you will incur from not having to pay for expensive travel, lodging and food.
How long will it take to complete the implant procedure?
The implant surgery is typically performed in two to three visits.
Visit 1:
Implant placement can take 5-12 days. You will be fitted with a temporary prosthesis (synthetic teeth) that will allow you to eat normally.
Visit 2:
This appointment is planned three-six months following the first. Porcelain tooth/denture placement can take up to 5 days.
If you undergo bone graft surgery, you may need to return.
When can I return to work having implant surgery?
You can return to work the day after surgery if you take good care on your implants as advised by your dentist. The discomfort and pain will remain for several days and may be managed with the prescribed medication.
Depending on the circumstances, your dentist may advise you to stay for several days after the procedure to ensure that any issues are addressed promptly.
Is an implant as comfortable as a natural tooth?
The implant will have a different feel since it lacks the cushioning layer that natural teeth have. Many patients have said that after some time, they didn't even detect the existence of implants.
A natural tooth has a crown (the visible part of the tooth) as well as a root (which lies inside the jawbone).
The implant replaces the root in a dental implant. This component is constructed of titanium, which is a biocompatible material.
The exposed area is replaced with a ceramic or zirconium crown.
The crown is the same colour as the neighbouring teeth, making it difficult to spot.
As a result, the implant will appear exactly like a natural tooth in terms of aesthetics.
How long may dental implants be expected to last?
Tooth implants may last a lifetime if properly cared after. Dental implants had a rate of survival of 94.6% after a 10-year follow-up. which is according to the study of NCBI
The patient's health status and bone quality are critical factors in implant survival.
Aside from these factors, food, cleaning procedures, and behaviours like as smoking all play an important influence in the life of the implants.
The initial several weeks are critical. That's the time when the implant will fuse with the bone.
What procedures must be performed prior to implant surgery?
Dental implants have a higher success percentage when pre-surgery procedures are performed. They are as follows:
Bone graft surgery could be performed if there is insufficient bone to sustain the implants. The new bone may require 4-6 months to grow and be suitable for implants.
Tooth extraction: If you undergo complete mouth restoration operations, you may require tooth extraction. Extraction is a procedure that is used to remove broken teeth and replaced them with dental implant.
You may also require operations such as scaling, RCT, & filling. They lower the risk of infection following surgery.
Will I need bone graft?
In individuals with insufficient bone quality inside the jaw, bone grafting is required. Natural or synthetic bone is used in bone grafting to fill up areas of bone loss.
The bone takes 4-6 months to establish a strong enough structure that supports the implant.
picture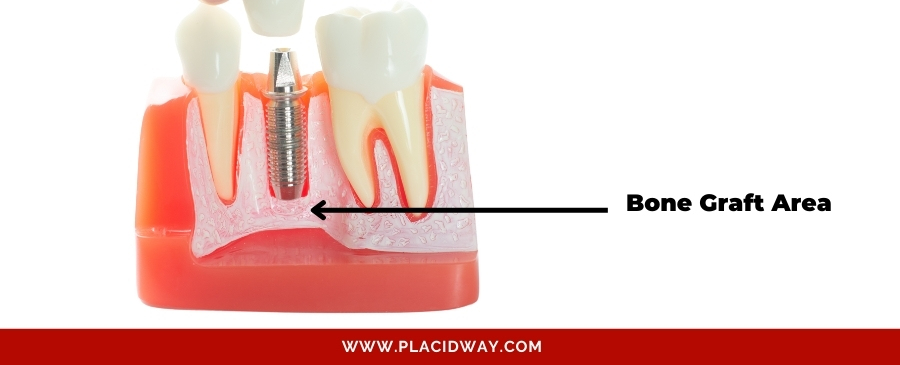 An All-on-four implant treatment can help you avoid bone graft surgery in some cases.
Is it okay for me to smoke before and after the implant placement dental surgery?
One of the leading causes of implant failure is smoking. Nicotine reduces blood flow to the areas of the body that demand oxygen and nutrients from the blood.
Smoking might damage your dental health even before you have implants. Only if you are a good candidate will you be offered the choice of implants.
According to National Library of Medicine study, the rate of success of implants in smokers is lower than in non-smokers.
Is it possible to get a warranty on dental implants in Mexico?
Yes. Some Mexican dentists provide a 2-5 year warranty on their work. Those who smoke may be ineligible for it. You may get more information about the warranty from the PlacidWay case manager.
Is it painful to obtain dental implants?
No. This is one of the most common misconceptions concerning dental work.
Appropriate efforts are taken to ensure that the patient is not in agony.
Anesthesia is administered either locally or throughout the body. This will numb the area and make you feel nothing.
Swelling and soreness are usual for the first 72 hours following surgery. You would be given medication to alleviate the pain and swelling.
If the discomfort or swelling does not go away, you need to see your dentist to check out whatever concerns.
What makes an implant superior to a dental bridge?
A bridge is a type of therapy for missing teeth. Adjacent teeth are covered in this case, and a pontic (synthetic tooth) is placed in the middle.
This implies that the prosthesis is held in place by two tooth structure on each sides. The downside of this approach is that two natural teeth must be significantly reduced to fit the crowns.
Therefore, just the space left by the missing tooth is employed in an implant surgery. An implant is inserted in the bone, as well as a crown is put on top of it. This is accomplished avoided touching the adjacent teeth in any way.
There are numerous dentists in Mexico who can perform implants, but you should research the qualifications of the dentist who will be treating you.
A board-certified dentist is required.

The dentist must be fluent in English.

The dentist should have much experience.

He should be neat and clean, and he should always ask you questions.
We have compiled a list of some of the best dentists in Mexico for dental implants.
| | |
| --- | --- |
| Prof Luis Armando Melendez | |
| Diego Miguel Valenzuela | Dr. Xochipilli Bojorquez |
A dental patient from the United States tells his story. When she visits dental implants in Los Algodones, Mexico, she has four implants and a crown.
This elderly patient travelled to Mexico from Arizona, US, for dental implants and other dental procedures, and he shared his thoughts on the entire procedure.
Mishal from Indiana, USA shares her views on dental implants in Cancun, Mexico.
When you choose Mexico for your dental implants, you will have various advantages, including:
Cost effective

Famous dental surgeons

Best dental clinics

Teeth that are beautiful and brilliant

a self-assured appearance

Increased self-esteem

Exotic and appealing vacation
Citizens of the United States and Canada must have a passport to enter Mexico.

It is suggested that you have both a soft and physical valid passport with you during all time.

The most critical document you would be carrying is your passport. So, keep it securely hidden and prevent keeping it in a spot where you have to take it out frequently.

When scheduling your treatment during the summer, remember to bring a hat, sunscreen, comfy shoes, glasses, and relaxed cotton clothing.

Mexico's climate varies greatly. As a result, it is critical to take the required safeguards.

Try to only drink purified water.

The US dollar is commonly accepted in Mexico. However, keep some local cash on hand.

If you intend to travel to a border city, ensure that you have Mexican automobile insurance. All parts of the border offer automobile insurance.

Another important consideration if you wish to travel this area is that you must have a valid driver's licence. In addition, only persons over the age of 25 are permitted to drive lawfully in Mexico.

To learn more about coverage and call prices in Mexico, visit your phone service provider.

Wearing expensive jewellery and watches is not recommended.
What Else can You Ask a Dentist Before Getting Tooth Implants in Mexico?
As you go to a new location for your dental implant procedure, you may have a variety of questions, doubts, and concerns. It is critical to express your feelings to the dental specialist. Here is a list of ten key questions you should ask your dentist before getting new teeth in Mexico.
What materials can be utilized on the implants and the crown that is placed on it?

Do you place dental implants using Cone Beam Radiography and Fully-Guided Surgical Placement?

When inserting dental implants, do you employ magnification and illumination?

What are the hazards of post-operative care, and how can I reduce them?

Is it possible for the body to reject an implant?

What amount of follow-up treatment is offered at your Mexican dental clinic?

Are you Certified and work at a reputable dental clinic?

How long have you been doing implant placement treatment in Mexico?

How long will the recovery time be after the restorative dentistry procedure?
If you wish to have this treatment done in an another nation, Mexico is an excellent option. Mexico is a popular destination for persons looking for dental implants abroad. The top dentists and high-end orthodontic specialists make Mexico a popular destination for anyone looking for a dental implant operation abroad. Furthermore, Mexico is an excellent destination for tourists due to its picturesque beauty and warm friendliness.
As a result, getting dental implants in Mexico is a best choice. Let PlacidWay to guide you in your search for the top clinics, specialists, and best tooth implant packages in Mexico.
Please click the icon below if you have any questions about the procedure.

Sources:
AMERICAN ACADEMY OF IMPLANT DENTISTRY: About Dental Implants
Evaluation of survival and success rates of dental implants by PubMed NCBI
Factors Affecting the Survival Rate of Dental Implants by PubMed NCBI