Introduction
If you're thinking of traveling South of the Border for bariatric or obesity surgical procedures, and many are, you want to know the difference between lap band and gastric sleeve procedures. What's best for you and your situation? What are the pros and cons? Do your research ahead of time and know the difference between these two common weight loss surgical procedures in order to make a wise and effective decision regarding your medical care.
Lap Band Surgery
The lap banding procedure restricts how much food could be eaten over the course of a day, resulting in weight loss. The band can be adjusted according to patient's desires, or removed if they have met their goal weight. The Lap Band creates a small pouch in the stomach with the use of a stoma, or band, which helps to limit food intake without the need for staples. The Lap band is placed around the upper portion of the stomach, creating a "new stomach" that reduces the amount of food that can be consumed. Once the band is in place, it is possible for the surgeon to adjust it at any time by inflation or deflation.
Gastric Sleeve Surgery
Also known as a vertical gastrectomy, a partial gastrectomy, gastric reduction, as well as a greater curvature gastrectomy, this procedure offers and encourages weight-loss in obese patients by removing up to 85% of the stomach. This is a permanent procedure that cannot be reversed, but one that  provides a growing number of obese patients from around the world with life-saving benefits. Sleeve gastrectomy procedures are effective and safe for patients with high-risk and high BMI (body mass index) ranges. In many cases, this surgical procedure allows patients to lose 100 pounds or more. Sleeve gastrectomy creates a small, sleeve shaped stomach relative in size to an average banana.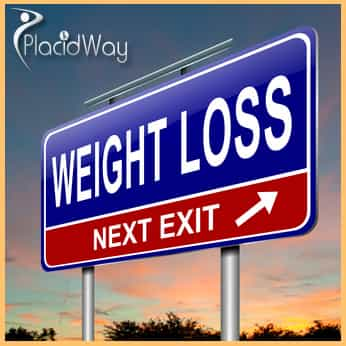 Pros and Cons
Sleeve Gastrectomy costs range around $20,000 in the United States, while in Mexico costs range from $9,500-$13,500. Recent studies have shown that nearly 50% of the patients who engage in sleeve gastrectomy procedures in Mexico come from the United States.
Lap-band - In the United States, costs for Lap band surgery ranges from $15,000 to $20,000. South of the Border in countries like Panama, Costa Rica, Argentina and Mexico, costs hover around $8,100.
Advantages of Lap-Band
No stapling or cutting of stomach muscles

Stomach patch size can be adjusted

Can be reversed or removed

24 to 48 hour hospital stay
Advantages of gastric sleeve
Beneficial for those with a BMI over 45, according to the National Institute of Diabetes and Digestive and Kidney Diseases (NIDDK) though many surgeons decline to perform the procedure unless patient has a BMI of 50+

No intestinal bypass, avoiding long-term complications
The disadvantages of gastric sleeve bypass is that this procedure is not reversible. It's also quite a bit more expensive than Lap-Band techniques.
If you're confused about whether or not to choose Lap-Band or gastric sleeve surgery, discuss your concerns as well as the advantages and disadvantages that come with each technique.  Ultimately, your doctor will help you determine which technique or procedure will best suit your current weight, goals, and circumstances.
Finding Bariatric Surgery Providers
Take the time to research the topic before deciding which  procedure might be best for specific needs and goals. Information and resources about bariatric surgical procedures, techniques, qualified bariatric surgeons and state-of-the-art facilities are accessible through PlacidWay, an international medical portal based in Denver, Colorado. Compare bariatric procedures and costs for surgery in a destination that is affordable yet still offers the best in quality and technology.
At PlacidWay, consumers may research information regarding doctor and facility qualifications, view transparent pricing, and compare affordable and exciting travel packages to destinations around the globe, all of which offer superlative health and medical care. From Mexico to Croatia and from India to South Africa, choose options that offer the best of medicine with the best of exciting travel opportunities.
Please Click here for the medical centers