Gastric Balloon Package in Cancun, Mexico by Dr. Fernando Ceron
Package price starting from:
$3200
Treatment:
Obesity/Bariatric Surgery, Gastric Balloon
Location:
Victoria Medical Hospital, Av Sunyaxchen 59, 24, 77509 Cancun, Q.R., Mexico, Mexico
Focus Area:
Gastric Balloon | Bariatric Surgery | Weight Loss Surgery | Cancun | Mexico | Dr. Fernando Ceron |
---
Affordable Package for Gastric Balloon in Cancun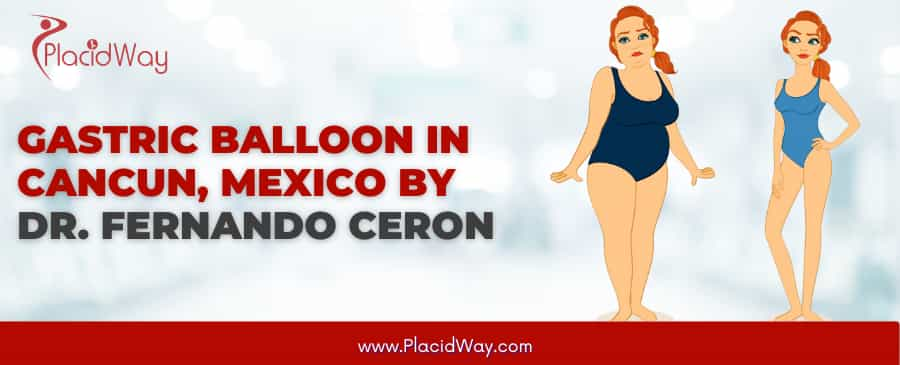 Are you struggling with excess weight and seeking a solution that can transform your life? Look no further than the Comprehensive Gastric Balloon Package in Cancun, Mexico, offered by the renowned Dr. Fernando Ceron. With this life-changing procedure, you can lose up to 80% of your excess weight and embark on a journey to a healthier, happier you. Dr. Fernando Ceron is a leading bariatric surgeon in Mexico, known for his expertise and commitment to patient well-being. Located in the picturesque Cancun resort, his clinic provides a world-class setting for your weight loss journey, ensuring both safety and comfort throughout your treatment.
You can get gastric balloon package in Cancun, Mexico by Dr. Fernando Ceron with the price starts at $3,200. Please refer to our price list table below:
| | |
| --- | --- |
| Location | Cost in USD |
| Cancun, Mexico | $3,200 |
| United States | $9,000 |
| Canada | $10,000 |
Note: price may change and vary depends on complexity of procedures and patient conditions. Click free quote button below to learn more:

Cutting-Edge Laparoscopic Technology: Dr. Fernando Ceron's clinic boasts state-of-the-art laparoscopic technology, ensuring that your gastric balloon procedure is performed with precision and minimal invasiveness. This advanced technology leads to quicker recovery times and reduced discomfort.
Medical Safety: Rest assured that your well-being is a top priority in Cancun. Dr. Ceron's team adheres to the highest medical standards, offering a safe and hygienic environment for your procedure. You can trust in the expertise of the medical staff.
Low Cost Weight Loss Surgery: When it comes to value for money, Cancun is a clear winner. Compared to the United States and Canada, where the cost of gastric balloon procedures can be significantly higher, Cancun offers a cost-effective solution that doesn't compromise on quality.
Meets USA Standards: Dr. Fernando Ceron's clinic is committed to maintaining standards that align with those of the United States. This means you can expect top-notch care and adherence to international best practices.
Advanced Sterilization: Hygiene is of paramount importance in any medical procedure. In Cancun, you'll benefit from advanced sterilization techniques, minimizing the risk of infection and ensuring your safety.
The Gastric Balloon is a non-surgical weight loss procedure that involves the insertion of a saline-filled silicone balloon into your stomach. This innovative technique restricts your food intake and promotes a sensation of fullness, aiding in weight loss. There are two types of gastric balloons available:
Types of Gastric Balloons Available

Single Balloon:

Suitable for individuals looking to shed 30 to 45 pounds, this option serves as an effective starting point for weight loss journeys.

Dual-Balloon:

Ideal for morbidly obese patients, this dual-balloon approach encourages significant weight loss, offering hope for those with more substantial weight loss goals.
Before and After Results of Gastric Balloon in Cancun, Mexico
The journey with the gastric balloon procedure is transformative. Before the procedure, individuals often grapple with obesity-related health issues and lifestyle limitations. After the treatment, patients experience significant weight loss, improved health, enhanced confidence, and the freedom to wear the clothes they've always desired. It's a journey toward a happier, healthier, and more fulfilling life.







Medical Expenses: Your package includes all medical expenses associated with the gastric balloon procedure, ensuring that you receive comprehensive care without unexpected costs.
Operating Room and Anesthesiologist: The package covers the use of the operating room and the services of an experienced anesthesiologist, guaranteeing a safe and comfortable procedure.
Only 2 Hours of Recovery: With a remarkably short recovery time of just two hours, you can quickly resume your daily activities and embrace your weight loss journey.
Professional Medical Staff: Dr. Fernando Ceron's clinic is staffed by a team of highly trained professionals who will guide you through every step of your treatment.
Post-Procedure Follow-Up: Your journey doesn't end with the procedure. The package includes post-procedure follow-up appointments to monitor your progress and ensure a successful weight loss experience.
Airfare: Please note that the package does not cover airfare expenses to Cancun. Travel arrangements should be made separately.
Accommodation: While in Cancun, you'll need accommodation, which is not included in the package. However, the clinic can offer recommendations for convenient lodging options.
Payment Options: Payment for the package can be made in cash or via credit and debit cards, offering flexibility to suit your financial preferences.
Additional Medical Services: Any additional medical services beyond the gastric balloon procedure may incur extra charges. It's essential to discuss any specific needs with the clinic in advance.
Personal Expenses: Personal expenses, such as meals and transportation within Cancun, are not part of the package and should be budgeted separately.
Gastric Balloon Pre-Op Tests
BMI Assessment: Before undergoing the gastric balloon procedure, your doctor will calculate your Body Mass Index (BMI) to determine your eligibility for the surgery.
Medical History Evaluation: A comprehensive review of your medical history will be conducted to identify any pre-existing conditions or factors that may impact the procedure.
Physical Examination: A thorough physical examination will be performed to assess your overall health and ensure that you are fit for the gastric balloon placement.
Nutritional Assessment: To optimize your post-procedure diet plan, a nutritional assessment will be carried out, ensuring you receive the necessary guidance for a successful weight loss journey.
Psychological Evaluation: Your mental well-being is crucial on this journey. A psychological evaluation will help identify any emotional factors that may impact your success and well-being.
Dr. Fernando Ceron is a distinguished bariatric surgeon who specializes in weight loss surgery. He earned his Medical Degree from the National Autonomous University of Mexico (UNAM) and boasts an impressive list of experiences and certifications, including recognition by the Mexican Board of Gastroenterology and the Mexican Association of Endoscopic Surgery. With his expertise and commitment to patient care, you can trust that you're in capable hands.
Gastric Balloon Surgeon in Cancun, Mexico

 

Dr. Fernando Ceron

Cancun Gro Mex. Precongres course XII Tijuana, B.C. Mexico.

Digestive Surgeon recognized by the Mexican Board of Gastroenterology.

General Surgeon with appreciation of the Mexican Council of Surgery.

Laparoscopic Surgeon recognized by the Mexican Association of Endoscopic Surgery.

Former President of the Mexican Society of Gastric Bypass.
Is Gastric Balloon Right for You?
BMI Between 30 and 40: Gastric balloon is suitable for individuals with a BMI between 30 and 40, making it an option for those struggling with obesity.
Commitment to Lifestyle Changes: Success with the gastric balloon requires a commitment to adopting a healthier lifestyle, including dietary changes and increased physical activity.
No Previous Stomach Surgery: If you haven't undergone prior stomach surgery, you may be an ideal candidate for this procedure.
What to Expect During the Gastric Balloon Surgery?
Consultation: Your journey begins with a consultation at Dr. Fernando Ceron's clinic, where you'll discuss your goals, medical history, and expectations.
Procedure: The gastric balloon insertion is a relatively quick and minimally invasive procedure. You'll be under the care of experienced medical professionals.
Recovery: With a short recovery time of just two hours, you'll soon be ready to embrace your transformed life.
Follow-Up: Post-procedure follow-up appointments are essential for monitoring your progress, ensuring your success, and addressing any questions or concerns.
1. Is the Gastric Balloon procedure in Cancun, Mexico, a surgical operation?
No, the Gastric Balloon procedure is a non-surgical and minimally invasive treatment option for weight loss. It involves the insertion of a saline-filled balloon into the stomach.
2. What is the expected recovery time after the Gastric Balloon placement in Cancun?
The recovery time is relatively short, usually around two hours. Patients can typically resume their regular activities shortly after the procedure.
3. Can I combine a vacation with my Gastric balloon in Cancun?
Absolutely! Cancun is a renowned tourist destination with stunning beaches and attractions. Many patients choose to enjoy a vacation alongside their medical treatment.
4. Are there dietary restrictions to follow after getting the Gastric Balloon in Cancun?
Yes, patients will receive guidance on dietary changes after the procedure. It's important to adhere to the recommended diet plan to maximize the benefits of the Gastric Balloon.
5. How long does the Gastric Balloon remain in the stomach, and is it permanent?
The Gastric Balloon is a temporary device and is typically removed after six months. It serves as a tool to jumpstart weight loss and encourage healthy lifestyle changes.
Embarking on your weight loss journey with the Gastric Balloon Package in Cancun, Mexico, is a life-changing decision. Don't miss this opportunity to overcome obesity and achieve lasting results. Contact Placidway Medical Tourism for more information. Our professional customer support will help you connect with Dr. Fernando Ceron!

Related Experiences:
Gastric Balloon in Cancun, Mexico
Gastric Balloon in Merida Mexico
Gastric Balloon in Tijuana, Mexico
Gastric Balloon in Mexicali, Mexico
Gastric Balloon in Mexico
Gastric Balloon in Izmir, Turkey
---