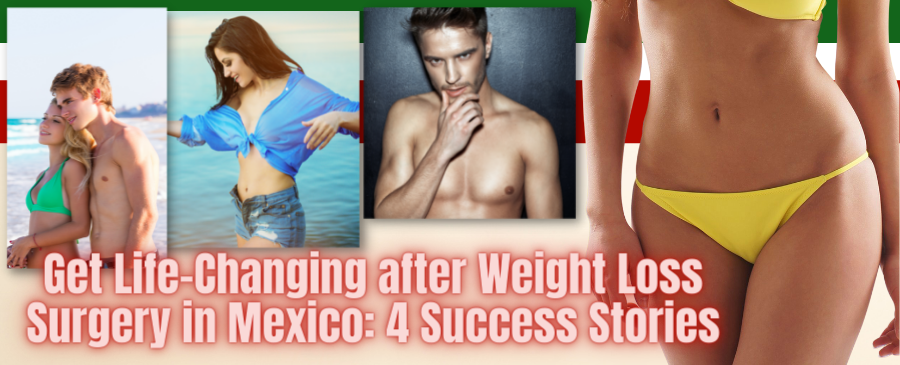 4 Success Stories of Patients Get Amazing Life-Changing Weight Loss Surgery in Mexico
Did you know that most patients get life changing results after they undergo weight loss surgery? The 4 people we will discuss in this article are patients who have overcome their obesity by undergoing bariatric surgery. They know that obesity reduces their quality of life, trigger depression, and deadly diseases such as diabetes, heart disease, stroke, and many more. But they have a strong will to get improvement, thus leading them to a solution for weight loss surgery in Mexico.
According to the American Journal of Nursing, Obesity is associated with many health problems and a higher risk of death. Weight loss surgery for obesity is usually considered only when other treatments have failed.
If asked where the best destination to get Bariatric Surgery, the answer is definitely Mexico. Satisfactory results, affordable prices, and good reviews from some patients make Cosmetic Surgery in Mexico, especially Bariatric a very popular choice and obtain high demand.
This is proven through research published by the American Journal of Medicine: Medical Tourists Incoming and Outgoing, which states that more than 1.4 million Americans seek treatment abroad, especially Mexico to perform Cosmetic Surgery and other surgical procedures.
Moreover, a number of patients voiced their satisfaction loudly, from one mouth to another, so this is what inspires other patients who have similar problems to undergo weight loss surgery in Mexico, such as Gastric Bypass, Sleeve Gastrectomy, Mini Gastric Bypass, Gastric Balloon, and Gastroplasty..
Like what we will show in here, PlacidWay compile to you 4 patients who share about how satisfied they are with their Weight Loss Surgery in Mexico:
Martha struggled with weight problems. Soon, those weight problems grew into medical problems. Obesity eventually caused enough damage to Martha's body that she developed sleep apnea, a dangerous condition that causes a person to stop breathing while they sleep.
She then went to Mexico and underwent a Gastric Bypass Surgical procedure. Prior to the surgery in October, Martha weighed approximately 270 pounds. In April next year, Martha is proud to say that she weighs 178 pounds and continues to make positive strides in her weight loss endeavors.
"My life has been improved, my work and personal relationships have improved," she said with full of satisfaction.You can read full story of Martha here: One Woman's Journey Toward Weight Loss.
Alice knew that she needed to do something about her excessive weight, but didn't know exactly where to start. She hadn't meant to get so heavy, but a tragedy in her life followed by several financial and personal setbacks left her vulnerable to depression, an increasing sense of isolation, and a two-year episode of comfort-eating that ended up leading to a 100-pound plus weight gain.
Alice started looking at options for bariatric surgery, and she decided to choose Mexico. She found a bariatric surgeon with high recommendations, credentials and qualifications in the laparoscopic bariatric surgery.
A year later, Alice has lost nearly 80 pounds and is feeling healthier, happier and more energetic than she has in years. In the meantime, she's stuck to an easy diet plan, made changes in her eating habits, improved her lifestyle and now enjoys daily exercise. You can read full story of Alice here: Making a Decision of Bariatric Surgery.
Heather had tried every trick in the book; exercising, dieting, fad diets, supplement pills, but just couldn't keep the weight off or stick to a consistent plan long enough to achieve the results she wanted.
With strong will to overcome her overweight problem, she decided to get Gastric Sleeve Surgery in Mexico. Heather was very happy because now he lost 74 pounds and has had no problems since her surgery.
She is not only happy with the surgeon and medical staff professionalism, but also the facilities where she had her Bariatric Surgery, and their up-to-date, clean and comfortable facility offering caring and compassionate staff.
DW weighed over 300 pounds when he realized he'd had enough. DW understood that he needed to change lifestyle habits and learn how to eat properly, exercise more, and take care of himself with new habits.
He then decided to undergo weight loss surgery in Mexico. After having surgery, he obtained life changing weight from 330 pounds to 227 pounds, and he keeps losing a couple of pounds a week.
DW has made personal changes as well. He rides his bike 50 miles a week and lifts weights. He eats healthy, has cut processed food from his diet and eats six small meals a day.  DW has more energy and has enjoyed cutting down on his clothing sizes, and even was able to go down one shoe size.
You can read full story of Heather and DW here: Bariatric Surgery - Changing Lives for the Better.
Based on the Journal of Travel Medicine: A Review of Cosmetic Surgery Tourism, it is said that the lower initial cost is one of the primary reasons why Cosmetic Surgery Tourism has become a common procedure choice that continues to increase from time to time.
Imagine if in America you get the option of Bariatric Surgery which costs up to $25,000, but in Mexico, you can get it for only $4,000 - $7,000. Of course, psychologically you will be moved to choose Mexico, because besides being cheap, you will also get cashback (in quotes) in the form of vacation and having fun with your family. So which one is more worth it? Well, please answer yourself.
For more information about price differences for Cost of Bariatric Surgery in Mexico Vs. Canada and US, see below table:
| | | | |
| --- | --- | --- | --- |
| Procedures | Cost in Mexico | Cost in US | Cost in Canada |
| Gastric Bypass | $5,199 | $35,000 | $20,000 |
| Sleeve Gastrectomy | $5,750 | $27,000 | $20,000 |
| Mini Gastric Bypass | $5,750 | $15,000 | $20,000 |
| Gastric Balloon | $2,690 | $9,000 | $8,000 |
| Bariatric Surgery | $3,995 | $27,000 | $20,000 |
| Gastroplasty | $5,199 | $35,000 | $20,000 |
Many people have had a positive impact after undergoing weight loss surgery and getting a life changing which they thought was just a dream. You can make those dreams come true, yet the difference is how quickly you make decisions. If you are confused, please share your thoughts with us, we will give assistance you need: