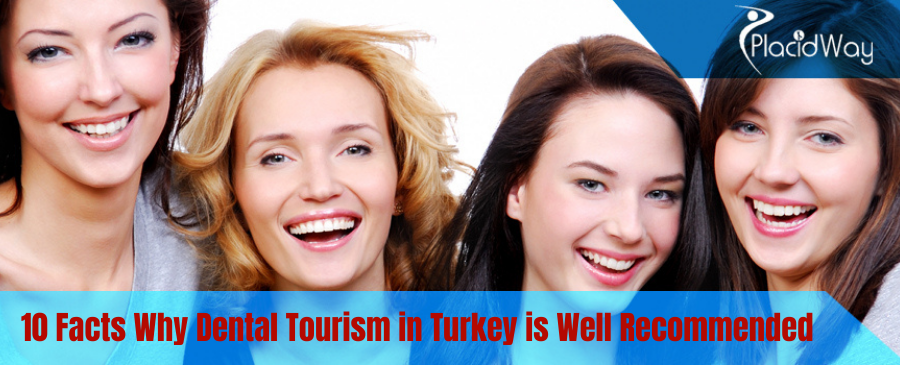 10 Facts Why Dental Tourism in Turkey is Well Recommended Compared to Other Countries
Dental Tourism in Turkey is the right choice compared to other countries. The price comparison is quite significant to be one of the main reasons. Many patients from UK, Germany, Middle East, and Georgia are looking for high quality dental treatments, but they find that high quality Dental Treatments are usually more expensive, especially in the UK, USA, and also Europe. However, Turkey is able to offer 50% - 75% cheaper prices compared to these countries. This is what makes Turkey visited by millions of patients from all over the world. This makes Turkey the 6th most visited city in the world, and obtain approximately 500 million Euros per-year from Dentistry Tourism.
As it known, Turkey is popular for its cultural landmarks, architecture, museums, and ruins. Aside from being a destination for adventure and exploration, it?s a land of two cultures ? the East and the West. Turkish healthcare services are also being noticed around the world. Medical tourists from all over the world journey to Turkey for Dentistry Procedures, such as Cosmetic Dentistry, Dental Implants, Dental Veneers, Dental Crowns, Smile Makeover, Dentures, Dental Fillings, and many more.
Compiled by PlacidWay, These 10 awesome facts will make you understand why Dental Tourism in Turkey is so special compared to other countries:
1. Get Free Consultation and Extra Treatments
Compared to other countries, the majority of the dental clinics in Turkey are clean, spacious, and modern equipped, plus most of them have no waiting lists. Consultation may be free of charge as well. Some clinics offer assistance in arranging extra treatments such as hairstyling, cosmetics, and wrinkle-filling. In addition, Turkey gives maximum importance to patients? rights and security. This means it is very rare to hear of malpractice cases in Turkey. Health tourists coming to Turkey as a guests are completely safe.
2. Prioritize High Quality of Dental Services
Aside from the tourist spots, Turkey has to offer, the country has become a high-quality dentistry hub. Turkish packages are very low compared to its European neighbors. It?s almost 70% lower and affordable, along with its cosmetic dentistry treatments.
One noticeable reason is that Turkey has a lower cost of living. Because rent, employee wages, and expenses are relatively cheaper compared to its European neighbors, its prices of dental procedures are correspondingly lower - making it an ideal destination for all your high-quality and affordable dentistry needs.
3. Provide Combination of Dentistry and Holiday Packages
Another commendable feature in Turkish dental clinics is that they combine dentistry and holiday packages for their international patients. Some of the dental centers and clinics have international patient departments that coordinate foreign guest pick-ups (from the airport to their centers), and help in hotel accommodation and sightseeing tours. Interpreting services for the following languages are also being offered such as: English, Arabian, Bulgarian, Russian, Greek, Macedonian, Georgian, and even Kurdish. Here are some excellent Dental Packages that you can choose in Turkey:
4. Very Professional in Assisting Patients and Their Relatives during Treatments
Other add-on services that provide more value and customer service include the following: medical second opinion may be free of charge, assisting patients and their relatives during their hospital and holiday stay, and offering free hotel accommodations for a certain number of treatments availed by the patients.
5. Amazingly Affordable Price Comparison
Dentistry service prices are amazingly affordable. All on 8 implants in Turkey will only cost you $884 with 5 years warranty. You might be surprised that in the US, one tooth implant might cost $4,000-5,000 (including surgery and restoration costs). Another procedure, such as Zirconium crowns in Turkey is priced $142-$274 (per tooth) instead of around $1,022 in the UK. Root Canals in Turkey may cost $94-$137 (per tooth) compared to $300-2,000 (per tooth) in the US. Now, see the price difference? For more information about Price Comparison between Turkey Vs. other Countries, you can check below table:
| | | | | |
| --- | --- | --- | --- | --- |
| Procedures | Turkey | UK | Georgia | USA |
| Dental Implants | $800 | $2,000 | $2,800 | $1,500 |
| All on 4 | $5,000 | $15,000 | $15,000 | $12,000 |
| Dental Veneers | $270 | $600 | $1,000 | $2,500 |
| Dental Crowns | $160 | $500 | $1,000 | $1,100 |
| Dental Bridges | $200 | $500 | $3,500 | $1,500 |
| Smile Makeover | $600 | $2,000 | $2,500 | $3,500 |
| Dentures | $750 | $1,000 | $2,000 | $1,800 |
| Orthodontics | $1,000 | $2,000 | $4,800 | $5,000 |
6. Most Clinics Offer 5-Year Warranty on Dental Treatments
Of course, any invasive procedure may have associated risks but the good thing about availing of dental services in Turkey is that dental clinics here offer a 5-year warranty on dental treatments. This means that in case of any discontent in the procedure(s) performed, repeating the treatment(s), maybe possible under the warranty scope.
7. Accessing them is Very Easy
Most clinics have a website so accessing them may be easier. Click here if you want to access top Dentistry Clinics in Turkey and start your consultation today. You can get important details such as price packages and years of experience, also the license of your dentist. Their safety practice, and the number of times he has performed the procedures are also relevant.
8. Turkey Occupies Strategic Geographical Position
Turkey occupies a strategic geographical position between Asia, Europe and Middle East, and is a confluence between two continents. Many countries have easy access and are a short journey from Turkey by plane.
9. Provides Hospital Quality that?s Internationally Approved
Dental tourists arriving in Turkey benefit in two ways, first there is the very low cost as compared to most European countries, and second the extremely high quality. The quality of medical services in Turkey has been approved by international institutions like JCI (Joint Commission International) which is an adjunct of the JCAOH (Joint Commission on Accreditation of Healthcare Organizations). There is also the ISO Quality Management system (International Organization for Standardization) which is also used by so many Hospitals in Turkey. With 35 hospitals accredited by JCI, it makes Turkey ranks second in the world.
10. Say Good Bye to Communication Problems
Turkey?s Doctors are very highly trained and normally their training is completed in English. There is very little in the way of communication problems as doctors and staff speaks various foreign languages. In the rare instances where this is not the case then interpreters are employed. Of course, this is an extraordinary advantage compared to similar dental services in other countries.
Book Dental Treatments in Turkey Now and Get Awesome Experience Beyond Your Expectations
After seeing the 10 facts that we have outlined above, of course all your doubts will be erased, and of course you will be guaranteed to get service that exceeds your expectations. In fact, many patients praise how caring the medical staff in Turkey is in dealing with patients. Some dental clinics in Turkey even send their medical staff to the airport and are waiting to pick you up!
If you need help finding the best Dental Clinics in Turkey, don't worry, feel free to contact us, we are ready to provide the support you need!