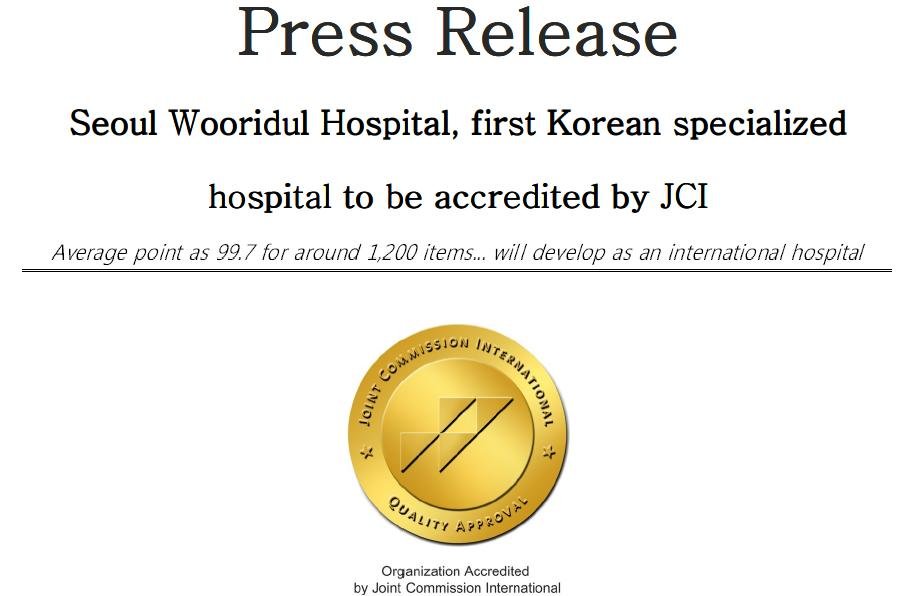 One the 15th, Seoul Wooridul Hospital has reported that they have received the accreditation from the Joint Commission International (JCI) as the first specialized hospital in Korea.
From this, Seoul Wooridul Hospital will be the eighth hospital to received JCI accreditation mark in Korean.
To be certified by JCI, hospitals should receive same or more than 90 points in average for about 1,200 Items, and as the result, Seoul Wooridul Hospital received a high mark of 99.7 points as average (99.7% Completion). Especially, they have received full marks from almost every area including IPSG (International Patient Safety Goals).
As the JCI Accreditation Committeeconcluded the final accreditation analysis that lasted for 5 days from November 29 till December 3, they commented, "Seoul Wooridul Hospital has received the greatest point among all accreditation we have seen till now," so the hospital was assured of the approval.
JCI Headquarters said, "To all staffs of Seoul Wooridul Hospital, we would like to congratulate you for the accreditation of your care system that is based on continuing improvement of medical service quality and patient safety, which has made possible with your contribution," and added, "citizen of Korea should be proud of Seoul Wooridul Hospital's continuing efforts to improve quality of medical services."
JCI (Headquarter in the U.S) is an international non-governmental and non-profit organization for accreditation of medical institutions, which was founded in 1994, with a purpose to accredit and certify hospitals in the U.S. At the present, they certify accreditation to medical institutions around the world after strict assessment for each assessment standard including the safety of patients and quality level of medical services.
For JCI Accreditation, Seoul Wooridul Hospital has initiated JCI Preparation Team in 2008 and worked their best to meet international standards from medical examination area to support areas including facilities, medical information and medicine teams.
Seoul Wooridul Hospital commented, "JCI Accreditation is not just about promoting international patients," and added, " This has been progresses to provide the best medical services to patients in a safe environment by improving medical service of Seoul Wooridul Hospital up to the international standards."
In addition, Seoul Wooridul Hospital said, "Only large scaled general hospitals received the JCI Accreditation so far in Korea. However, Seoul Wooridul Hospital has been certified with the JCI
Accreditation, the fact that the level of specialized hospitals in Korea is now up to international standards. Thus, we hope this could be a great opportunity for many patients in the world, who suffer from the spinal and joint diseases, to visit Seoul Wooridul Hospital and receive treatment."
Currently, hospitals with JCI Accreditation in Korea are big general hospitals including Severance Hospital, Kangnam Severance Hospital Korea University's Anam Hospital, Seoul St. Mary's Hospital, Gacheon University Gil Hospital's Brain Health Center, Inha University Hospital and Chonnam National University Hwasun Hospital.
On the other hand, Wooridul Hospital has been selected as the "World Best International Hospital" from Medical Tourism Association (MTA) in 2008, in January 2010, they have received "Top 10 International Hospitals for medical tourists" that in announced by Medical Travel Quality Alliance (MTQUA).
Please Click Here to request more information from Wooridul Spine Hospital.