Dr. Muhammad Mazen Dayeh – IVF Doctor in Dubai UAE, Fertility Treatment, Infertility/IVF
ALRAZI BULDING BLOCK F, Dubai, United Arab Emirates
Dubai, UAE
Speciality:
Fertility Treatment, Infertility/IVF,
Languages:
English,Arabic
Focus Area:
Dr Muhammad Mazen Dayeh | Fertility Treatment | IVF | In Vitro Fertilization
---
About - Dr. Muhammad Mazen Dayeh – IVF Doctor in Dubai UAE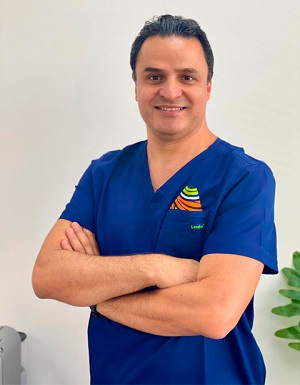 Dr. Muhammad Mazen Dayeh | IVF Doctor in Dubai UAE
Biography of Dr. Muhammad Mazen Dayeh
Dr. Muhammad Mazen Dayeh provides the best IVF in Dubai UAE. Book consultation now In-Vitro Fertilization, ICSI, and IVM at PlacidWay. Dr. Muhammad Mazen Dayeh is a top fertility expert with 18 years of experience in classical gynecological and fertility-related procedures, including surgeries, plastic surgery, and stress incontinence surgery. He provides obstetric services to maintain continuity of care during pregnancy.
He is fluent in English, Arabic, and Russian, and his multicultural background has equipped him to be culturally sensitive and extra caring with all his patients. He is committed to helping his patients feel at ease through informed, shared decision-making so that they can undergo successful treatment and experience the joy of parenthood. Patients value his medical expertise, individualized treatments, and the emotional support he provides them.
Dr. Muhammad Mazen Dayeh has helped many couples conceive and bring healthy babies into the world. He is passionate about his work and takes great pride in helping couples achieve their dreams of parenthood. If you are looking for an expert fertility doctor in Dubai, UAE, Dr. Muhammad Mazen Dayeh is the perfect choice!
Dr. Muhammad Mazen Dayeh understands the importance of ensuring that his IVF patients are satisfied with their treatment. He will work hard to ensure that they receive the best possible care and have a positive experience. Dr. Mazen Dayeh knows that each patient is unique and will customize their care accordingly. He is dedicated to providing the highest level of service and wants his patients to feel confident and comfortable throughout their IVF journey.

Education
Experience and Education of Dr. Muhammad Mazen Dayeh | Fertility Doctor in Dubai UAE
Education
Saint Petersburg I.P. Pavlov State Medical University, Russia (Primary Medical Qualification - PMQ)

Russian Academy for Medical Sciences, (Specialty Training and PhD)
Experience
Consultant of both OB/GYN and Reproductive Endocrinology/Infertility

Experienced Spesialists male and female infertility, Reproductive Immunology, and Recurrent Implantation Failures

He has performed over 600 IVF cycles per year
Languages Spoken
Arabic, English, and Russian

Membership
Membership of Dr. Muhammad Mazen Dayeh | In-Vitro Fertilization Doctor in Dubai UAE
Syrian Medical Society, Syrian Society of Obstetricians & Gynecologists (2006)

The Russian Association of Human Reproduction

American Society for Reproductive Medicine (ASRM)

European Society for Human Reproduction and Embryology

---
Dr. Mazen Dayeh IVF reviews
Inga

Dr Mazen and his team have been wonderful in helping me achieve my dream. I would recommend him to anyone who also dreams of having children. Thank you, Dr Mazen and your entire team.

Google

May 18 2022

RABESAONA

Thank you for everything you did to help get our baby. You were so wonderful to work with during a stressful time and you and your team were supportive and encouraging every step of the way.
We people have wishes but God knows what is best for us and you have been serving Him by bringing joy in our couple We are beyond thrilled

Google

May 27 2022

Yamuna

Great Dr....Congratulations and best wishes to you. Happy to see your success stories...it is motivating for many people

Google

May 24 2022

Peqaso

dr mazen is the best dr in.uae and amazing
We waiting after 8 years he is
Make my dream come true i dont know how to explain about my hop thanks so.much
And May the Creator grant me long life and health

Google

May 16 2022

Leen

Words of thanks are not enough for you
Cuz what you have given me is greater than any words of thanks
Thank you Dr mazen for you support and effort
I will be grateful to you all my life
Like

Google

May 23 2022

essolissiname

Thanks you Dr Mazen for out amazing experience

Google

May 17 2022
---
---
PlacidWay.com provides information and travel related services. We do not provide health care services. We provide information solely for informational purposes and do not endorse any particular health care provider or facility or any particular health care service or treatment. We are not affiliated with any health care provider or service and we are not responsible for any health care service. Please consult with your own domestic licensed health care provider before seeking the services of any health care provider you learn about via our site.
---