Dental Implants in Antalya
Choose Dental implants in Antalya and Get Affordable Tooth Replacements
Dental implants are costly in the UK and the US. At the same time, they are a lifetime investment. But there are more affordable options abroad, such as Dental implants in Antalya, Turkey.
If you want to save over 60% and receive a high-quality treatment, this guide will help you find the best dentist and clinics in Antalya.
This Turkish Riviera offers sunny beaches, warm weather, and top-notch dental care for your unforgettable experience. Here is what we recommend:
Clinic: Denart Turkey Dental Centre
Procedure:  Dental Implants
Package Price: $380
Cost in Antalya: From $325
Cost in Other Countries: From $2,500
Top Tourist Attractions: Kaleici - The old city of Antalya, Sapadere Kanyonu, Konyaalti Beach, and more.
---
Special Package Deals for Teeth Implants in Antalya
PlacidWay offers affordable all-inclusive package deals at only $325 for dental implant Antalya. The city is a perfect location for European and American patients looking for a dental holiday. It is cheap, sunny and the locals are friendly.
Therefore, if you choose this package option, you get a chance to save over 70% and enjoy a breathtaking vacation in Antalya you deserve to have. Check out the packages:
Are you planning to get dental implants in Turkey? Get a comprehensive package at an affordable pric
Are you searching for the most affordable Single-tooth implantation package in Antalya, Turkey? Clic
---
Cost of Dental Implants in Antalya, Turkey
Dental implants cost in Antalya, Turkey, are from $325 in our recommended clinics. When we further compare teeth implant prices, we will see in the table below that in Germany, the USA, and the UK the cost exceeds $2,500.
Therefore, getting a dental implant in Antalya is around 80% cheaper than in other developed countries.
You can save a lot by traveling to Antalya to get your implants done and plus you'll have the chance to explore the city and enjoy the Mediterranean climate!
Dental Implants Centers Cost Comparison in Antalya, Turkey
| Provider | Procedure | Price |
| --- | --- | --- |
| Denart Turkey Dental Centre | Dental Implants, Dentistry | $650 |
| Ozdemir Dental Center | Dental Implants, Dentistry | $325 |
Dental Implants Cost Comparison in Turkey

| Country | Procedure | Price |
| --- | --- | --- |
| Germany | Dental Implants, Dentistry | $2750 |
| United States | Dental Implants, Dentistry | $3500 |
| United Kingdom | Dental Implants, Dentistry | $2500 |
---
Top Implant Clinics in Antalya, Turkey
PlacidWay partners with the top implant clinics in Antalya, Turkey. These well-established clinics provide world-class dental services to local and international patients. The staff can communicate in English, and highly qualified dentists specialize in implantology and oral surgery.
They ensure patient safety by equipping with modern technology, such as digital x-rays and CAD/CAM. Located in a beautiful Antalya resort, these clinics offer a pleasurable and comfortable experience.
Take a look below at the profiles of the six best clinics for dental implants Antalya:
---
Informative Video about Getting Dental Implants in Antalya
In the following video, you'll see why dental implants Turkey Antalya are your practical option.
---
Dental Care in Antalya Reviews
---
FAQs about Dental Implant Price in Antalya, Turkey
What is the price for Dental Implants in Antalya, Turkey?
Show More
The average price for Dental Implants in Antalya, Turkey starts at $745. Some clinics also offer international travelers packages that include a comprehensive range of healthcare services for international patients such as diagnostic needs, physician consultations, insurance and billing assistance, travel and accommodations, language interpretation and cultural mediation services. The price varies depending on the complexity of the dental treatment or procedure, the materials and equipment use, the doctor and clinic that you choose and many other factors. After the first consultation the dentist will be able to tell you the final cost. Taking care of your teeth is crucial, as they are the one that help you eat and speak. Left untreated, teeth problems can lead to serious health issues such as respiratory conditions and even cardiovascular diseases. If you do not know how to choose the best dentist for Dental Implants in Antalya, Turkey, here are some questions that will help you: What are the advantages and disadvantages of Dental Implants? What about the risks and complications? Are you certified? Are you a member of any Dentistry association or society? How many years of experience do you have performing Dental Implants? How often have you performed Dental Implants? What if something goes wrong during Dental Implants procedure? What if I am not happy with Dental Implants results? Turkey has become one of the top choices when it comes to dental care. More and more dental tourists choose Turkey for its affordable prices, highly trained dentists and modern dental clinics fitted with high class equipment and laboratories. Below you can find some of dentist in Antalya, Turkey that offer most affordable price for Dental Implants.Find out more about the best dentists in Antalya, Turkey! Contact us and choose the best dental specialist!
---
Best Implant Dentists in Antalya
Dental implants in Antalya are undoubtedly an option if you are looking for good-quality and value-for-money prices. But if you worry that dentists in Antalya don't have the necessary skills, we will have to reassure you.
Actually, Antalya dentists are well-trained and have graduated from five years of medical school and then further training to become dental specialists. Thus, you will find that implantologists in Antalya are members of professional organizations, such as the International Congress of Oral Implantologists.
Our PlacidWay team can help you to connect with a reputable dentist in Antalya for your needs. Contact us to know more.
---
Places to See on your Dental Trip to Antalya, Turkey
There is something for everyone to see and do in Antalya. Unique ancient architecture and inspiring locations attract millions of tourists to this Mediterranean resort.
Exploring the Mediterranean coastline, walking the city center and the old town Kaleici, or taking tourist tours to other splendid locations, you certainly will have a lot to see and do in and around Antalya.
Let's see the places you can visit during your dental trip to Antalya:
Kaleici - The old city of Antalya
Lower Duden Waterfall
Kursunlu Waterfalls
Sapadere Kanyonu
Konyaalti Beach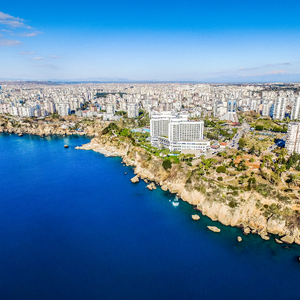 View of Antalya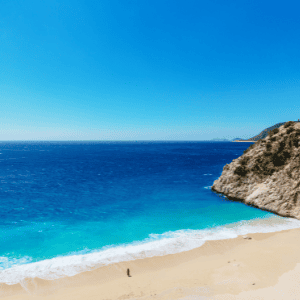 Mediterranean Coast in Antalya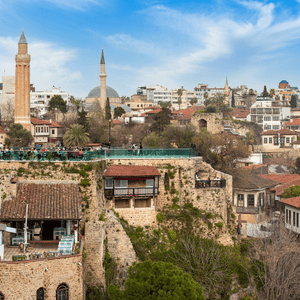 Yivli minaret and tea garden - Old town Kaleici in Antalya
---
Arrange a Trip for Dental Implants in Antalya, Turkey Today!
Dental Implants in Antalya Turkey will enhance your smile at a fraction of the cost in the UK or the US!
Arrange today your dental trip in Antalya and get a free price estimate!
---