All on 4 Implants in Cabo San Lucas
Why All on 4 in Cabo San Lucas?
Looking for a dental procedure to replace all of the upper or lower missing teeth? You are at the right place! We will help you find the solution in All on 4 Dental Implants in Cabo San Lucas, Mexico. Why Cabo, you may think.
Apart from being a hot tourist spot, Cabo San Lucas is also a popular destination for dental work. Here are the key benefits you'll gain if you choose Cabo San Lucas dental implants:
Repaired facial qualities and improved quality of life
Cost-savings up to 60% on American prices
All-inclusive dental trip with affordable packages
Comfortable treatment in world-class clinics
Exotic vacation in amazing Cabo
Before you explore your dental options in Cabo San Lucas, here is a quick page summary:
Clinic: PURE Smile Makeover Center
Doctor: Jose Valdes Morton
Procedure:  All on 4 Dental Implants
All-on-4 Cost in Cabo: $10,500
Cost in North America: From $22,500
Top Tourist Attractions: Medano beach, Playa del Amor, El Arco de Cabo San Lucas, and more.
---
Comprehensive All-on-4 Dental Implants Packages in Cabo San Lucas
If you would like to book your dental trip in Cabo with no stress, maybe you should consider choosing an all-inclusive package. Cabo clinics provide pocket-friendly packages to help you have a relaxed trip and high-quality treatment.
You can contact our Customer Representative for more details on packages that can be customized based on your preferences and budget.
---
Cost of All on 4 Dental Implants in Cabo San Lucas
There are many advantages to getting your dental implants in Cabo. One of them is saving thousands of dollars compared to prices in the US and Canada. For example, All on 4 Dental Implants cost in Cabo San Lucas is $10,500 on average, while in North America over $22,500.
As you see, you can fix both arches in Cabo for the price of one in America. This is highly compelling for uninsured self-pay patients with a limited budget.
The following table presents the prices in Canada, the USA, and Cabo.
All on 4 Dental Implants Cost Comparison in Mexico

| Country | Procedure | Price |
| --- | --- | --- |
| Mexico | All on 4 Dental Implants, Dentistry | $10500 |
| Canada | All on 4 Dental Implants, Dentistry | $22500 |
---
Dental Implants Clinics in Cabo San Lucas
The best clinics in Cabo San Lucas provide incredible experience to their patients. Thanks to modern technology and the latest techniques in dentistry, dentists are able to design a personalized treatment plan according to your needs and preferences.
Cabo dental clinics employ dentists specialists in implants and smile restorations who comply with recognized global health and safety criteria.
PlacidWay can ensure you'll receive top-quality treatment in accredited clinics in Cabo. We strive to provide accurate information regarding clinics medical staff qualifications, dentists' professional memberships, and patient reviews among other things.
Find all these details in the clinic's profiles below, in order to make your own informed choice.
Top Center
Advanced Cabo Dentistry is one of the top international clinics that offer Restorative Dentistry and Cosmetic dentistry solutions in San Jose Del Cabo, Mexico. Key procedures include Dental Implants, Bridges, Crowns, Endodontics, Fillings, Braces, Teeth Whitening and more.
Top Center
PURE Smile Makeover Center is a dental care clinic that provides a wide range of services for local and international patients located in San Jose Del Cabo, Mexico. The clinic provides high-end dental procedures such as general and advanced dental care, cosmetic dentistry, maxillofacial surgery, implant dentistry, orthodontics, and more.
---
Dental Treatment in Cabo San Lucas Reviews
---
Top Specialists in Implantology in Cabo
Skilled dentists in Cabo will restore your smile using a permanently fixed arch and four dental implants with the All-on-4 treatment. First, they will examine your teeth, mouth, and jaw and check your oral and general health. After that, Cabo dentist will explain the process to you, as well as requirements, costs, and other details.
When you find the solution together, a dentist starts performing an All-on-4 procedure. We will help you find your Cabo dentist, but first, see some of the top dentist's profiles below to know what to expect.
---
Explore Dental Tourism in Cabo San Lucas - Best Things To Do
Cabo San Lucas is located in the southern part of the Baja California Peninsula in Mexico. Cabo offers a fantastic getaway for dental tourists and those seeking an adventurous holiday. With pristine beaches and warm weather surrounded by breathtaking scenery, it is no wonder Cabo is so appealing as a tourist destination.
This will help you feel relaxed while undergoing and recovering from a dental procedure. Here are the best things to do in Cabo San Lucas:
Visit Land's End to explore the southern point of Baja California
Take a boat trip to Espiritu Santo Island - UNESCO Biosphere Reserve
Explore top beaches such as Medano, Amor, and Chileno beach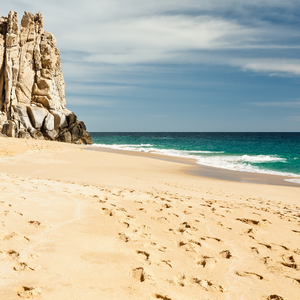 White-sand beach in Cabo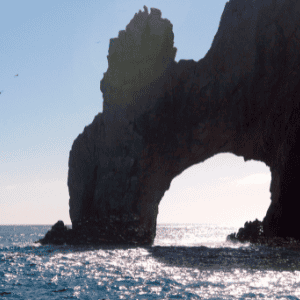 Keyhole Rock in Cabo
---
Get Your All on 4 Implants Cabo San Lucas Today!
If you have questions about the All-on-4 dental implants in Cabo San Lucas, don't hesitate to contact our Customer Care Team.
We are here to help you restore your smile with affordable dental implants in Cabo!
---