Dentures in Cabo San Lucas, Mexico
Benefits of Getting Dentures in Cabo San Lucas
Are you unhappy with your smile due to teeth loss problems? There is an affordable solution with Dentures in Cabo San Lucas, Mexico, regardless of the reason for missing teeth.
The city is popular for its reputable clinics and dentists offering top-quality services at competitive prices. Another great thing about going to Los Cabos for dentures is its warm climate and stunning scenery.
In addition to getting effective dentures, you can enjoy a well-deserved vacation on the Pacific coastline of Mexico.
These are the advantages of dentures in Cabo:
Affordable dental procedure
World-class treatment at reputable clinics
Highly skilled dentists providing effective dental results
Opportunity to combine leisure with dental care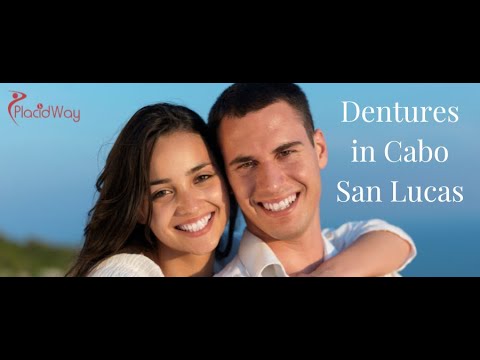 ---
Cost-Effective Packages for Dentures in Cabo San Lucas, Mexico
Looking for dentures packages in Cabo? Our team will help you create special packages for dentures that include customized services and price you can afford. Do not hesitate to reach out to us anytime to take advantage of this offer.
---
Cost of Dentures in Cabo San Lucas, Mexico
Dentures cost in Cabo San Lucas $600 on average. The same procedure cost over $1,300 in North America. This means you can save around 60% on Cabo dentures.
Also, you have the chance for a relaxing holiday in Cabo and return home with a brand-new smile and beautiful memories. Below is the table where you can see the costs between Cabo, the USA, and Canada.
Please note that these are average prices, and the final price will be determined after the dentist's evaluation.
Dentures Cost Comparison in Mexico

| Country | Procedure | Price |
| --- | --- | --- |
| Mexico | Dentures, Dentistry | $627 |
| Canada | Dentures, Dentistry | $1300 |
| United States | Dentures, Dentistry | $1500 |
---
Dental Clinics in Cabo San Lucas, Mexico
Cabo san Lucas is known as a vibrant summer resort. But the city is also home to renewed dental clinics and dentists where thousands of dental tourists go for low-cost dental work.
Clinics are located in the pleasant environment of Cabo where you'll experience relaxing dental treatment. In addition, you can relax on white-sand beaches and enjoy the sun between your dentist appointments while waiting for your dentures to be done.
We provide you with a list of top dental clinics in Cabo that have years of experience working with international patients. See some of the profiles below:
Top Center
Advanced Cabo Dentistry is one of the top international clinics that offer Restorative Dentistry and Cosmetic dentistry solutions in San Jose Del Cabo, Mexico. Key procedures include Dental Implants, Bridges, Crowns, Endodontics, Fillings, Braces, Teeth Whitening and more.
Top Center
PURE Smile Makeover Center is a dental care clinic that provides a wide range of services for local and international patients located in San Jose Del Cabo, Mexico. The clinic provides high-end dental procedures such as general and advanced dental care, cosmetic dentistry, maxillofacial surgery, implant dentistry, orthodontics, and more.
---
Top Videos to See about Dental Work in Mexico
Want to know what to expect from your trip to Mexico for dental work? In our videos below is detailed information about dental tourism and dental clinics in Mexico.
---
Dental Work in Cabo San Lucas Reviews
---
Best Dentists in Cabo San Lucas for Dentures
Dentists in Cabo San Lucas have years of experience treating overseas patients. They are dedicated to each patient desires and dental goals to help them regain their confident smile and overall appearance.
Cabo dentists use brand materials and top-notch equipment to provide the highest quality of care. Their extensive training ensures safe and successful dental work.
Read more about dentist in Cabo and their credentials in the following links:
---
Experience Dental Vacation in Cabo San Lucas – Best Things to do in Los Cabos
The wonderful climate, pristine beaches, and Pacific Ocean waters of Cabo attract millions of tourists from North America annually. Cabo is an excellent destination for adventurous and people who just want to relax on the beach and recover from their busy lifestyle.
It is also easy to reach from USA and Canada either by flying to the airport or by driving. There are a lot of things you can do in Los Cabos area, which depends on your preferences. Some of the best things to enjoy in Cabo include:
Visit Land's End to explore the southern point of Baja California
Visit San Jose del Cabo
Take a boat trip to Espiritu Santo Island - UNESCO Biosphere Reserve
Explore top beaches such as Medano, Amor, and Chileno beach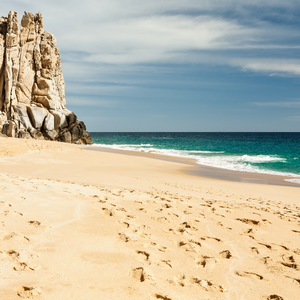 White-sand beach in Cabo
---
Book Consultation for Dentures in Cabo San Lucas, Mexico at PlacidWay!
You can book your dentures in Cabo San Lucas today and save over 60% while indulging in the exotic getaway.
Our Customer Care Team is here to help you prepare for your dental trip to Los Cabos so don't hesitate to get in touch with us.
---