Surrogacy in Georgia, Europe
Your Journey to Parenthood with Surrogacy in Georgia
Are you considering surrogacy as a way to start or grow your family? If so, you're not alone. Surrogacy has become an increasingly popular option for intended parents worldwide, offering hope and possibility for individuals and couples struggling with infertility, medical issues, or same-sex partnerships.
One country that's gaining recognition as a top destination for surrogacy is Georgia, Europe. With favorable surrogacy laws, affordable costs, and access to high-quality medical care, Georgia has become an attractive option for intended parents seeking surrogacy options.
In this guide, we'll dive deeper into why Georgia is an excellent choice for surrogacy and answer some of the most frequently asked questions, including the cost of surrogacy in Georgia, whether surrogacy is allowed in the country, and what makes Georgia a top destination to find a surrogate mother.
So, if you're curious about surrogacy in Georgia and what makes it an attractive option for intended parents worldwide, keep reading, and discover why this stunning country has become a top choice for surrogacy.
---
Most Popular Surrogacy Packages in Georgia, Europe
Surrogacy clinics in Georgia offer various packages tailored to your specific needs and budget. Therefore, you'll find prices between $11,000 and $60,000, depending on the procedure and inclusions.
Usually, these packages include:
Unlimited attempts of IVF/ICSI
Embryo cryopreservation
Pregnancy care
Natural birth or C-section
New-born care
All medical services needed
Below you'll find more information about these packages. By choosing the right package, you can customize your surrogacy journey and ensure you get the support and care you need.
---
How much does surrogacy cost in Georgia Europe?
The cost of surrogacy in Georgia starts from $30,000 at a reputable clinic. The price includes all medical fees, legal fees, and compensation for the surrogate. One of the biggest advantages of surrogacy in Georgia is the affordability of its programs.
Compared to other destinations around the world, surrogacy programs in Georgia are much more cost-effective. This means you can get high-quality medical care and support at a fraction of the cost of other countries, making surrogacy in Georgia an excellent value for money.
Surrogacy Centers Cost Comparison in Georgia
| Provider | Procedure | Price |
| --- | --- | --- |
| Chachava Clinic Reproductive Health Center | Surrogacy, Fertility Treatment | $30000 |
---
World-Class Medical Facilities in Georgia, Europe for Surrogacy Treatment
Choosing the right clinic is one of your most important decisions regarding surrogacy. Fortunately, Georgia has some of the best medical facilities in the region, offering state-of-the-art medical care and support for surrogacy.
These clinics specialize in surrogacy and have experienced medical staff who can guide you through the entire process. With world-class medical facilities and the latest technology, you can rest assured that you'll receive the best possible care and support throughout your surrogacy journey.
Meet the best 4 clinics in Georgia that provide exceptional care to their patients:
---
Fertility Treatment in Georgia Europe Reviews
---
FAQs about Surrogacy in Georgia, Europe - What You Need to Know
Q: Is surrogacy legal in Georgia Europe?
A: Yes, surrogacy is legal in Georgia, a country located in Eastern Europe. In fact, Georgia is known to have some of the most favorable surrogacy laws in the world, making it an increasingly popular destination for intended parents seeking surrogacy options.
Q: How much does a surrogate cost in Georgia country?
A: The average cost of surrogacy in Georgia is considerably lower than in many other countries. On average, surrogacy in Georgia can cost anywhere between $30,000 to $60,000, depending on the specific surrogacy program and services required. This includes the cost of medical procedures, legal fees, and compensation for the surrogate mother.
Q: Is surrogacy allowed in Georgia?
A: Surrogacy is allowed in Georgia and is regulated by the Georgian Ministry of Health. The country's laws and regulations around surrogacy are clear and transparent, providing a safe and reliable environment for intended parents and surrogate mothers alike.
Q: What is the best country to find a surrogate mother?
A: When it comes to finding a surrogate mother, the best country ultimately depends on your individual preferences and circumstances. However, Georgia is an excellent option for intended parents looking for high-quality medical care, experienced professionals, and a supportive legal framework for surrogacy.
---
Experienced Professionals in Georgia, Europe for Fertility Treatment
Along with world-class medical facilities, Georgia also boasts experienced doctors and medical professionals specializing in surrogacy. These doctors have years of experience working with intended parents and surrogates and can provide you with personalized care and support throughout the surrogacy process.
They will be with you every step of the way, ensuring that your journey is as smooth and stress-free as possible. With their compassion and expertise, you can trust that you're in good hands.
Here are the names of top fertility doctors in Georgia:
---
Explore Georgia During Surrogacy Process - A Unique and Welcoming Country
Choosing Georgia for surrogacy is a decision that not only guarantees you world-class medical care and support but also introduces you to a country with a rich cultural heritage and breathtaking natural beauty.
Located at the crossroads of Europe and Asia, Georgia is a country that boasts ancient traditions, fascinating history, and stunning landscapes. From the snow-capped peaks of the Caucasus Mountains to the rolling hills of the wine country, Georgia has something to offer every type of traveler.
The capital city, Tbilisi, is a vibrant, cosmopolitan metropolis that blends medieval architecture with modern amenities. It's a city where you can wander through ancient streets, sample delicious Georgian cuisine, and enjoy the buzzing nightlife.
If you're a lover of nature, Georgia's countryside is sure to leave you spellbound. You can explore pristine forests, rugged mountains, and stunning waterfalls. Or, if you prefer something more relaxing, you can soak in the natural hot springs and stroll through the countryside.
The Georgian people are noted for their warmth and hospitality. You'll be welcomed with open arms wherever you go. You'll be able to learn about the country's rich history, including its ancient winemaking traditions, and participate in cultural events and festivals throughout the year.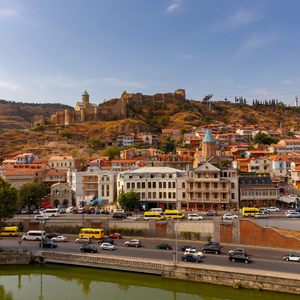 Tbilisi - a charming old town situated on a cliff-side
---
Start Your Parenthood Journey with Surrogacy in Georgia Europe with PlacidWay
Deciding to pursue surrogacy is a significant decision that requires careful consideration. But we're thrilled to tell you that Georgia offers an exceptional surrogacy experience that's both affordable and reliable. Not only is surrogacy legal in Georgia, but the country's excellent medical facilities and highly trained medical professionals make it a top choice for intended parents seeking the best care.
Georgia's surrogacy laws are some of the most favorable in the world, making the process less complicated and time-consuming than in many other countries. You'll receive expert care every step of the way, with support from experienced professionals dedicated to making your journey as smooth as possible.
By choosing surrogacy in Georgia, you're taking a significant step towards realizing your dreams of starting a family and gaining access to top-quality medical care and support from compassionate professionals.
Don't wait another day to begin your surrogacy journey. Book a consultation today, and take the first step towards parenthood!
---