International University Hospital Batumi
Heart Surgery, Neurosurgery, Knee Replacement, Hip Surgery, Eye Lasik, Fertility, IVF, ENT, Cancer Treatment, Vascular Surgery, Batumi, Georgia

Gen. Aslan Abashidze str. #14, Batumi, Georgia

Specialty:

Cancer Treatment, Eye/Lasik Care, Fertility Treatment, General Medicine, General Surgery, Gynecology Treatment, Heart Care/Surgery, Neurology, Organ Transplant, Orthopedic/Knee Surgery, Pediatric Treatment, Robotic Surgery, Spine Care/Surgery, Urology, Vascular Surgery

Focus Area:

Heart Surgery, Neurosurgery, Knee Replacement, Hip Surgery, Eye Lasik, Fertility, IVF, ENT, Cancer Treatment, Vascular Surgery, Batumi, Georgia
International University Hospital Batumi Profile Overview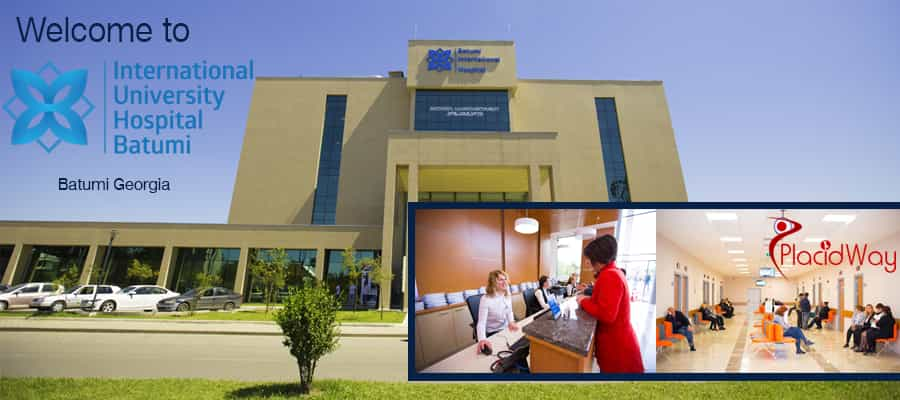 Welcome to International University Hospital Batumi
International University Hospital Batumi is multi-profiled hospital located in Batumi, Georgia which provides top quality ambulatory and inpatient services. Equipped with the latest medical technologies, the medical center's staff is composed of highly trained and qualified doctors, involved in a continuous training process and continually introduced to the innovations that are being implemented in medical practice.
Treatments and Procedures
Cardiology
Cardiovascular Surgery
Obstetrics and Gynecology
Fertility
Ophthalmology
Urology
Neurosurgery
Neurology
Traumatology
Endocrinology
Pediatric
Proctology
Find out all about International University Hospital Batumi! Contact us today!

---
---