PRK Surgery in Cancun
Why Choose PRK Eye Surgery in Cancun?
Want to correct your eye vision? PRK Surgery in Cancun can be your practical option. Top-rated eye centers in Cancun offer affordable, high-quality, and safe eye surgery for local and foreign patients.
Our guide will help you find the best clinic, doctor, and package for your eye surgery needs. We recommend the following:
Clinic: Perfect Vision Eye Lasik Surgery Center
Procedure: PRK Surgery
Package Price: Between $1,300 and $1,800
Cost in Cancun: $1,800
Cost in North America: From $3,500
Top Tourist Attractions: Playa Delfines, Cancun Center, Shopping malls, and more.
---
Top Packages for PhotoRefractive Keratectomy in Cancun
For your most convenient and hassle-free trip to Cancun for eye surgery, we offer all-inclusive packages that'll fit your budget perfectly. Prices for these packages are $1,300 and $1,800, depending on the clinic and package inclusions.
You can enjoy a well-deserved vacation in this Mexican resort by choosing a package deal. This way, you'll get the best quality eye care in Cancun while relaxing on the beaches of the Caribbean coast.
Find package details below:
Visum Cancun offers an affordable package for PRK eye surgery in Cancun, Mexico. Choose a high-quali
Perfect Vision Eye Lasik Surgery Center offers a cost-effective package for PRK eye surgery in Canc
---
Cost of PRK Surgery in Cancun
PRK eye surgery cost in Cancun $1,800 on average for both eyes. This is two to three times cheaper than getting the same treatment in the United States or Canada. For example, in these two countries, PRK surgery cost over $3,500 and $4,500 for both eyes.
Low-cost eye surgery in Cancun does not compromise the quality of care you'll receive in Cancun clinics. Therefore, patients from North America prefer traveling to Mexico and Cancun for cost-effective laser eye surgery and vacation along.
PRK Centers Cost Comparison in Cancun, Mexico
| Provider | Procedure | Price |
| --- | --- | --- |
| Perfect Vision Eye Lasik Surgery Center | PRK, Eye/Lasik Care | $1800 |
PRK Cost Comparison in Mexico

| Country | Procedure | Price |
| --- | --- | --- |
| United States | PRK, Eye/Lasik Care | $4500 |
| Canada | PRK, Eye/Lasik Care | $3500 |
---
Ophthalmology Centers in Cancun
Clinics in Cancun specialize in cutting-edge vision services for people with visual problems. Eye centers in Cancun invest in the best technology and a medical team training.
These centers are internationally recognized and work with ethics and professionalism. They can be compared to any other eye clinic in the US or Europe, which is why Cancun clinics receive thousands of patients yearly.
Let's meet the centers through their profiles:
dedicated primarily to laser vision correction of nearsightedness, astigmatism, farsightedness and cutting-edge ophthalmic surgery, especially cataract extraction with microinsición and injectable intraocular lens implant.
Top Center
Perfect Vision is a Laser Eye Institute dedicated to advanced treatments for miopia, hyperopia, astigmatism, presbyopia and cataracts with latest technology.
Top Center
Costamed in Playa del Carmen, Cozumel and Cancun,in Mexico offers Intensive Care Unit (ICU), Hyperbaric Chamber, Costadental, Laboratory, Prehospital Care, Radiology And Imaging, and Sports Medicine.
Top Center
Visum Cancun provides best Eye Surgery in Cancun Mexico. Book now Cataract Surgery, Retina Surgery, and Pterygium Surgery at PlacidWay.
---
Eye Surgery Center in Mexico Video
Watch our video to meet the best eye surgery center in Mexico.
---
Reviews for Eye Surgery in Cancun
---
Certified Eye Doctors in Cancun
The best ophthalmologists in Cancun have international degrees and attend regular training abroad. They will ensure that you receive the best quality of care and successful eye surgery.
Eye doctors in Cancun are committed to helping you improve your vision and restore eye problems. You can rest assured knowing that you'll be in good hands.
Check out some of the best eye surgeons in Cancun below, and contact us if you need more information.
Dr. Alcocer continued his education and did his opthalmological residency at the prestigious Asociac...
Dr. Blanca B. Figueroa Magana did a fellowship in Retina and Vitreous in the Retina service at the p...
---
Experience Exotic Vacation in Cancun
No doubt that Cancun is famous and one of the most beautiful resorts in Mexico. In addition to a relaxing holiday, you can also find top-quality clinics for your eye surgery. The surgery and a trip to Cancun will cost you less than receiving the same treatment in America.
These are the places we recommend you to visit in stunning Cancun:
The Hotel Zone
Downtown Cancun
Playa Delfines and Tortugas
The Cancun Scenic Tower
Cancun - popular summer resort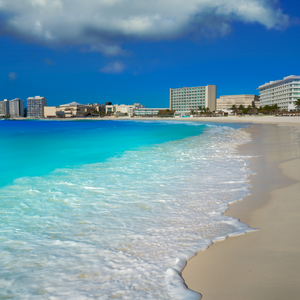 Dolphins beach at sunset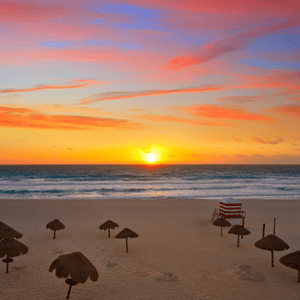 ---
Correct Your Vision with PRK Surgery in Cancun!
With PRK Surgery in Cancun you will be able to see brightly and restore your eye problems.
PlacidWay team will help you choose a reputable clinic and doctor and have a wonderful time in Cancun! Contact us today for a free price estimate!
---