Visum Cancun
World-Class Clinic for Lasik Surgery in Cancun Mexico
AV. Sayil SM 6 Mza 5, Azuna Medical Center, 9th Floor Cons. 912, Hotel Zone, 77500 Cancún, Quintana Roo., Cancun, Mexico

Specialty:

Eye/Lasik Care

Focus Area:

Eye Surgery in Cancun Mexico | Cataract Surgery | Glaucoma Surgery | Retina Surgery | Lasik Surgery
Visum Cancun Profile Overview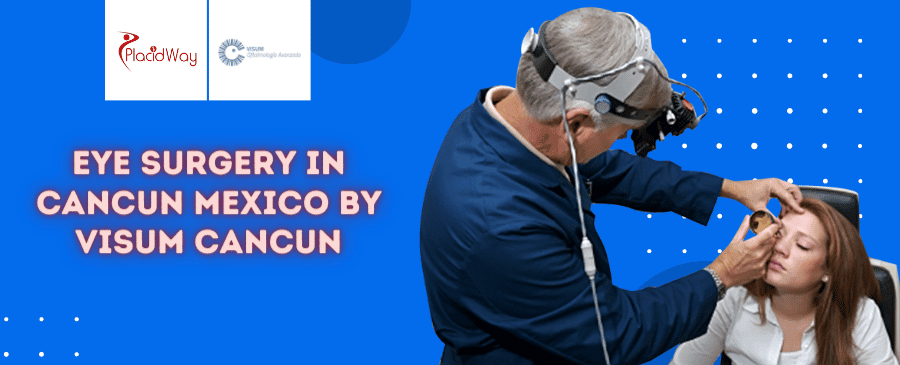 Visum Cancun provides best Eye Surgery in Cancun Mexico. Book now Cataract Surgery, Retina Surgery, and Pterygium Surgery at PlacidWay. The Visum Cancun Clinic provides the best eye surgery in Cancun Mexico. Their advanced technology and skilled surgeons ensure that you will receive the best possible care. Whether you are looking for a simple procedure or something more complex, the Visum Cancun Clinic is the perfect place for you.
At Visum Cancun Clinic, we provide cataract surgery, retina surgery, and many other kinds of Eye Surgery in Mexico. We're committed to providing the best possible care for our patients. If you're looking for excellent eye care, we encourage you to choose the right one! Visum Cancun is the one that can provide you with all health care facilities for eye surgery that you need.
Benefits of Choosing Ophthalmic Surgery in Cancun Mexico
Here you can find several advantages of selecting Eye Surgery in Mexico at Visum Cancun:
Most advanced technology for your visual health

Get best healthcare service from top surgeon in Mexico, Dr. Mario Riquelme

Cost effective solution for eye surgery

Get clearer and better vision

Also can provide permanent vision improvement
List of Treatments at Visum Cancun in Cancun Mexico
Here you can find information about list of procedures available at Lasik Surgery in Mexico by Visum Cancun:
Cataract surgery is a medical procedure that involves removing the cloudy lens from the eye and replacing it with a new one. The cloudy lens, which is called a cataract, blocks light from entering the eye, making it difficult to see.
Cataract surgery is a safe and effective way to improve vision. During the procedure, the surgeon makes a small incision in the eye and then uses a instrument to remove the cataract. Once the cataract is removed, the surgeon replaces it with an artificial lens. Most people who have cataract surgery experience improved vision afterward.
Glaucoma is a condition that affects the eyes and can lead to blindness. Glaucoma Ophthalmic Surgery in Cancun Mexico is a procedure that is used to treat this condition.
If you have ever noticed a wing-shaped growth on the whites of your eyes, you may be suffering from pterygium. This condition is caused by exposure to ultraviolet light and can result in irritation, redness, and discomfort. If you are concerned about pterygium surgery, contact Visum Cancun immediately at PlacidWay.
Retina surgery is a type of eye surgery that is performed to correct a problem with the retina, the thin layer of tissue in the back of the eye that helps us see. There are several different types of retina surgery, and the type that is right for you will depend on your specific condition.
For example, one type of retina surgery, called vitrectomy, is used to treat Retinitis Pigmentosa, a disease that causes vision loss. If you have a condition that affects your retina, your doctor may recommend surgery as a treatment option. Retina surgery can help to improve your vision and possibly even restore your sight.
Optometry
This type of surgery is performed by an optometrist and usually involves correcting vision problems. Optometry surgery can be used to treat a number of different conditions, such as nearsightedness, farsightedness, and astigmatism. Typically, optometry surgery is a relatively safe and quick procedure that can help improve your vision.
Lasik Surgery in Cancun Mexico is a type of laser vision correction that can correct a variety of refractive error conditions, including myopia, hyperopia, and astigmatism. The surgery works by using a precisely focused laser to reshape the cornea, the clear front surface of the eye
Cost of Eye Surgery in Cancun Mexico by Visum Cancun
It's time to get improvements to the problems experienced by your eyes at the right clinic and surgeon. PlacidWay provides the best prices for Eye Surgery in Cancun Mexico by Visum Cancun. For more information, feel free to click the button below:

Board Certified Surgeon for Lasik Surgery in Mexico
Check below for information about top and Certified Surgeon for Eye Surgery in Cancun Mexico:
Doctor Name:

Dr. Mario Riquelme
Certifications and Experiences:
Ophthalmologist in Cancun, specialist in Glaucoma

First Ophthalmologist in Latin America with certifications in Minimally Invasive Glaucoma Surgical Technologies, such as the XEN45 implant and the CLASS technology developed in Israel.

Being internationally formed as a Ophtalmologist Glaucoma Expert

Speaks fluent English, Hebrew and some Russian.
Book Your Consultation for Eye Surgery in Cancun Mexico Today!
It is time to book your consultation for eye surgery in Cancun Mexico. Visum Cancun is the perfect place to get the surgery you need. They offer a variety of services to help you restore your vision. For more information about Eye Surgery Packages, make sure to contact us by clicking button below:

---
---