Liv Bona Dea Hospital Baku
Discover the World-Class Healthcare Services at Liv Bona Dea Hospital in Baku, Azerbaijan
2 Mehdi Abbasov, Baku 1060 Baku , Baku, Azerbaijan

Specialty:

Cancer Treatment, Cosmetic/Plastic Surgery, ENT, Eye/Lasik Care, General Medicine, General Surgery, Gynecology Treatment, Hair Transplantation, Heart Care/Surgery, Infertility/IVF, Laparoscopic Surgery, Laser Surgery, Neurology, Obesity/Bariatric Surgery, Organ Transplant, Orthopedic/Knee Surgery, Pediatric Treatment, Rehabilitation, Urology, Dentistry

Focus Area:

Liv Bona Dea Hospital in Baku, Azerbaijan | Cardiology | Oncology | Orthopedics | Spinal health | Pediatrics | Obstetrics and gynecology | Emergency medicine | Plastic Surgery
Liv Bona Dea Hospital Baku Profile Overview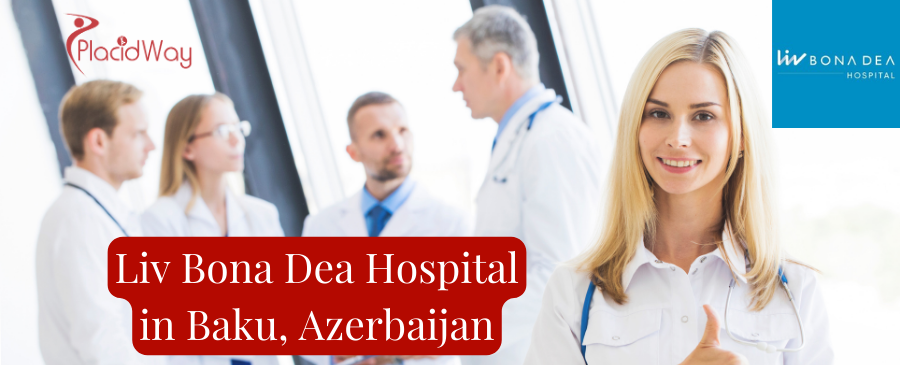 In 2022, Liv Hospital opened a brand new hospital in Baku called "Liv Bona Dea." It's a high-quality healthcare institution that offers a wide range of medical services for people of all ages, from routine check-ups to advanced surgeries.
A 209-bed hospital added 12 operating rooms and 2 angiography rooms. It has 156 patient beds, 28 general ICU units, 6 cardiovascular surgery ICU units, 7 neonatal ICU units, and a 12-bed emergency room. The hospital's medical equipment is from top companies in the USA, Germany, Japan, Italy, France, the UK, Sweden, Belgium, and Spain.
The hospital covers a lot of different fields of medicine, including cardiology, oncology, orthopedics, spinal health, pediatrics, obstetrics and gynecology, emergency medicine, and more. They also offer a variety of services like special check-up programs, personalized membership systems, home care services, and online screenings.
Liv Bona Dea is recognized for its high-quality standards, receiving accreditation from the Joint Commission International (JCI). The hospital was even inaugurated by the President of Azerbaijan, Ilham Aliyev, and First Lady Mehriban Aliyeva.
In addition to medical services, Liv Hospital also offers a range of wellness and lifestyle services, such as nutrition counseling, physical therapy, and fitness programs.
Liv Bona Dea

Hospital in Baku, Azerbaijan Highlights:
State-of-the-art medical facility with advanced technology

Highly skilled and experienced medical professionals from various fields

A comprehensive range of medical services, including cardiology, neurology, oncology, orthopedics, pediatrics, and more

Multilingual staff with translation services for international patients

Patient comfort and satisfaction are top priorities

Welcoming and comfortable environment for patients and their families

Advanced medical equipment sourced from top companies worldwide

Various health screening programs and check-ups to promote preventative healthcare and wellness

24/7 emergency room for urgent medical care

Located in the heart of Baku for easy access to patients in the region
Medical Professionals at Liv Bona Dea Hospital in Azerbaijan
Liv Hospital in Baku has a team of highly skilled and experienced doctors and physicians who are dedicated to providing the best possible care to their patients. The hospital's medical staff comprises specialists from various fields, including cardiology, neurology, oncology, orthopedics, pediatrics, and more.
Here are the names of the best 5 doctors:
Eldar Ahmedov - Transplant surgeon, General surgeon
Omer Avlanmish - Bariatric, General Surgeon
Dilgam Mammadov - Plastic and Reconstructive surgeon
Bahruz Aliyev - Pediatric cardiologist
Mutlu Ercan - Obstetrics & Gynecology, Division of Reproductive Endocrinology and Infertility
Book a Consultation with Experienced Doctors at Liv Hospital in Baku Today
For international patients, Liv Hospital in Baku provides a range of services to ensure a comfortable and stress-free experience, including assistance with travel arrangements, translation services, and help with visa and insurance issues. Overall, Liv Hospital is dedicated to providing high-quality, patient-centered care in a modern setting. Contact us today for more details.
---
---
Reviews
Aboozar H

The beautiful, the best, the accurate, 5 star at all, I met there and I found nothing bad, all behave respected, Dr. Mirzəyev is the best in behavior, being honest with patient. I like it. The staff are ready for any need you want. Are very Friendly.

Liv Bona Dea Hospital

Dec 14 2022

Sarah K

I had an issue in my right eye while I was in the airplane.. it was very red and feeling like there is a sharp object inside.. I booked an appointment before I went there. The receptionists were very helpful.. they even help me with translating in the examination room. The doctor was excellent and she speaks English.. she treated my eye instantly and I left her room feeling perfectly fine. The Hospital waiting area looks gorgeous and clean. I totally recommend it.

Liv Bona Dea Hospital

Dec 21 2022

Aygun A

Firstly,the hospital looks like hotel more than hospital and it is good for patients to feel less stress for their illness. Secondly,unlike other hospitals in Baku this hospital is clean and there is a praying room for muslim and non muslim patients and guests,I and my family members liked this feature.

Liv Bona Dea Hospital

Jan 17 2023
---
Cancer-Treatment Related Packages