Poliklinika Labar
Best Plastic Surgery Clinic in Zadar Croatia
Ulica Nikole Tesle 12b, Zadar, 23000, Zadar, Croatia

Specialty:

Alternative Medicine, Cosmetic/Plastic Surgery, Executive Healthcheck, Rehabilitation, Rehabilitation and Medical Spa Treatment

Focus Area:

Poliklinika Labar | Zadar | Croatia | Plastic Surgery | Breast augmentation | Breast reduction | Breast lift | liposuction | Tummy tuck | Facelift | Rhinoplasty | Blepharoplasty
Poliklinika Labar Profile Overview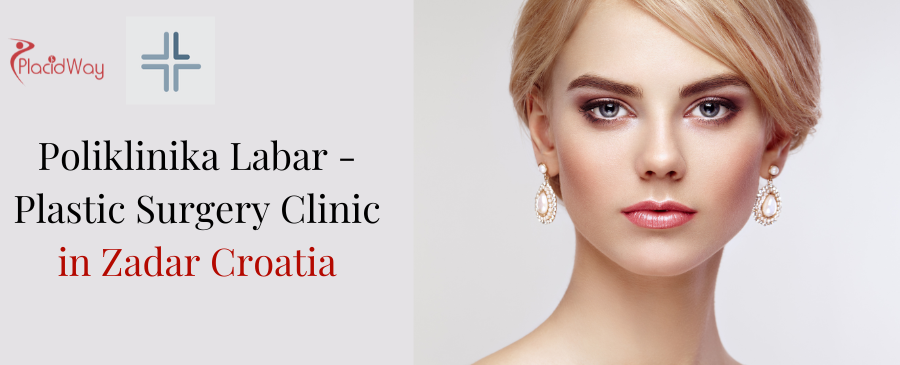 Poliklinika Labar is a well-established plastic surgery clinic that offers a wide range of plastic and cosmetic surgical procedures. With a team of experienced and skilled plastic surgeons, Poliklinika Labar is committed to providing their patients with the highest quality of care and outstanding results.
At Poliklinika Labar, patients can expect a warm and welcoming environment and the latest in medical technology and equipment to ensure safe and effective surgical procedures. Each patient receives personalized care and attention to meet their individual needs and goals.
Our plastic surgeons are highly trained and experienced in various plastic and cosmetic surgical procedures, including breast augmentation, liposuction, tummy tuck, and facial rejuvenation. Patient safety and comfort are always a top priority, and our transparent pricing policies and financing options make it easier for patients to achieve their desired results.
Poliklinika Labar in Zadar, Croatia Top Services
Poliklinika Labar offers a comprehensive range of plastic and cosmetic surgical services, including:
Breast surgery (augmentation, reduction, and lift)

Body contouring procedures (liposuction, tummy tuck, and body lift)

Facial rejuvenation (

facelift

, rhinoplasty, and blepharoplasty)

Non-surgical procedures (botox, dermal fillers, and laser skin resurfacing)

Reconstructive surgery (breast reconstruction, scar revision, and hand surgery)
Advantages of Poliklinika Labar in Zadar, Croatia
At Poliklinika Labar, patients can expect the following advantages:
A warm and welcoming environment that puts patients at ease

State-of-the-art medical technology and equipment for safe and effective surgical procedures

Personalized care and attention to meet each patient's individual needs and goals

Expertise in a wide range of plastic and cosmetic surgical procedures, including breast augmentation, liposuction, tummy tuck, and facial rejuvenation

Commitment to patient safety and comfort during and after surgery

Affordable and transparent pricing policies, with financing options available

Expert aftercare to ensure optimal healing and results
Schedule a Consultation for Cosmetic Surgery in Zadar, Croatia at Poliklinika Labar Today!
Poliklinika Labar in Zadar offers a comprehensive range of cosmetic and surgical services that fit everyone's budget. With advanced technology, personalized care, and a team of expert plastic surgeons, patients can trust Poliklinika Labar for exceptional results and a positive surgical experience. If you are considering plastic surgery, we invite you to schedule a consultation with one of our skilled plastic surgeons to learn more about our services and how we can help you achieve your goals.

---
Poliklinika Labar, Zadar, Croatia Profile Details
Poliklinika Labar: A Premier Plastic Surgery Clinic in Zadar, Croatia
Poliklinika Labar is a premier plastic surgery clinic located in the beautiful city of Zadar, Croatia. With its vision to provide the highest quality of plastic surgery services to its patients, Poliklinika Labar has quickly become one of the leading clinics in the region.
The clinic's mission is to help patients achieve their aesthetic goals by offering a full range of plastic surgery procedures. From facial rejuvenation to body contouring, Poliklinika Labar is equipped with state-of-the-art technology and staffed by highly skilled and experienced plastic surgeons.
One of the things that sets Poliklinika Labar apart is its commitment to patient safety and satisfaction. The clinic's doctors take a personalized approach to each patient, working closely with them to understand their individual needs and goals. This ensures that each patient receives a tailored treatment plan that is tailored to their unique needs.
In addition to its exceptional plastic surgery services, Poliklinika Labar also offers a range of non-invasive treatments, including skin rejuvenation and body sculpting. These treatments are designed to help patients achieve a more youthful, refreshed, and rejuvenated appearance, without the need for surgery.

---
Poliklinika Labar Treatments Offered
Emphasize your natural beauty with Plastic Surgery in Zadar
We know you are unique and that's why dr. Labar insists on an individual approach and combines art and superior surgical skill in the safest way to create changes that are refreshing, natural and beyond your expectations. He is involved in all stages of building your vision of beauty, from the initial free consultation to full recovery so that you can enjoy happiness and self-confidence in the years ahead.
Eyelid correction

Liposuction

Labiaplasty

Male breast reduction
Live a pain-free life with INDIBA® Activ therapy
INDIBA® activ CT9 is the latest and most powerful device for pain reduction, tissue regeneration and speeding up recovery. Using a frequency of 448 kHz, it activates biostimulation, promotes microcirculation and metabolic hyperactivation while respecting the normal function of cells. Unlike other devices, INDIBA® can be used in the early stages of injury and disease to reduce pain and inflammation and with metal implants such as endoprostheses, metal plates and screws.
We protect the beauty of your skin
Whether you're worried about wrinkles, acne, large pores, oily, dehydrated or sensitive skin, choosing the right treatments and skin care products can be a real challenge. We are passionate about selecting the best revitalizing treatments and therapeutic products to achieve healthy, velvety and radiant skin. Schedule a free consultation with our skincare experts to choose the best treatment and care tailored to you.
Examination of moles with a dermatoscopy

Microdermabrasion

Chemical peeling

Skin tightening

Anti-cellulite treatments

UCOS HIFU lifting

Zo Skin Health

Red Carpet peeling
PHYSICAL MEDICINE AND REHABILITATION
We know how injury or pain in the lower back, neck, joints and muscles can cause problems in everyday life. Regardless of whether your goal is to return to work or sports or you want to get out of bed pain-free and return to your daily activities without pain, our goal is to diagnose the source of your pain and achieve relief through an individualized treatment plan so that you can soon be able to enjoy life again with ease.
Examination by a physiatrist

Orthopedic examination

Diagnostics

INDIBAactiv therapy

Treatment of low back pain

Rehabilitation

Postoperative rehabilitation

Neurological rehabilitation

Physical therapy

Acupuncture

Pain treatment

Bowen therapy

Office syndrome
Bio-individual nutrition that heals
Are you considering taking nutritional supplements and wondering which diet and protocol is best for achieving your goals? The answer is bio-individual nutrition adapted to your specific needs. This functional approach to nutrition is applied in all health conditions to preserve health or cure disease through personalized nutrition.
Review by a nutritionist

Body composition analysis

Counseling

Diet plan

Elimination diet

Laboratory tests

Food intolerances

---
Poliklinika Labar Certificates, Accreditations, Qualifications
Poliklinika Labar is proud to have a team of highly skilled and experienced plastic surgeons. Our doctors are renowned for their expertise in plastic and cosmetic surgery, and their commitment to patient safety and satisfaction. With years of training and experience, our doctors are dedicated to helping their patients achieve their desired results.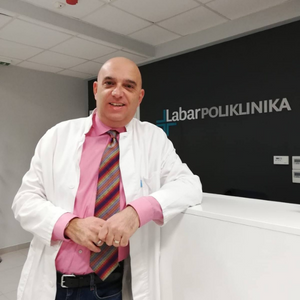 Doctor Name:
Ph.D. Marin Labar, Spec. general, Sat. plastic, reconstructive and aesthetic surgery
Biography:
I desire to create a comfortable, discreet environment where you will feel free to express your wishes honestly, and I will justify your trust by combining knowledge, the best innovations and thousands of performed procedures to emphasize and "enhance" your natural beauty and the confidence that comes with a youthful appearance.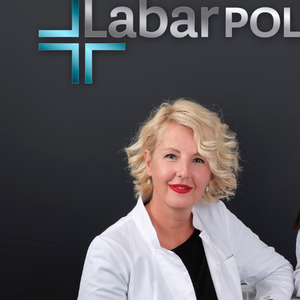 Doctor Name:
Ph.D. Jasna Kovacic Labar, Specialist in physical medicine and rehabilitation
Biography:
We aim to speed recovery and eliminate pain and discomfort so you can enjoy life without pain and limitations doing everything that makes you happy. Investment in the most advanced technologies, constant improvement and an individually adapted rehabilitation plan based on medical knowledge, experience and care are the basis of our approach to treating musculoskeletal diseases and injuries.

---
Poliklinika Labar Testimonials
Visnja Raznjevic
"Over the last few years Dr. Labar has performed two major and one smaller surgical procedures. Dr. Labar took his time to explain each procedure in detail which made me feel relaxed and confident about his ability and expertise. Both, doctor and sister are welcoming and professional, hence I am very satisfied with the end results and would highly recommend this clinic."
"In recent years Dr. Labar has done two major and one minor surgery. Dr. Labar is explained in detail what interventions helped me to relax and believe in his ability and skill. And doctor and nurse are pleasant and professional. I am very pleased with the results of surgery and all recommend the services of this clinic."
Toncica Mladenovic
"The whole experience with dr Marin Labar was amazing. I felt great during my procedure. I was able to communicate with him through the whole time.. he was explaining everything and I felt comfortable."
"Definitely I am grateful for his patience and professionalism. Highly recommending his clinic and his amazing staff for all the procedures. Thank you very much!"
Lili Flora
"After many years of suffering from hip and knee pain, I came for the "Indiba" treatment. A miracle of technique, but also of expert work, Dr. Labar. Finally free from pain after only a few treatments, I treated myself to a facial treatment at Indiba. Not that I'm bragging, but I feel like new."

---
Poliklinika Labar Awards & Recognitions
---
Zadar, Croatia Destination Overview
Explore Medical tourism in Zadar, Croatia
Medical tourism in Zadar, Croatia has grown in popularity due to its affordable prices, high-quality healthcare services, and beautiful natural surroundings. With a rich history and stunning beaches, Zadar is the perfect destination for those seeking medical treatment and a relaxing holiday.
Getting to Zadar is easy, with several options available. The city has its own airport, Zadar Airport, which offers direct flights from several European cities. Alternatively, you can fly into one of the major airports in nearby cities such as Split or Zagreb and take a shuttle or train to Zadar.
Once you arrive in Zadar, several transportation options are available, including taxis, rental cars, and public buses. The city is easy to navigate, with many popular tourist destinations within walking distance.
Medical tourism in Zadar offers a unique combination of world-class healthcare services and stunning natural surroundings. Whether you seek plastic surgery or just a relaxing holiday, Zadar is the perfect destination for your next trip. So why not book your appointment with Poliklinika Labar today and experience what Zadar offers!

---
---
Reviews
Mateo K

2 procedures performed in great detail and professionally. dr. Labar was very thorough throughout the operation and rehabilitation. Ready to explain and offer advice.. The atmosphere in the polyclinic is relaxing and pleasant and the nurse is always smiling and cheerful.. Experience and service 10/10.

Poliklinika Labar

Dec 21 2022

Johnnie K

A top expert, a problem that has been dragging on for several months has been solved for
About 15 minutes, completely painless under local anesthesia. Very friendly staff! Med. the nurse and the doctor answer all the questions that interest you and listen to the patient, which is a rarity today. 5 stars a few hours after the procedure.

Poliklinika Labar

Jan 19 2023

Tina R

Excellent service, professional, tidy just as it should be.
The doctor is kind and available to the patient, and the nurse is helpful and available.
All praise and recommendations.

Poliklinika Labar

Jan 30 2023
---
Alternative-Medicine Related Packages