Best Dental Implant Package in San Jose Costa Rica
Package price starting from:
$1600
Treatment:
Dentistry, Dental Implants, Dental Crowns
Location:
CC Plaza Mayor, Suite 11 3rd Floor - Rohrmoser Blvd., San José, 10109, Costa Rica, Costa Rica
Focus Area:
Dental Implants Package | DaVinci's Dental | San Jose | Costa Rica
---
Dental Implant Service offered by DaVinci's Dental

Top Dental Implant Package
in San Jose, Costa Rica
About Dental Implant:
New oral restoration therapies in the area of dental implants are now a reality.
Implant dentistry offers almost unlimited possibilities.
In cases where the patient does not have favorable bone conditions, this new reality in dentistry offers various alternatives for partial or total reconstruction of the dental arches, with comfort and speed.
The most revolutionary technique is over-implant restorations without bone graft, even in cases of advanced bone loss.
Reducing the number of implants and/or zygomatic Costa Rica dental implants, the new technique is just like getting a third set of teeth.
Our dental treatments fields:
Aesthetical Dentistry
Restorative dentistry
Implant Dentistry
Endodontics
Our Package for Dental treatments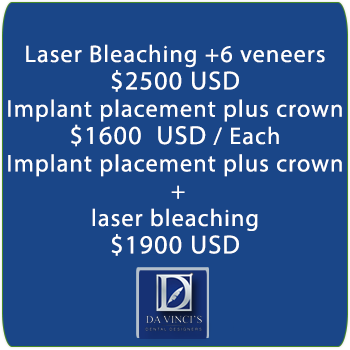 Chaves Dental Care Clinic is offering extraordinary Special Dental Packages....
Not just this... Make your Dental Holidays Unforgettable....

This is absolutely a WONDERFUL DENTAL HOLIDAY you will not want to miss in Costa Rica!
Why Choose Us for Dental Implant?

Dr. Delfin Barquero is proud to stand behind his quality services.
Our people get the ideal concentration . To Davinci's Dental Designers Group your own health is our goal.
Costa Rica is just two work hours and fifty minutes airline flight from Miami. Almost all the primary airlines possess directly air flights.
Healthcare visitors to Costa Rica may well appreciate around a 75% cost savings on medical procedures over price ranges usually imposed in the USA.
Price ranges in DaVinci's Dental are around sixty to 70% of the US dental Price ranges .
"We care about your smile while you enjoy our country"

Related Experiences:
Dental Implants in San Jose, Costa Rica
Dental Crowns in San Jose, Costa Rica
Dental Crowns in Costa Rica: Affordable Dental Care
Get Affordable Dental Implants in Costa Rica Today!
Dental Crowns in Hungary
Dental Crowns in Dominican Republic
---
Dentistry Related Packages
Dentistry Related Experiences