Tummy Tuck Package in Bangkok, Thailand
Package price starting from:
$5000
Treatment:
Cosmetic/Plastic Surgery, Tummy Tuck Surgery, Abdominoplasty
Location:
422-426/1 Indramara Soi, 20 Soothisarn Road Dindaeng District, Bangkok, Thailand, 10400, Thailand
Focus Area:
BPS Clinic | Bangkok | Thailand | Abdominoplasty | Tummy Tuck
---
Best Abdominoplasty Surgery in Bangkok, Thailand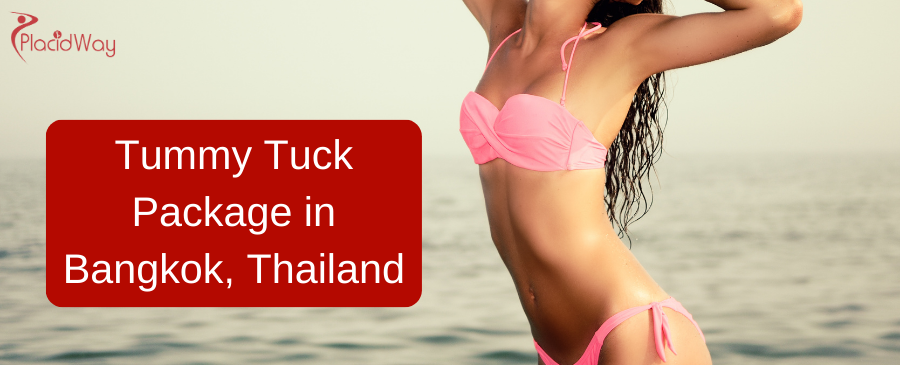 Tummy tuck surgery, also known as abdominoplasty, is a popular cosmetic procedure that has helped many people achieve a slimmer, more toned abdominal area. For those who are considering this procedure, Bangkok, Thailand is an excellent destination to receive high-quality medical care and world-class hospitality.
Attractive Tummy Tuck Packages are available in Bangkok, Thailand, including the surgical procedure and a recovery room, meals, transportation, and additional medical services. This package deal ensures that patients receive excellent care and support throughout their stay in Thailand, making undergoing a tummy tuck surgery as stress-free and comfortable as possible.
Tummy tuck cost in Bangkok Thailand, from $5,000, while in America and Canada, it is over $11,000. See the table below to compare the prices:
| | |
| --- | --- |
| | |
| Bangkok, Thailand | $5,000 |
| United States | $15,000 |
| Canada | $11,000 |
Note: Price can differ or change depending on the complexity of the procedure. Please contact our Customer Representative for FREE quote:

What is Tummy Tuck Procedure?
The tummy tuck procedure is a cosmetic surgery that removes excess skin in the body's midsection, which is located between the chest and pelvis. The primary goal of this procedure is to create a more contoured and toned abdominal area, resulting in a slimmer and more defined appearance.
This procedure allows individuals to achieve a flatter and smoother abdominal area, providing long-term, permanent results. However, it is important to note that rapid weight gain, lack of physical activity, or pregnancy can negatively affect the procedure's results.
Reduce the risks of certain medical conditions.

Prevents hernias

Enhanced control over bodily functions

Stress urinary incontinence is relieved
Operating room

Recovery room or standard inpatient room

Nursing service

Package food

Medicine

Medical equipment

Medical supply which requires for the specific operation

Home medication

Consultation fee

Surgeon team and anesthesiologist team

Garment 

Follow check-up with or without local transportation from the hotel or your place to a clinic
Adding:
1) Free pick up at the round airport trip (You pay your flight ticket fee)
2) Free local transportation from and there to the surgery place, hotel and interesting place in Bangkok every time I check you.
3) The cost of surgery will not cover hotel fee but you can pay my contact rate fee with a nice hotel near to the surgery place during your recovery time.
Please beware of preparing your full payment before surgery.
Serious warning:
1. Do not take aspirin or an anti-inflammatory around 7 days before surgery.
2. If you smoke, stop or reduce it at least 1-2 weeks pre-op (and anticipate no smoking for the recovery; smoking greatly increases your risk.
Length of stay: Around 9-10 days.
Abdominoplasty Surgery Package Excludes:
Payment Options: Cash, credit card, wire transfer
Note: The center may require a money deposit once a patient decides to book the surgery.
Why Choose Bangkok, Thailand for Abdominoplasty?
Lively Bangkok, the capital of Thailand, will enchant you with its diversity. The city is amazing in every sense and has been popular for its vibrant nightlife. During your stay for high-quality boob surgery, spend some time visiting Bangkok's top attractions such as:
Wat Pho To See The Reclining Buddha

Grand Palace

Chatuchak Market

Take a Boat Trip along the Chao Phraya River

Bangkok National Museum
Best Plastic Surgeons in Bangkok, Thailand at BPS clinic
Plastic Surgery in Bangkok Thailand has become a reference for many patients around the world. BPS has a professional surgeon named Dr. Pichet Rodchareon M.D. He is a board-certified Plastic surgeon providing patients with consultation, guidance, aesthetic and cosmetic surgery solutions.
Doctor Name
Educations and Experiences

M.D., Faculty of Medicine, Chulalongkorn University, Thailand, 1984​

Diploma of the Thai Board of Plastic Surgery, 1991

Specializations in Aesthetic and Crafannicial Surgery and Transgender Surgery
What does a tummy tuck do?
A tummy tuck, also known as abdominoplasty, is a surgical procedure designed to remove excess skin and fat from the abdominal area, and to tighten the underlying muscles to create a flatter, smoother abdominal profile. This procedure can address issues such as loose skin and stretch marks and restore abdominal muscle tone that may have been stretched or damaged due to weight fluctuations, pregnancy, or other factors.
How long does tummy tuck last?
The results of a tummy tuck can be long-lasting, but they are not permanent. The effects of aging, weight changes, and other factors can cause the abdominal skin and muscles to stretch or loosen over time. However, the results of a tummy tuck can be maintained through a healthy diet and regular exercise. Many patients report being very satisfied with the results of their procedure for many years.
Is a tummy tuck good for you?
Whether a tummy tuck is good for you depends on your individual circumstances and goals. If you have loose or sagging skin in the abdominal area or have stretched or weakened abdominal muscles due to weight fluctuations, pregnancy, or other factors, then a tummy tuck may be a good option for you. It is important to have a thorough consultation with a qualified plastic surgeon to determine if a tummy tuck is the best procedure for your needs, and to discuss the procedure's risks, benefits, and potential outcomes.
How painful is a tummy tuck?
After a tummy tuck, you can expect some discomfort and swelling in the abdominal area, which can be managed with pain medication prescribed by your doctor. Most patients report that the pain is manageable and that they can return to their normal activities within a few weeks after the procedure. However, the pain level can vary depending on the extent of the surgery, and some patients may experience more discomfort than others. Following your doctor's instructions for post-operative care is essential to help minimize discomfort and promote healing.
A tummy tuck package in Bangkok, Thailand can be an excellent choice for individuals seeking an effective, safe solution to reshape their abdominal area. By choosing a package deal, patients can take advantage of Bangkok's affordable pricing and high-quality medical care while enjoying a comfortable and stress-free stay. Let us help you transform your body and regain your confidence today!

Related Experiences:
Tummy Tuck in Bangkok, Thailand
Tummy Tuck in Thailand
Tummy Tuck in Guadalajara Mexico – Get Pre-Baby Bodies Back!
Tummy Tuck in Mexico City
Tummy Tuck in Ankara, Turkey
Tummy Tuck in South Korea
---
Cosmetic/Plastic-Surgery Related Packages
Cosmetic/Plastic-Surgery Related Experiences