Breast Lift Package in Bangkok, Thailand
Package price starting from:
$4500
Treatment:
Cosmetic/Plastic Surgery, Breast Lift
Location:
422-426/1 Indramara Soi, 20 Soothisarn Road Dindaeng District, Bangkok, Thailand, 10400, Thailand
Focus Area:
Breast Lift in Bangkok, Thailand | BPS
---
All-Inclusive Package for Breast lift Surgery in Bangkok, Thailand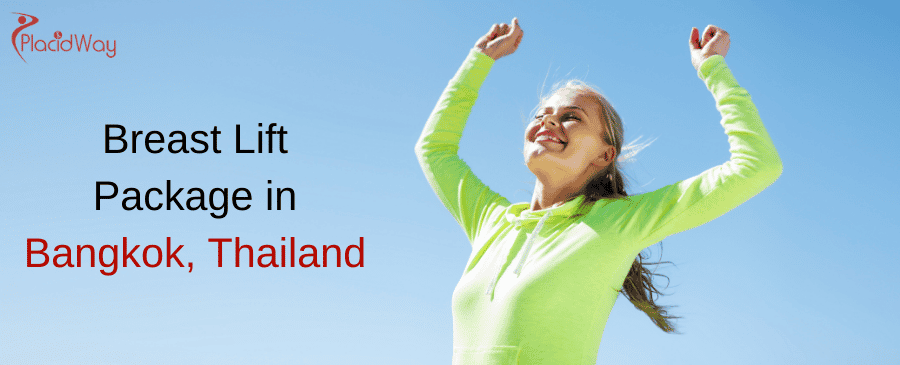 If you've been dreaming of a breast lift but can't seem to justify the hefty price tag, we've found the solution for you. With a breast lift package in Bangkok, you can get the stunning results you've been craving at a fraction of the cost. Plus, you'll experience all the sights, sounds, and flavors this vibrant city offers. Let's see all the benefits this package provides.
Breast Lift cost in Bangkok Thailand, from $4,500. See the table below to compare the prices:
| | |
| --- | --- |
| | |
| Bangkok Thailand | $4,500 |
| United States | $7,000 |
| Australia | $12,000 |
Note: Price can differ or change depending on the complexity of the procedure. Please contact our Customer Representative for FREE quote:
Breast lift, also known as mastopexy, is all about lifting those sagging or droopy breasts to give you a more youthful and firmer bust. You see, a woman's breasts can undergo many changes over time. Between pregnancy, breastfeeding, weight fluctuations, aging, and good old gravity, it's no wonder things start to head south. But fear not, because breast lift surgery is here to help.
The magic of this procedure involves removing excess skin and tightening up the surrounding tissues, which not only reshapes your breasts but also gives them the support they need. Plus, sometimes the areola can enlarge over time, but a breast lift can also take care of that.
Improved breast shape

More youthful and attractive appearance

Boost in self-esteem

Clothes will fit better and look more flattering

Improve posture by lifting the weight of the breasts of the chest

Reduction in skin irritation

Long-lasting results

Improved quality of life
Operating room

Recovery room or standard inpatient room

Nursing service

Package food

Medicine

Medical equipment

Medical supply which requires for the specific operation

Home medication

Consultation fee

Surgeon team and anesthesiologist team

Garment 

Follow check-up with or without local transportation from the hotel or your place to a clinic
Adding:
1) Free pick up at the round airport trip (You pay your flight ticket fee)
2) Free local transportation from and there to the surgery place, hotel and interesting place in Bangkok every time I check you.
3) The cost of surgery will not cover hotel fee but you can pay my contact rate fee with a nice hotel near to the surgery place during your recovery time.
Please beware of preparing your full payment before surgery.
Serious warning:
1. Do not take aspirin or an anti-inflammatory around 7 days before surgery.
2. If you smoke, stop or reduce it at least 1-2 weeks pre-op (and anticipate no smoking for the recovery; smoking greatly increases your risk.
Length of stay: Around 7-10 days.
Payment Options: Cash, credit card, wire transfer
Note: The center may require a money deposit once a patient decides to book the surgery.
Best Plastic 
Surgeon
 in Bangkok, Thailand at BPS clinic
Doctor Name
Educations and Experiences

M.D., Faculty of Medicine, Chulalongkorn University, Thailand, 1984​

Diploma of the Thai Board of Plastic Surgery, 1991

Specializations in Aesthetic and Crafannicial Surgery and Transgender Surgery
What do they do in a breast lift?
A breast lift involves some serious surgical magic to remove excess skin, shape up the breast tissue, and move the nipple and areola to a higher spot on the chest. Voila! This transforms the boobs into a perkier, more youthful-looking pair. The whole shebang takes a few hours and is done under general anesthesia so you can snooze through it like a baby.
How long does a breast lift last?
While the results aren't permanent, they can last many years with proper care and maintenance. But beware, factors like age, weight fluctuations, and pregnancy can all mess with your perky results. So keep an eye out for those sneaky boobie thieves!
How painful is a breast lift?
You can expect some discomfort while you heal, but the pain is usually managed with prescription medication. Within a few weeks, you'll return to your daily routine feeling like a boss lady..
What is the benefit of a breast lift?
Besides the obvious perk of a more lifted and youthful bosom, you'll also gain improved self-confidence, better-fitting clothes, better posture, less skin irritation, and an overall better quality of life. Giving your sagging breasts a little lift and a lot of love will make you feel more comfortable and confident in your skin. And let's be real, who doesn't want to feel like a queen with a pair of perky breasts?!
Are you tired of feeling like your breasts are weighing you down? It's time to take charge and book your breast lift package in Bangkok, Thailand! Not only will you be saying goodbye to sagging or drooping breasts, but you'll also say hello to a new level of confidence.
With the help of a skilled surgeon and top-notch care, you'll be rocking the bust of your dreams in no time. And guess what? The best part is that it's all affordable, so you can save your hard-earned cash for the important stuff like new lingerie and cute tops that will show off your new and improved assets.
Don't let your self-esteem take a hit any longer. It's time to take the first step towards a more youthful and lifted bust by booking your appointment today. Trust us. Your future lively self will thank you!

Related Experiences:
Breast Lift in Bangkok Thailand
Breast Lift in Antalya Turkey
Breast lift in Istanbul Turkey
Breast Lift Surgery in Costa Rica - Improve Your Breast Aesthetics
Plastic Surgery in Bangkok, Thailand
Facelift in Bangkok, Thailand
---