Package Details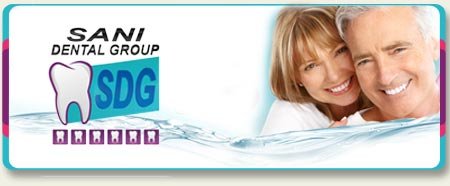 Affordable Sinus Lift in Los Algodones, Mexico
What is a Sinus Lift and Procedure

A sinus lift, aka sinus augmentation, is a surgery that makes it easier to place dental implants. Some people need dental implants but don't have enough bone support necessary for implants because of bone loss. A sinus lift can help as it increases the amount of bone in the upper jaw by adding bone to the space between your molars and premolars. To make room for the bone, the sinus membrane has to be moved upward or "lifted," which gives the surgery its name. A dental specialist like an oral maxillofacial surgeon or a periodontist usually handle sinus lifts.
A sinus lift is also known as sinus augmentation, which increases bone in the molar area. In most cases, individuals who have lost their teeth suffer from a smaller or narrower sinus cavity that doesn't leave any room or enough bone for dental implant insertion.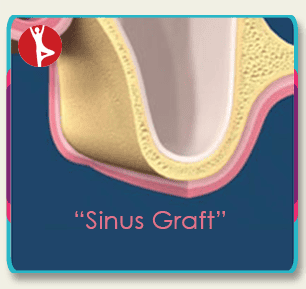 This sinus lift procedure is recommended for patients with severe to moderate bone atrophy on the upper jaw, normally looking to get implants. The Sinus Lift is a surgical procedure that consists of lifting the membrane on the sinus and placing bone graft material beneath it, making the bone long enough to screw the implant. Below you will see the video of how sinus implant in Los Algodones Mexico is performed by Sani Dental Group and what is its purpose. This procedure's price may fluctuate depending on how severe the atrophy is and how much bone is needed. The price will vary. This will be determined in diagnosis. If you want to have a more accurate quotation please send an X-Ray or CT-Scan.

When Do You Need a Sinus Lift?
If your dentist can't place your dental implants because you don't have enough bone height in the upper jaw or your sinuses are too close to the jaw, your dentist may recommend that you get a sinus lift. Are you wondering why you might have bone loss? Good question. Some causes of bone loss include:
Periodontal gum disease

Losing teeth in your upper jaw

Reabsorption of bone into the body after tooth loss






How Is a Sinus Lift Surgery Done?




Now, we'll go over what you can expect in surgery so that you're fully prepared and confident as you go into your sinus lift. Here's a general sequence of events that take place during sinus lift surgery:


 

The surgeon cuts the gum tissue.

The tissue is raised, exposing the bone underneath.

The surgeon cuts a small circle in the bone.

The surgeon lifts the bony piece into the sinus cavity space and fills the hole with a bone graft.

The surgeon closes the incision.

The healing process begins.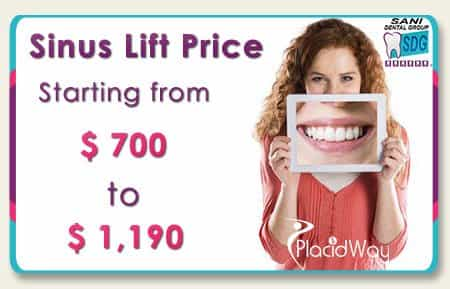 Disclaimer: The price will be determined by the surgical placement, bone loss, membrane, screw and technique (crestal or lateral).
The Package includes:
Ground transportation from airport to clinic and back

For Hotel accommodation, we offer the best hotel in town "Hacienda Los Algodones"  or "Cielito Lindo"– rates as low as $30.00 per night exclusively for our patients

Free shuttle service between the clinic and hotel

To benefit from advanced sinus lift performed at
Sani Dental Group, click on the button below!

Related Experiences:
Dental Work in Los Algodones
Choose All on 4 Dental Implants in Los Algodones, Mexico
All on 6 Dental Implants in Los Algodones - Save up to 70%!
Benefits of Getting All on 8 Dental Implants in Los Algodones - Mexico
Get Affordable Dental Veneers in Los Algodones
Get Safe and Cheap Dentures in Los Algodones, Mexico