Stem Cell Therapy for Autism in Florida at Regenestem Clinic
Package price starting from:
$12500
Treatment:
Stem Cell Therapy, Stem Cell Treatment for Autism
Location:
9633 West Broward Blvd, Suite 1 Plantation Florida, United States
Focus Area:
Stem Cell Therapy for Autism in Florida United States | Regenestem
---
Autism Stem Cell Treatment in Florida, USA at Regenestem Clinic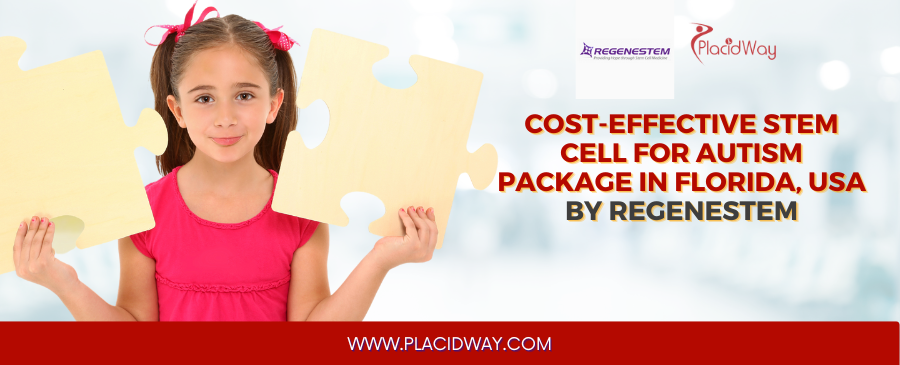 Get cost effective package for Stem Cell Therapy for Autism in Florida United States at Regenestem. Book top quality regenerative therapy at PlacidWay. If you are looking for an affordable Stem Cell Package for Autism in the United States, look no further than Regenestem! Based in Florida, Regenestem offers affordable packages for those looking to receive stem cell therapy.
What is Stem Cell Therapy for Autism?
Stem Cell Therapy for Autism is a promising new treatment option. Even though there is still much research to be done in this area, some people believe that it could be a new and improved treatment option for autism. This medical treatment involves using stem cells to repair or replace damaged tissues and cells. By using stem cells, the body can regenerate itself from a variety of conditions, including injuries, diseases, and degenerative conditions.
You can get stem cell treatments for Autism in Florida with the price starts from $12,500.
Note: Price can change and vary depends on complexity of procedure and patient condition.

One of the most promising treatments for autism is stem cell therapy. This therapy uses stem cells from umbilical cords to help repair and regenerate damaged cells and tissues in the body. Autism is a neurological disorder that affects communication and social interaction, and can cause a range of other symptoms. There is no cure for autism, but stem cell therapy is showing great promise in treating the condition. The recommended dose is 1 million cells per kilogram of body weight. However, some patients may require a higher or lower dose depending on their individual needs.
There are many reasons to choose Florida for stem cell therapy. The Sunshine State is home to some of the best hospitals and research facilities in the country, making it a leader in cutting-edge medical care. In addition, Florida is a convenient location for patients from all over the world who are seeking treatment.
Florida's mild climate makes it an ideal destination for stem cell therapy, as the weather is conducive to healing and recovery. The state's beaches and attractions are also a draw for patients and their families, providing a welcome respite from the stresses of treatment. Finally, Florida is home to a number of highly reputable stem cell therapy providers, such as Regenestem.
Check below for more information about Frequently Asked Questions for Regenerative Therapy for Autism in Florida USA:
Stem cells are primitive cells that have the ability to differentiate into various types of specialized cells in the body. Stem cell therapy uses these cells to potentially treat a wide variety of diseases and conditions.
There is currently no known cure for autism, but stem cell therapy shows promise as a possible treatment. Researchers are still studying how stem cells might be used to treat autism, but one potential use is to help regenerate damaged brain tissue. This could potentially improve symptoms of autism by helping to repair some of the neurological damage associated with the condition.
Yes, stem cell therapy for autism is currently available in Florida. There are several clinics that offer this type of treatment, but it is important to do your research to find a reputable clinic with experience treating autism.
The cost of stem cell therapy for autism varies depending on the clinic you choose and the severity of your child condition. It is important to get a few quotes from different clinics before making a decision.
As with any medical treatment, there are always risks associated with stem cell therapy. These risks should be discussed with your child?s doctor before making a decision about whether or not to proceed with treatment.
Do you want to get stem cell for autism in USA? Then, schedule your appointment at PlacidWay today! Our team of experts will help you find the best treatment option for you. If you have any other questions about stem cell therapy for autism in Florida, please feel free to contact us and we will be happy to answer them.

Related Experiences:
Top and Effective Regenerative Medicine for Autism in Florida, USA
Stem Cell Therapy for Autism in India
Stem Cell Therapy for Autism in Mexico City
Stem Cell Therapy for Autism in Colombia
Stem Cell Therapy for Autism in Guadalajara, Mexico
Stem Cell Therapy for Autism in Tijuana, Mexico
---
Stem-Cell-Therapy Related Packages
Stem-Cell-Therapy Related Experiences