Top and Effective Regenerative Medicine for Autism in Florida, USA
Get New Hope with Regenerative Medicine for Autism in Florida, USA
Have you ever wondered about the remarkable intersection of science and hope right here in the sunny state of Florida, USA? Well, let me introduce you to a groundbreaking frontier: Regenerative Medicine for Autism.
Amidst the breathtaking beaches and vibrant cities, Florida is making waves in the world of medical innovation, offering potential solutions and renewed possibilities for individuals and families living with autism.
• Clinic: Thrive MD and Amira Integrative Health by MJA Healthcare
• Location: Florida, United States
• Procedure: Regenerative Medicine for Autism
• Average Cost: $5,750
• Doctor: Peter Michael, M.D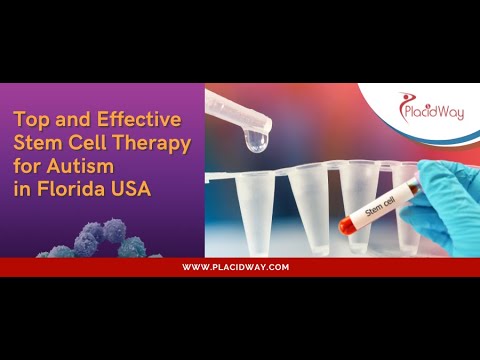 ---
Affordable Package for Regenerative Medicine Treatment for Autism in Florida USA
Our affordable package for regenerative medicine treatment for autism is designed with your loved one's well-being in mind. We understand the importance of finding a solution that not only works but is also within reach.
With a team of dedicated experts, state-of-the-art facilities, and a genuine commitment to making a difference, we're here to offer a ray of hope. Florida's warm and welcoming environment sets the stage for a journey towards a better quality of life.
Let's take this step together and explore the possibilities that regenerative medicine can bring. Your loved one's brighter future is our priority, and we're excited to be a part of their transformative experience.
Get cost effective package for Stem Cell Therapy for Autism in Florida United States at Regenestem.
---
Cost of Regenerative Medicine for Autism in Florida USA
So, when it comes to regenerative medicine for autism, it's important to understand that the cost can vary based on a number of factors. Things like the specific treatment approach, the clinic or facility you choose, the extent of the therapy required, and even the patient's individual needs can all play a role in determining the overall cost.
It's worth mentioning that regenerative medicine is an innovative and cutting-edge field, and with that often comes a higher price tag. However, many families find that the potential benefits for their loved ones are well worth the investment.
While the cost might seem significant, it's important to weigh it against the potential improvements in quality of life and overall well-being for individuals with autism.
Stem Cell Therapy Centers Cost Comparison in United States
| Provider | Procedure | Price |
| --- | --- | --- |
| Amira Integrative Health by MJA Healthcare | Stem Cell Treatment for Autism, Stem Cell Therapy | $5750 |
Stem Cell Therapy Cost Comparison in United States

| Country | Procedure | Price |
| --- | --- | --- |
| Switzerland | Stem Cell Treatment for Autism, Stem Cell Therapy | $23000 |
| Canada | Stem Cell Treatment for Autism, Stem Cell Therapy | $15000 |
---
Best Regenerative Medicine Centres for Autism Treatment in Florida, USA
If you're on a quest for the finest regenerative medicine centers specializing in autism treatment, look no further than the vibrant state of Florida, USA. Nestled amidst the sun-soaked beaches and swaying palm trees, Florida boasts a selection of top-notch facilities that are at the forefront of harnessing regenerative therapies to make a real difference in the lives of those touched by autism.
In this tropical haven, cutting-edge science and heartfelt compassion come together to offer innovative treatments and renewed hope for individuals and families navigating the complexities of autism. So, let's dive into the world of regenerative medicine in Florida and discover the best centers that are paving the way for transformative autism care.
Top Center
Thrive MD provides best Regenerative Medicine in Miami, Florida. Book online now Regenerative Medicine for Hip, Regenerative Medicine for Knee, and Regenerative Medicine for Shoulder at Thrive MD.
Top Center
Amira Integrative Health by MJA Healthcare in East Stroudsburg, PA, United States offers top regenerative therapies and holistic care for transformative health.
---
Patient Story about Regenerative Medicine in Florida, United States
I want to share this incredible patient story with you about a groundbreaking Regenerative Medicine treatment for autism that took place right here in Florida, United States. It's a testament to the power of innovation and hope, showing how medical advancements can change lives in unexpected ways.
In this heartwarming story, a young child diagnosed with autism found new avenues of improvement through this cutting-edge treatment. The family's journey is truly inspiring, highlighting the dedication of medical professionals and the unwavering support of loved ones.
It's stories like these that remind us of the boundless possibilities when it comes to medical research and patient care. If you're looking for a reminder of the good that can come from the world of medicine, this patient story is definitely one to watch.
---
Regenerative Medicine for Autism in Florida Reviews
It's all about getting that inside scoop from people who've actually experienced it. Imagine finding firsthand accounts from parents or individuals sharing their thoughts on how this approach worked for them.
Did they notice any improvements? Was the process smooth and well-handled? Reading these reviews could give you a clearer picture of what to expect, and maybe even provide you with some insights you hadn't considered.
---
Leading Autism Treatment Specialists in Florida, USA
When it comes to finding the leading autism treatment specialists in Florida, USA, you've come to the right place. Florida is home to some of the most dedicated and experienced professionals who are committed to making a positive impact in the lives of individuals with autism.
Dr. Peter Michael go beyond just providing treatment – he create a warm and supportive environment that caters to each individual's unique needs. With his extensive knowledge and innovative approaches, he strive to empower individuals on the autism spectrum to reach their full potential.
Whether it's behavioral interventions, speech therapy, occupational therapy, or a combination of approaches, Dr. Peter Michael work closely with families and caregivers to ensure a holistic and effective treatment journey.
Peter Michael, M.D., M.B.A. is top doctor for Regenerative Medicine in Miami Florida USA. Schedule...
---
Top Tourist Attractions in Florida USA
Absolutely, I'd be thrilled to share some of Florida's most amazing tourist attractions with you!
Walt Disney World: Get ready to experience pure magic in Orlando. From Cinderella's Castle to Space Mountain, Disney World is a dreamland for all ages.
Miami Beach: Picture yourself on the stunning sandy shores of South Beach, where the vibrant energy, turquoise waters, and art-deco architecture create an unforgettable atmosphere.
Everglades National Park: Explore the unique wetlands on an airboat, spotting alligators and colorful birds. It's an adventure into the heart of Florida's wild side.
Universal Studios: Immerse yourself in movie magic at Universal Studios in Orlando. The Wizarding World of Harry Potter and thrilling rides will leave you in awe.
Key West: Embrace the laid-back vibe of the Florida Keys. Relax, enjoy the sunsets, and visit Ernest Hemingway's house.
---
Schedule Your Autism Treatment in Florida, USA with PlacidWay
Don't wait to make a positive change in your loved one's life. Take the first step towards brighter days by scheduling your autism treatment in Florida, USA with PlacidWay. Our dedicated team is here to guide you through the process and help you provide the best care possible.
---