Regenestem Fort Lauderdale, USA
Top Clinic for Regenerative Medicine Clinic in Fort Lauderdale United States
9633 West Broward Blvd, Suite 1 Plantation Florida, Fort Lauderdale 33324, United States

Specialty:

Stem Cell Therapy

Focus Area:

Regenerative Medicine in Fort Lauderdale USA | Regenerative Medicine for ED | Regenerative Medicine for COPD | Regenerative Medicine for Multiple Sclerosis | Regenerative Medicine for Orthopedic | Regenerative Medicine for Arthritis
Regenestem Fort Lauderdale, USA Profile Overview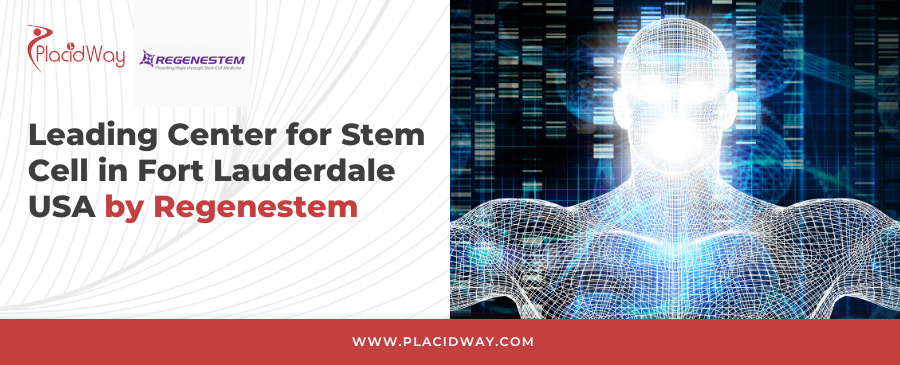 Leading Center for

Regenerative Medicine

in Fort Lauderdale USA
Regenestem provides best clinic for Regenerative Medicine in Fort Lauderdale USA. Book online now Regenerative therapy for ED, COPD, and MS at PlacidWay. Regenestem is an international medical practice company focused on providing comprehensive solutions for adult Regenerative Medicine and research. Regenestem has assembled a talented staff of medical specialists-professionals trained in the latest cutting-edge procedures and protocols in cellular medicine.
Regenestem constantly investigates shares, utilizes and integrates the latest protocols in the adult Regenerative Medicine to deliver the best medical solutions for our patients. Regenestem is committed to identifying the leading Regenerative Medicine and utilizing experts with proven scientific backgrounds to train their practitioners in order to offer these therapies to the patients. Some of their therapies are not FDA approved and results are never guaranteed.
Clinic Name: Regenestem
Procedure: Regenerative Medicine
Location: Fort Lauderdale, USA
Doctor: Dr Stephen Channey MD, Dr. Andrew Lipton DO, and Dr Deepak Gelot MD
Check below for advantages of selecting Regenerative Medicine in America at Regenestem:
Here you can find information about list of procedures available at Regenerative Medicine in Fort Lauderdale USA by Regenestem:
Multiple sclerosis is a chronic, progressive disease that affects the nervous system. Regenerative Medicine can be used to repair or replace damaged tissue. In the case of Multiple Sclerosis, regenerative medicine can be used to repair the myelin sheath that covers nerve fibers.
Regenerative Medicine

for ED
Many scientists suggest that Regenerative Medicine could be used to regenerate tissue damaged by erectile dysfunction. In laboratory studies, Regenerative Medicine have been shown to promote the growth of new blood vessels. This suggests that they could potentially be used to improve blood flow to the penile, which is essential for achieving and maintaining an erection.
Regenerative Medicine for COPD does sound promising as many researches have been established for this procedure. Regenerative Medicine could help improve lung function for people with COPD.
Regenerative Medicine

for Orthopedic
There are many benefits of Regenerative Medicine for orthopedic conditions. This treatment can help to improve joint function, relieve pain, and reduce inflammation. It is a safe and effective treatment option for many orthopedic conditions.
Arthritis can be a debilitating condition that significantly affects one's quality of life. Regenerative Medicine offers promise as a potential treatment option. Numerous studies have shown that Regenerative Medicine can help to regenerate cartilage and reduce inflammation. While more research is needed, Regenerative Medicine shows great promise for those suffering from arthritis.
It's time to improve the quality of your health through regenerative therapy. We provide up-to-date information on the Cost of Regenerative Therapy in Fort Lauderdale USA by Regenestem. For more information, please contact us by pressing the button below:

Here you can find information about Best Doctor for Regenerative Therapy in USA by Regenestem:
Dr Stephen Channey MD

Dr. Andrew Lipton DO

Dr Deepak Gelot MD
PlacidWay offers obligation-free consultations for Regenerative Medicine in Fort Lauderdale, USA at Regenestem. Book your consultation today to see if Regenerative Medicine is right for you. Our Customer Representative will answer all of your questions and help you in getting this cutting-edge treatment!

---
---
Reviews
Alexander C

Dear Alexander Chalaby please let us know what you need and we will be more than happy to assist you. We pride ourselves on responding to all patients swiftly. I believe we spoke and the ball was in your court. If there is a misunderstanding please contact us immediately and we will help you.

Apr 14 2023

Alexandre C

No proper appointment follows up

Apr 14 2023

John S

This was the best medical experience I have ever had in my life! After years of going to regular doctors and hospitals, Regenestem's fantastic customer service and great care has made me never want to go back to the old way. There was no wait time and they had explained in great detail what exactly they were going to do and when they were going to do it to which put my anxiety at ease. I would personally like to thank Dr. Channey and Rick for being especially kind to me as well as the rest of the staff. My arthritis feels so much better after my knee injection. Would definitely recommend to anyone considering stem cell treatments.

Regenestem Fort Lauderdale, USA

Sep 25 2021
---
Stem-Cell-Therapy Related Packages
Stem-Cell-Therapy Related Experiences