Package Details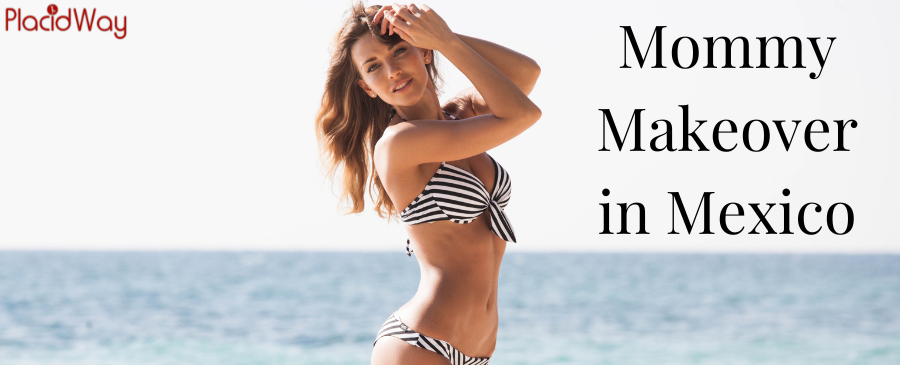 All Inclusive Mommy Makeover in Mexico
The Mommy Makeover in Mexico is a set of different procedures that help the patient get her pre-pregnancy body back. Procedures include Tummy Tuck, Breast Augmentation, Breast Lift, and Liposuction. Also, Mexico is one of the cheapest places to get a mommy makeover.
Being pregnant and giving birth are the most wonderful things in any woman's life. Despite that, after pregnancy and breastfeeding, the woman's body will inevitably change and this can affect her self-esteem, self-confidence, social, and even professional life. But don't worry! The mommy makeover set of procedures is specially created for mothers who want to regain their figure, eliminate insecurities, and feel comfortable again.
Advantages of Getting Mommy Makeover in Mexico
When you choose Mexico for your mommy makeover surgery, you will enjoy several benefits like:
Removal of stretch marks

Enhanced cleavage with no drooping

Improves skin tone

Multiple surgeries like tummy tuck, liposuction, breast implants, etc. at once

Regain confidence and feel good
Top 10 Clinics for Mommy Makeover in Mexico With Affordable Prices
Getting Mommy Makeover in Mexico is definitely a good choice. What matters most is choosing the right clinic considering all your requirements such as treatment, budget, the experience of the plastic surgeon, etc. Here, we have listed the 10 best mommy makeover clinics in Mexico that will help you make the right decision.
| | |
| --- | --- |
| Clinics | Mommy Makeover Price |
| | $5,500 |
| | $7,000 |
| | $12,300 |
| | $6,200 |
| | $7,400 |
| | $7,200 |
| | $8,500 |
| | $5,995 |
| Dr. David Estrada | $11,500 |
| Marciales Plastic Surgery | $12,200 |
Mommy Makeover Cost Comparison with USA and Canada
The average cost of a Mommy Makeover in Mexico starts from $5,500 USD. This includes the cost of the surgery, anesthesia, and post-operative care. Save 70% compared to USA and Canada.
| | |
| --- | --- |
| Country | Cost |
| Mexico | $5,500 |
| United States | $20,000 |
| Canada | $21,500 |
Mommy Makeover Packages Cost in the Top Cities of Mexico
Top Cosmetic Surgeons in Mexico for Mommy Makeover
List of Pre-Operative Tests for Mommy Makeover:
BH

TP, TTP, INR (Coagulation times)

Complete blood chemistry

Blood type and RH
Note: The pre-op tests will be suggested after an essential physical check-up. The tests are required to be done 7-10 days before the treatment.
Payment Options: Cash, Credit Card, Wire Transfer
Note: The clinic may ask you for a money deposit once you decide to receive the surgery.
Factors Affecting the Price of the Mommy Makeover
You may find out that the service provider is asking for a different amount for Mommy Makeover in Mexico. This happens due to relative factors such as:
Weight of the patient

Age of the patient

Hormonal changes

Qualification and experience of the cosmetologist

Response to the body to the pre-op tests

Complexities related to the procedure

Specialized medical equipment
The doctor at the clinic would ask you to go for laboratory tests to ascertain the problem and plan your treatment course of action. Based on that, the doctor may consult over the phone and explain your treatment.
Mommy Makeover FAQ's
Mommy makeovers are becoming increasingly popular, but there are still a lot of misconceptions about the procedure. Here are some frequently asked questions about Mommy Makeovers in Mexico:
What is a Mommy Makeover?
A Mommy Makeover is a combination of surgical procedures that are performed to restore a woman's body to its pre-pregnancy state. The most common procedures included in a Mommy Makeover are a breast lift, tummy tuck, and liposuction.
How much does a Mommy Makeover cost in Mexico?
The average cost of a Mommy Makeover in Mexico is $5,500 USD. This includes the cost of the surgery, anesthesia, and post-operative care.
How long does it take to recover from a Mommy Makeover?
Most women take approximately two weeks to fully recover from their Mommy Makeover surgery. During this time, it is important to rest and avoid strenuous activity. After six weeks, most women can resume all normal activities.
Thus, it is a great choice to go through a mommy makeover in Mexico. If you want to search for the best clinics, doctors, and packages for mommy makeovers in Mexico, let PlacidWay assist you.
Please feel free to click the button below for requesting any query regarding the procedure.
Related Experiences:
Mommy Makeover in Colombia
Mommy Makeover in Costa Rica - Reshape Your Body Figure!
Useful Guide to Mommy Makeover in Tijuana Mexico
Mommy Makeover Turkey - Restore Your Pre-Pregnancy Body
Transform Your Look with Mommy Makeover in India
Mommy Makeover in Mexico