Package Details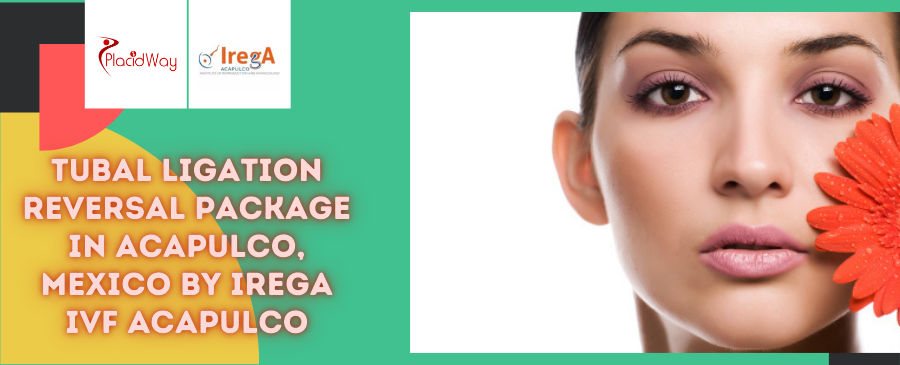 Top Quality Tubal Ligation Reversal Package in Acapulco, Mexico
IREGA IVF Acapulco provides a cheap package for Tubal Ligation Reversal in Acapulco, Mexico. Institute of Reproduction and Gynecology offers a variety of services to help women get pregnant, including In-Vitro Fertilization (IVF). They also provide reproductive health solutions such as Colposcopy surgery for those who have had their cervix removed due cancer or other conditions that make them unable fertility-wise.
Definition of Tubal Ligation Reversal Treatment in Acapulco, Mexico
Tubal ligation reversal surgery is a procedure that aims to restore fertility after women have had tubals. During the TLR, blocked fallopian tubes will be reconnected so sperm can move through them and travel up in order join an egg, restoring conception for many couples! There are a few different types of sterilization procedures that can be performed on your fallopian tubes. For example, rings and tubal clips cause less damage than other methods such as open-loop surgery or salpingoolectomy. This means they're more likely to allow you successful reversal if it's been awhile since getting tied up tight!
Get Tubal Ligation Reversal Package in Acapulco, Mexico by IREGA IVF Acapulco with the price starts from $2,500.
Note: Price can different or change depends on complexity of the procedure. Please follow Price Policy in IREGA IVF Acapulco or contact Customer Representative.
Tubal ligation reversal is a procedure where women can get their fertility restored after having an abdominal tie via tubals. The success of this treatment depends on what kind and for how long the tubes were cut off before trying to reopen them in order prevents any more pregnancies from happening
Below are some advantages of selecting Tubal Ligation Reversal Package in Acapulco, Mexico by IREGA IVF Acapulco:
Here you can find inclusions for Tubal Ligation Reversal Package in Acapulco, Mexico by IREGA IVF Acapulco:
Check below information of exclusions for Tubal Ligation Reversal Package in Acapulco, Mexico by IREGA IVF Acapulco:
Below are some pre op tests in Tubal Ligation Reversal Package in Acapulco, Mexico by IREGA IVF Acapulco below:
Note: The pre-op tests will be suggested after an essential physical check up. The tests are required to be done before 7-10 days of the treatment.
Payment Options: Cash, Credit Card, Wire Transfer.
Note: The clinic may ask you for money deposit once you decide to receive the surgery.
Here you can find information about Tubal Ligation Reversal Surgeon in Acapulco, Mexico by IREGA IVF Acapulco:
Name: Dr. Adán Oliveros Ceballos
Certifications and Experiences:
Professor of the course "Dialogues in Art" of AMMR.

Head of Teaching and Research Hospital Galenia in Cancun, Quintana Roo, Mexico.

Awards in Video Endoscopy in Congress.
More people are visiting Acapulco for its beautiful views and warm climate than ever before. The city has an excellent hospital with skilled surgeons, making it the perfect destination to receive medical treatments such as surgery or chemotherapy sessions if you're looking into becoming healthier! When it comes to family planning, the only thing better than being prepared is not having any surprises.
The Tubal Ligation Reversal Clinic in Mexico City near American soil ensures that anyone seeking a solution will have access regardless if they live close by their desired destination or not! With short flights and road trips from our clinic's location all over world-wide customers can be assured of getting treated quickly no matter where you are located today The doctors who perform tubal ligation surgery in Acapulco have an extensive knowledge and skill with both conventional techniques as well advanced ones.
Here you will find information about FAQ (Frequently Asked Questions) for Tubal Ligation Reversal in Acapulco, Mexico by IREGA IVF Acapulco:
Want to get in on the fertility craze? Head over to Mexico for top-of line care. You can enjoy 75% off U.S., Canadian or European rates! If you're healthy and have plenty money then don't worry because there are many good options out here waiting just For people who want quality service without breaking their budgets .
The best place to get a tubal ligation reversal in Acapulco is with the Mexicans. They have surgeries that are world-renowned for their excellence and it's easy enough you'll find one right away!
The Fertility Treatment in Mexico is some of Earth's most affordable options for these types' services! The cost difference between Tubal Ligation Reversals and European or American counterparts can be significant, but it doesn't take long to find an excellent clinic with low rates.
The healthcare industry has been around for decades, and IREGA IVF Acapulco is a world class hospital with more than 20 years of experience in the medical field. They provide state-of -the art treatments that ensure patients get top notch care throughout their entire time here!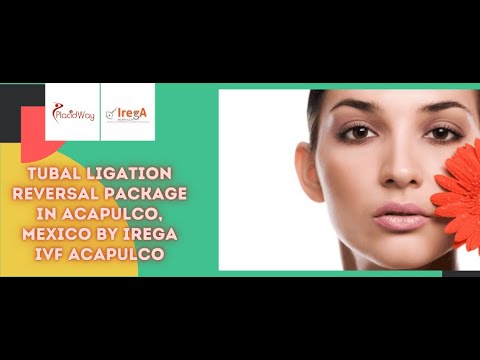 Don't miss out on thetop-notch service! Make a reservation for Tubal Ligation Reversal Package at IREGA IVF Acapulco's Clinic in before it's too late. They rank #1, so you know this is one of their best services which won't break your bank account either Click below to learn more or book now: