Rhinoplasty Package by Medina Flores in Merida, Mexico
Package price starting from:
$4500
Treatment:
Cosmetic/Plastic Surgery, Nose Surgery Rhinoplasty
Location:
Anexo CMA Consultorio 14. Calle 54 #365 Col. Centro. Merida Yucatan, Mexico, Mexico
Focus Area:
Medina Flores Plastic Surgery | Merida | Mexico | Rhinoplasty | Nose Surgery
---
Enhance Your Beauty with Nose Surgery in Merida, Mexico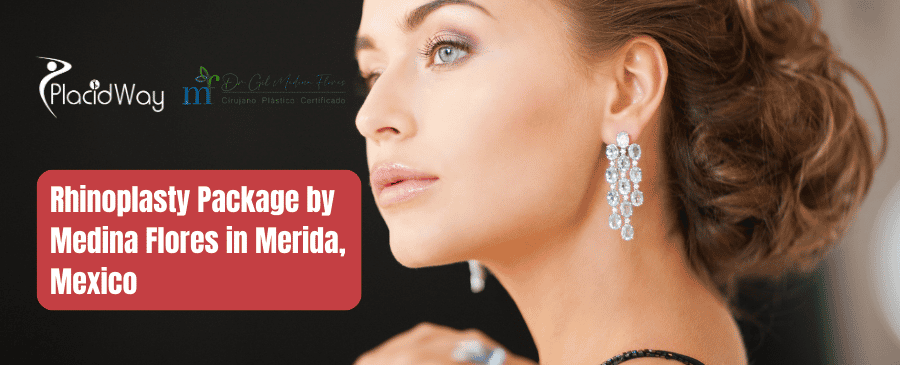 Are you considering enhancing your facial aesthetics with a rhinoplasty procedure? Look no further than Medina Flores in Merida, Mexico. With their expert medical team and state-of-the-art facilities, they offer a comprehensive rhinoplasty package tailored to your needs. Whether you seek subtle refinements or significant changes, here we will guide you through the advantages of choosing Merida for your treatment, an overview of the procedures, package inclusions and exclusions, pre-op tests, the experienced doctors, suitability for the treatment, before and after results, and what to expect during your treatment journey in Merida, Mexico. Check our package details below to learn more.
You can get rhinoplasty package by Medina Flores in Merida, Mexico with the price starts at $4,500. Check our price list table below for more detail
| | |
| --- | --- |
| Location | Cost in USD |
| Merida, Mexico | $4,500 |
| United States | $10,000 |
| Canada | $16,000 |
Note: price may change and vary depends on complexity of procedures and patient condition. Click free quote button below to learn more:

Affordability: Medina Flores offers cost-effective rhinoplasty packages without compromising on quality, making it an excellent option for those seeking budget-friendly options.
Experienced Surgeons: Their skilled surgeons, led by Dr. Medina Flores, are well-versed in the latest rhinoplasty techniques, ensuring optimal results and minimal risks.
State-of-the-art Facilities: Merida boasts modern medical facilities equipped with advanced technology, promoting a safe and comfortable treatment experience.
Beautiful Destination: Besides receiving top-notch medical care, patients can explore the rich cultural heritage and stunning landscapes of Merida, making their journey both rewarding and memorable.
Convenient Recovery: After the procedure, you can recuperate in the serene and soothing atmosphere of Merida, promoting a stress-free and relaxing healing process.
Nose Surgery in Merida, Mexico Before and After Pictures
Rhinoplasty results can vary based on individual anatomy and goals. While the final outcome may take several weeks to become evident, patients can expect a more balanced and aesthetically pleasing nose that complements their facial features. Check the result below to learn more: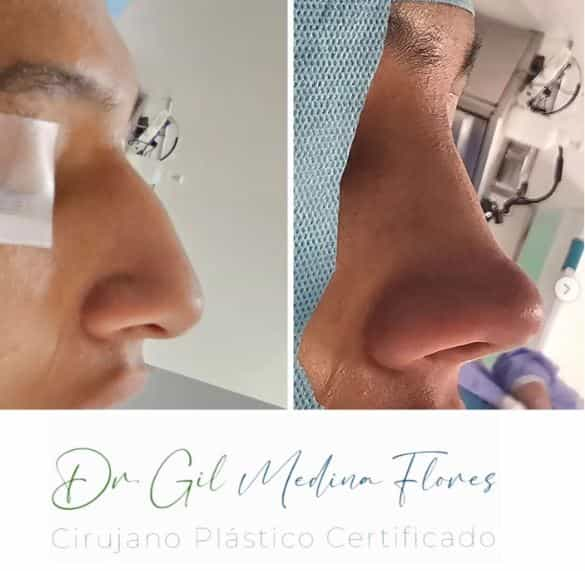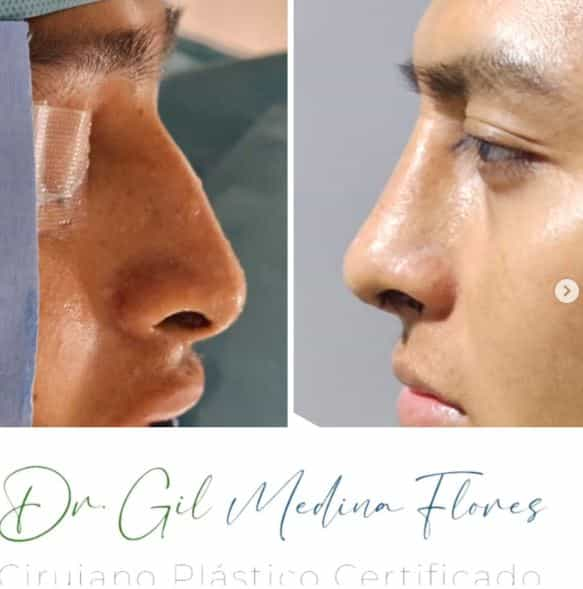 Nose surgery or rhinoplasty is a popular cosmetic surgery that aims to reshape and enhance the nose's appearance. It involves careful analysis, pre-operative planning, and precise execution to achieve the desired outcome. The procedure can address various concerns, such as nose size, shape, humps, or asymmetry, and can also improve breathing function.
Consultation: A detailed discussion with the surgeon to understand your expectations and create a personalized treatment plan.
Surgery: The rhinoplasty procedure performed by expert surgeons using the latest techniques.
Anesthesia: Administration of anesthesia during the surgery for a painless experience.
Post-operative Care: Follow-up consultations and necessary medications to ensure a smooth recovery.
Hospital Stay: A comfortable hospital stay for a specified duration until you are fit to go back to your accommodation.
Travel Expenses: Costs related to airfare, visas, and local transportation are not included in the package.
Accommodation: Patients are responsible for booking their own accommodation during the treatment period.
Additional Treatments: Any supplementary procedures or treatments beyond the scope of the package will incur extra charges.
Personal Expenses: Expenses incurred for meals, sightseeing, and other personal activities are not covered.
Complications Management: While rare, any treatment complications requiring additional medical attention may involve additional costs.
Rhinoplasty Surgery Pre-op Tests
Physical Examination: A comprehensive physical assessment to evaluate your overall health status.
Blood Tests: To check for any underlying health conditions or infections.
Nasal Evaluation: Detailed analysis of the nasal structure to determine the most suitable approach for the surgery.
Medical History Review: A thorough review of your medical history to ensure safe anesthesia administration.
Allergy Testing: Identifying any potential allergies that may affect the treatment or recovery process.
At Medina Flores, Dr. Medina Flores, an experienced and skilled plastic surgeon, leads the rhinoplasty team. With a proven track record of successful procedures, Dr. Flores focuses on patient satisfaction and safety, making him the ideal choice for your rhinoplasty journey. Check our doctor profile below to learn more:
Rhinoplasty Surgeon in Merida, Mexico

Dr. Gilberto Medina Flores

• Plastic surgeon, aesthetic and reconstructive

• Specialty in Craniofacial Surgery

• Certified Plastic Surgeon 1978

• Ced. Prof. 6240072 UNIMAYAB

• Ced. Specialty 10554897 UDG

• Advertising Notice: N 223301202A0119
Is Rhinoplasty Right for You?
Suitable Candidates: Individuals dissatisfied with their nose shape or size, seeking to improve facial harmony and boost confidence.
Age Consideration: Generally, candidates above 18 years, when the nasal growth is complete, are eligible for the procedure.
Health Requirements: Patients with good overall health and realistic expectations are ideal candidates.
Non-Smoking: Non-smokers or those willing to quit smoking for a specified time for a smoother recovery.
Realistic Expectations: Understanding the limitations and potential outcomes of the surgery is crucial.
What to Expect During Your Rhinoplasty Journey
Consultation: In-depth discussion with the surgeon, addressing concerns, and setting expectations.
Surgery Day: Admission to the hospital, administration of anesthesia, and the rhinoplasty procedure itself.
Recovery Period: Rest and follow post-operative care instructions for a smooth healing process.
Follow-up Visits: Regular check-ups with the surgeon to monitor progress and address any concerns.
Enjoying Merida: Explore the beauty of Merida while allowing your nose to heal, creating an unforgettable experience.
Q: What is the cost of rhinoplasty in Merida compared to other countries?
A: Rhinoplasty in Merida is significantly more affordable than in many other countries, making it an attractive option for those seeking cost-effective cosmetic surgery.
Q: How long will I need to stay in Merida after rhinoplasty surgery?
A: The typical hospital stay after rhinoplasty in Merida is around 1 to 2 nights. However, plan to stay in the city for at least a week for follow-up appointments and to ensure a smooth recovery.
Q: Is rhinoplasty in Merida safe?
A: Yes, rhinoplasty in Merida is safe when performed by experienced surgeons in modern facilities. Medina Flores' team adheres to strict safety protocols to ensure patients' well-being throughout the procedure.
Q: What is the recommended age for getting rhinoplasty in Merida?
A: It is advisable to wait until nasal growth is complete, typically around 18 years old, before considering rhinoplasty in Merida. This ensures better surgical outcomes.
Q: Can rhinoplasty in Merida correct breathing difficulties?
A: Yes, rhinoplasty can address both cosmetic and functional issues. Surgeons in Merida can improve the nasal structure to enhance aesthetics while also correcting breathing problems caused by structural abnormalities.
Embark on your transformative rhinoplasty journey in Merida, Mexico, by booking your consultation through PlacidWay Medical Tourism. Experience top-tier medical care, picturesque surroundings, and the skilled expertise of Dr. Medina Flores and his team. Don't wait; begin your path to a more confident and beautiful you today!

Related Experiences:
Rhinoplasty in Merida, Mexico
Rhinoplasty in Guadalajara, Mexico
Rhinoplasty in Tijuana
Nose Job in Mexicali
Rhinoplasty in Mexico – Compare Clinics, Costs and Reviews
Rhinoplasty in Cancun, Mexico
---