Most Desired Packages for Breast Augmentation in Thailand
Package price starting from:
$3850
Treatment:
Cosmetic/Plastic Surgery, Breast Augmentation
Focus Area:
Cosmetic Surgery | Breast Augmentation | Breast Augmentation Abroad | Thailand
---
Best Boob Job in Thailand

Most Desired Packages for Breast Augmentation in Thailand
There are millions of women around the world who are not happy with the shape and size of their breast. One can increase the size of her breast by receiving cosmetic surgery for breast augmentation. But the cost of such surgeries is too high and not affordable for everyone. Thailand welcomes people seeking cost-effective and safe breast augmentation solutions.
The average cost of Breast Augmentation in Thailand is around $3,850. Final prices are determined after physical evaluation and laboratory reports analysis.
Breast Augmentation Procedure
Breast augmentation is a surgical procedure that helps to balance the figure, increase fullness, as well as enhance self-image and self-confidence in many women. The procedure is also known as augmentation mammaplasty and involves the use of various types of implants to increase or restore breast volume diminished by injury, weight loss, deformities, and mastectomies.
Package Cost in Thailand- City-Wise Break-up
City

Price

Inclusions

Exclusions

Learn More

Bangkok, Thailand

$3,850

Pre and post-operative consultations

All hospital fees with a night stay

All medical fees (doctor fees, anesthesiologist and nursing staff)

Post-surgery garment

Hotel or recovery house

Preoperative lab work

Airfare

What are the Benefits of Breast Augmentation in Thailand?
Enjoy better sex life

Get the desired volume and curves

Long lasting outcome

Restore breast size after pregnancy and aging

Increase self-confidence

Quality treatment in affordable price

Enjoy the great hospitality of Thailand with the best breast augmentation  solution
​Which Pre-op Tests are Required for Breast Augmentation in Thailand?
The laboratory tests should be done at least 7-10 days prior to the procedure. The particular tests are prescribed after a complete physical evaluation of the patient. The pre-op tests required for Breast Augmentation are:
Blood sugar evaluation

Complete blood count

Mammogram (breast X-ray)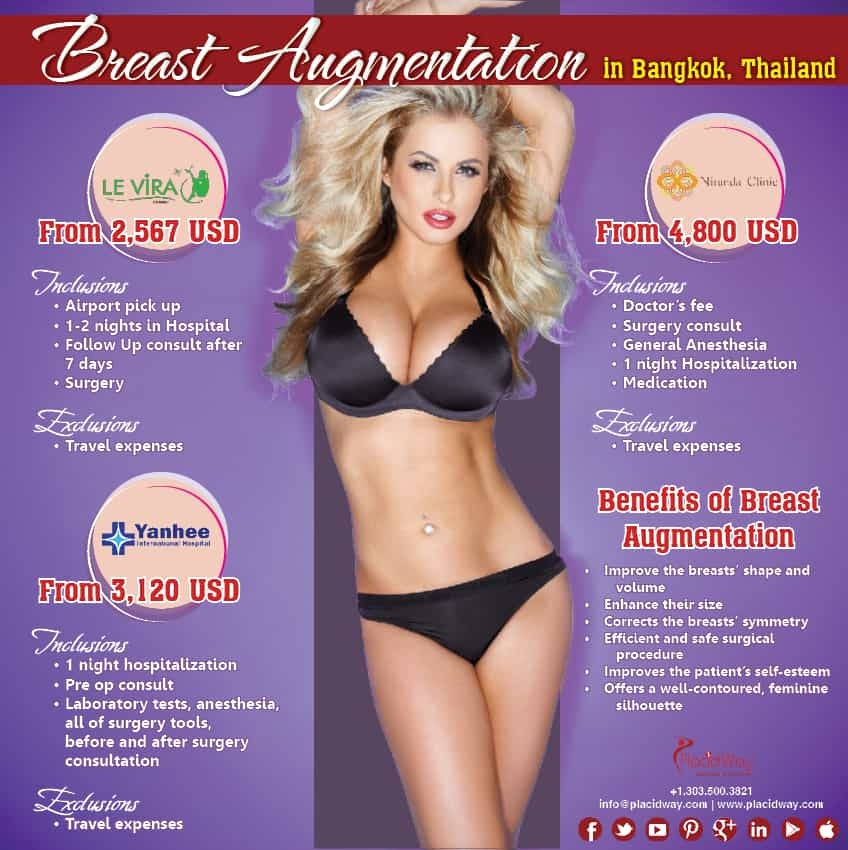 Did you find the package you like? Contact us for a free quote and one of our agents will contact you shortly. PlacidWay can help you with free quotes and schedule the appointment for you. If you have some of the mentioned pre-op tests they can be helpful for a doctor to provide you with more accurate quote. If you would simply love to consult with our agents, you can always give us a free phone call.


Related Experiences:
Breast Augmentation in Bangkok, Thailand
Best Breast Augmentation in Thailand
Breast Augmentation in Monterrey Mexico
Breast Augmentation in Guadalajara, Mexico
Breast Augmentation in Izmir, Turkey
Breast Augmentation in South Korea
---