Breast Augmentation Packages in Dominican Republic
Package price starting from:
$4000
Treatment:
Cosmetic/Plastic Surgery, Breast Augmentation
Location:
Manuel Maria Castillo No 20 Santo Domingo 10110, Dominican Republic
Focus Area:
Dra Silvia Aviles | Breast Augmentation | Santo Domingo | Dominican Republic
---
Breast Augmentation & Breast Lift in Santo Domingo, Dominican Republic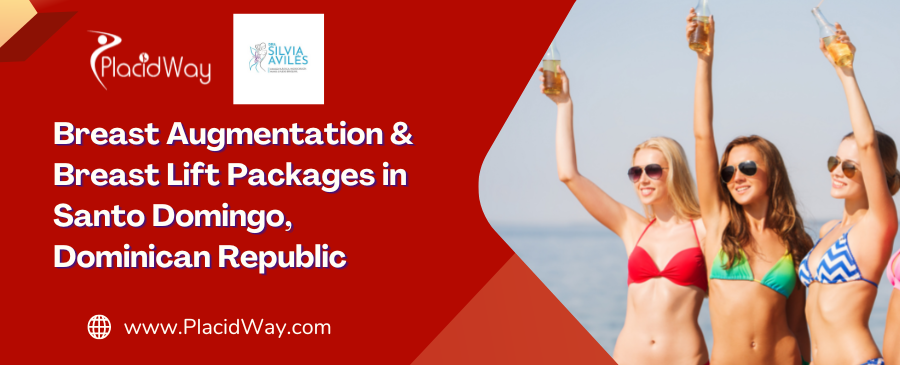 Many women want to have larger, fuller breasts that look natural and beautiful. For women who want to make this dream come true, breast augmentation and breast lift in Santo Domingo, Dominican Republic can be the perfect option for achieving their desired look. At Dra. Silvia Aviles Cosmetic Clinic, patients can take advantage of the most advanced technology and techniques available in breast augmentation. The clinic offers a variety of packages and procedures to meet the needs of each patient. Check our package details below to learn more:
Cost of Breast Augmentation and Breast Lift in Santo Domingo, Dominican Republic
You can get breast augmentation and breast lift in Santo Domingo, Dominican Republic with the price starts at $4,000. Check our price list table below for more information:
| | |
| --- | --- |
| Procedures | Cost |
| Breast Augmentation or Lifting with implants | $4,700 |
| Breast Lifting or Reduction | $4,000 |
Note: price can change and vary depends on complexity of procedure and patient condition. Click FREE QUOTE button below to learn more:

What is Breast Augmentation and Breast Lift?
Breast augmentation and breast lift procedures are two of the most common cosmetic surgical operations performed today. Breast augmentation, also known as mammoplasty augmentation, is the surgical procedure used to increase the size and shape of a woman's breasts. This operation involves placing silicone or saline implants under the breast tissue to make them larger and/or more symmetrical.
Meanwhile, a breast lift, or mastopexy, is a surgical technique used to raise and reshape sagging breasts. This procedure can help improve the shape of your breasts by removing excess skin and tightening the surrounding tissue to support a new contour.
Advantages of Choosing Breast Augmentation in Santo Domingo, Dominican Republic
Affordable cost

Experienced and skilled surgeons

State-of-the-art surgical facility

High success rate

Short recovery duration

Excellent post-operative care

Minimal scarring and discomfort

Natural looking results

Fast recovery period

Improved self esteem and confidence
Breast Augmentation Inclusions
Surgical Insurance

Pre-operative evaluation

Post-operative evaluation

Surgeons fees

Expenses of the anesthesiologist's team

Expenses of the cardiologist

Nurses fees

One day stay in the hospital

Medications and pain killers while you're in the hospital center

Food from the center

Cardiovascular evaluation
Breast Augmentation Exclusions
Flight tickets

Hotel stay
Breast Augmentation Pre-Op Test
Rapid Test for COVID-19

Bloodwork

Chest X-ray

Mammogram (if applicable)

Echocardiogram for Women over the age of 35

ECG (Electrocardiogram)

Urinalysis
Payment Options: Cash and Credit Cards.
Board Certified Cosmetic Surgeon in Santo Domingo, Dominican Republic

Dr.a Silvia Aviles - Plastic, Reconstructive, and Aesthetic Surgeon
Languages: English and Spanish
Graduates: Instituto Tecnológico de Santo Domingo (INTEC) - Cum Laude
Experience: 10+ years
Hand Surgery and Microsurgery at the Christine M. Kleinert Institute in Louisville, Kentucky, the United States, in 2011

Diploma in Brachial Plexus Surgery and Peripheral Nerves in 2017

International Master of Brachial Plexus and Peripheral Nerve Surgery in Mexico, Spain, China, India, and Egypt

Active member of the Dominican Society of Plastic Surgery
Why Choose Plastic Surgery in Santo Domingo, Dominican Republic?
Plastic surgery in Santo Domingo, Dominican Republic is an excellent choice for those seeking quality and affordable care. The country is home to some of the top plastic surgeons in the world who are highly experienced and trained to perform a wide range of cosmetic procedures. From breast augmentation and rhinoplasty, to liposuction and tummy tucks, there are many options available to help you achieve the look you desire.
The Dominican Republic is also known for having some of the best prices when it comes to plastic surgery procedures. The cost of procedures such as liposuction and breast augmentation can be much cheaper than in other countries. Plus, when you choose to have plastic surgery in Santo Domingo, you can rest assured that you will be receiving the highest quality care.
FAQ about Breast Augmentation in Santo Domingo, Dominican Republic
Q: Who is eligible for breast augmentation in Santo Domingo, Dominican Republic?
A: Any patient older than 18 years of age who is healthy enough to undergo the procedure and has realistic expectations for their results is eligible.
Q: What types of breast implants are available in Santo Domingo, Dominican Republic?
A: The most commonly used breast implants are saline-filled and silicone gel-filled. Each contains a silicone outer shell, but they vary in terms of size, shape, and texture. Your plastic surgeon will be able to help you choose the best option for your body type and desired results.
Q: How long do results last?
A: The results of breast augmentation are considered permanent, although some patients may require touch-up surgeries in the future as their body changes or ages. However, with proper care and maintenance, results can typically last for several years.
Q: What is the recovery process like?
A: Recovery from breast augmentation generally takes several weeks. During this time, you should expect some soreness and swelling in the area of your surgery. Your doctor will provide specific instructions regarding how to properly care for your incision and how to manage discomfort during recovery.
Request a FREE CONSULTATION for Breast Augmentation in Dominican Republic at PlacidWay!
Now you can easily choose the best medical provider for breast augmentation in Santo Domingo, Dominican Republic. The Breast Augmentation expert, Dra Silvia Aviles has the experience that you need to enhance your body's attractive curves with a compassionate and personalized approach. Click contact us button below to schedule your FREE CONSULTATION today:

Related Experiences:
Breast Augmentation in Dominican Republic - What you Need to Know
Breast Augmentation in Colombia
Breast Augmentation in Monterrey Mexico
Breast Augmentation in Guadalajara, Mexico
Breast Augmentation in Izmir, Turkey
Breast Augmentation in South Korea
---
Cosmetic/Plastic-Surgery Related Packages
Cosmetic/Plastic-Surgery Related Experiences